Blue is my second-favourite colour unless it's on a Yamaha in which case it tops the list. The Kiger wears its shade of blue rather well, especially with the blacked-out roof and pillars, too. And walking up to a bright blue car does tend to make me happier than approaching drab machines. So all in all, I've been pretty chirpy with the Kiger for company over the past month or so, and that theme continues even while I'm in the car. After all, the Kiger has the cheerful character to go with its bright appearance, too.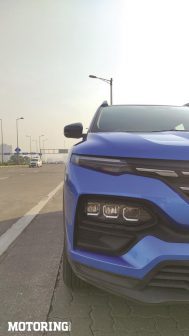 Granted, this particular example came to us after what seems like a fair bit of abuse. The front suspension is making increasingly alarming noises, and there's a rattle under the bonnet that just won't go away. And yet, the Kiger remains a fun car to drive, not to mention still comfortable. Renaults generally have excellent ride quality and the Kiger is not an exception to that rule. And guess what? All the buttons and switches on the dashboard are where they should be, too. This may make the Kiger a little less French, but I quite like it.
I tried the Kiger's drive modes out once; I put it in Eco and reverted to Normal in about five seconds. The latter mode is all I'll ever need, though I did find myself switching to Eco once when I handed the car to a valet. It does have its uses, I suppose. I tried Power, too, but again Normal works just fine so I leave it there all the time. I don't really like the narrow footwell all that much, having gotten used to having a dead pedal all the time. Then again, that's more incentive to rev the smooth motor hard and keep working that gearbox so that I don't have time to complain about it. It's fun!
Logging IT Out
Renault Kiger 1.0 Turbo

Lightens you by:

Rs. 10.70 Lakh (on-road)

Odometer reads:

10,156 km

@RenaultIndia #MotoringKiger