Okay, so this was never the plan. Renault had sent us the Triber as a long-termer, but for a few reasons it had to go back to the service centre. The 7-seater's replacement came in the form of Renault's newest compact SUV, the Kiger. Gleaming in Caspian Blue with a glossy black roof, this one's the 1.0-litre petrol paired with a manual gearbox. I had developed a liking for the Kiger's design when I drove it for a previous story, and what I really like about the Kiger's looks is its front end — it's imposing, futuristic, and besides the fact that the tri-octa pure LED headlamps (that's what Renault calls them) are bright and cast a nice spread, they also remind me of the Bugatti Chiron's eyes.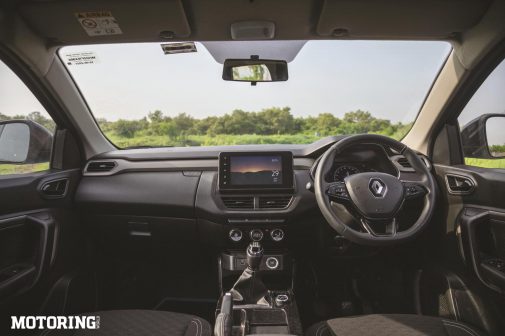 The Kiger has a nice, muscular stance with a commanding view of the road from the driver's seat. Its large dimensions equate to a spacious cabin with ample legroom and headroom for all passengers. I recently had to shift stuff from the office, including stacks of books, magazines and five car tyres. The Kiger easily accommodated all of that and had space left to haul even more cargo. Besides that, the Kiger's 29 litres of storage areas with the two gloveboxes, door pockets and centre armrest means there's ample space to stow away items that I usually carry when driving.
It has now been around for almost a month, with one trip to Pune and the rest mostly limited within the city, and the Kiger has been a fun car to drive. I'll be elaborating more on how this Renault performs in day-to-day life, its comfort and efficiency, in future updates. Till then, drive safe!
Logging IT Out
Renault Kiger 1.0 Turbo

Lightens you by:

Rs. 10.70 Lakh (on-road)

@RenaultIndia #MotoringKiger