I will begin this story by saying that the new Volvo XC40 Recharge is very much like a laptop. Stay with me here before you begin to raise an eyebrow. When I got into it, muscle memory made me reach for a starter button — but there wasn't one. After a bit of befuddlement, I slotted the lever into D and stepped on the gas (or should I say battery?), and the car whooshed forward. Its party trick is a sensor that's built into the driver's seat which tells the car to ready itself — talk about a seat-ofthe-pants experience. When you're done driving, you engage P, get out of the car, lock it and walk away; at this point, it's in a sort of 'sleep' mode, ready to wake up and set off again when it senses your butt in the seat. A laptop, like I said. You can manually power down the car using a somewhat hidden option on the infotainment screen, in case you're wondering.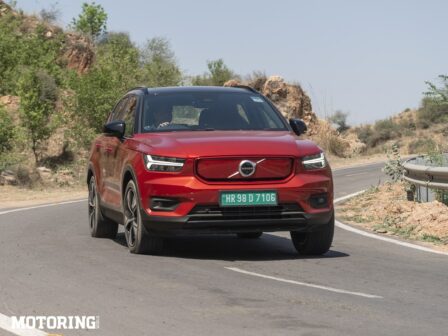 What we have here, then, is Volvo's first full EV. The firm has been very pointed about its efforts towards sustainability and environment-friendliness; it estimates that 50 per cent of its sales worldwide will be EVs, in the next three years, and it has set itself the goal of becoming all-electric by 2030 and climate neutral by 2040. The Recharge sub-brand will consist of all its hybrid and electric vehicles, much like Polestar takes care of the performance angle of things. Worldwide, this Volvo takes on models like the Tesla Model Y, the Jaguar I-Pace and the Ford Mustang Mach-E; here, it has a whole gamut of cars for company, like the I-Pace, the Mini Electric, the Audi e-tron and the BMW iX.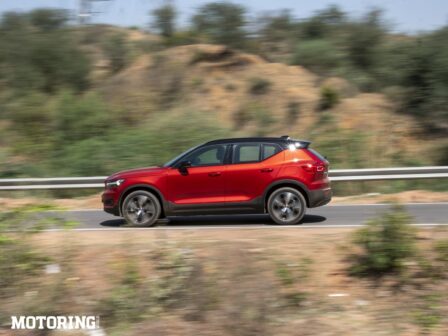 The name 'XC40 Recharge' is a bit of a mouthful — indeed, it doesn't appear in full anywhere on the car — and it doesn't look that different from its fossil fuel-sipping cousin, which is a good thing because the XC40 has always been a handsome machine. A closer look reveals a body-coloured grille that's been closed off, 'Recharge' emblazoned on the C-pillar, a lack of exhaust tips and a new alloy wheel design, all of which are subtle elements in typical Scandinavian fashion (yes, I know, the Chinese own Volvo, but still). There's a range of very attractive colours available, too.
I've always been a fan of the way modern Volvos look, and the XC40 has some very tasteful threads; it's perfectly proportioned, doesn't yell about itself and is still distinctive enough to stand well out in traffic (by the way, I learned that a chap called Ian Kettle designed this car, and he did a good enough job of it for Tesla to steal him from Volvo not long after). The car is based on Volvo's Common Modular Architecture, and the fact that it was built from the get-go to take an electric powertrain means there should be no compromises on the way it all works.
In terms of its cabin, this car takes the ICE XC40's interior and snazzes it up. Pride of place is taken by a high-res 12.3-inch digital cluster, with excellent graphics and high degree of customisation built in. The Recharge displays a smartphone-like battery percentage graphic on the instrument panel and the 9-inch infotainment screen, which comes with an embedded SIM card with four years worth of data and OTA updates. It felt a little odd to not know how many more kilometres I could drive, but by the same token, I think I felt less range anxiety — and you can dig into the menu to see the range in kilometres. The display is far smoother to use than the one I remember on older Volvos, and it uses an Android-based infotainment system, so you have access to Maps, Play Store and Assistant, among others. The voice-activated assistant actually functions quite well, and is less hit-or-miss than similar systems in other cars. Like on an Android phone, you can sign in to your Google account and set the system up in the way you prefer, which is a good touch. The Harman Kardon audio system blasted out tunes in a robust manner, too, but only when I signed into either Spotify or Apple Music. For some reason, it wouldn't play music off my phone via Bluetooth.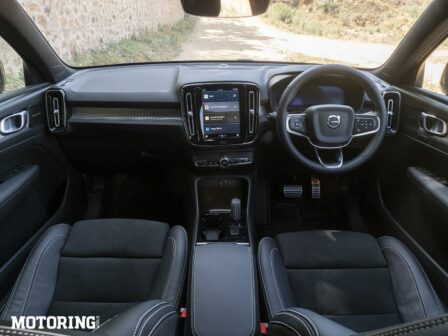 In typical Volvo fashion, the seats are absolutely top-drawer — brilliantly made, very supportive in all the required places and plenty comfortable (the test car had real leather, but cars delivered to customers will have faux leather). The cabin is all Scandinavian chic, with some slick trim on the dashboard and doors, and everything feels and looks solidly put together, save for some of the plastics and door fabrics, which feel a bit low-rent. There's enough space for four fully developed adults to lounge around in comfort, but a fifth will find the going a little cramped, given that the Recharge *looks* bigger than it actually is. Boot space is a generous 452 litres, but a chunk of that is eaten up by the spare wheel, which is frankly annoying. You do get an additional 31 litres in the 'frunk', for a couple of backpacks or similar sized objects.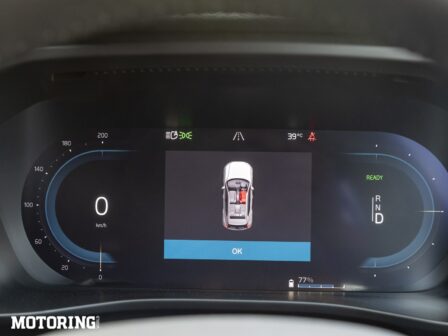 This is a Volvo, so as far as safety is concerned, it's right up there — lots of airbags as standard and a 5-star crash test rating are but two of its many features. Other standard features include 19-inch wheels, a panoramic sunroof, dual-zone automatic climate control, active cornering LED headlights, an air purifier, auto-dimming mirrors and rain-sensing wipers. Also standard is a 360-degree camera, blind-spot monitoring, front and rear parking sensors, lane-keeping assist, road sign recognition, automated emergency braking and rear cross-traffic alert, hill start assist and hill descent control and collision mitigation support at the front and rear. Strangely, ventilated front seats and even grab handles at the rear are missing.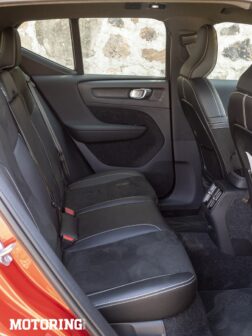 Powering the Recharge is a 78k kW lithium ion battery pack under the floor. This sends the juice to two electric motors, one on each axle, thus providing all-wheel drive. With 408 bhp and a truly massive 67.3 kgm of torque, the Recharge has the numbers to be a proper hoot on the road (more on that later). Volvo claims a range of 418 km on a full charge; a quick-charge, 80 per cent top-up takes about 33 minutes with a fast charger, and a full charge from a regular wall socket comes in at roughly 8 hours.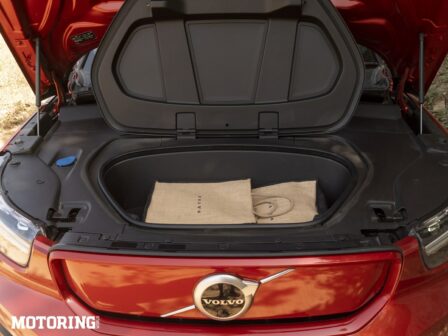 Getting the car going is simplicity itself, as I mentioned earlier — settle in, slot the selector into D and you're off. There are no drive modes to play around with; what you can do is adjust the steering's firmness and set the level of regenerative braking. Maxing it out lets you operate the Recharge with just the accelerator pedal, which feels weird to begin with but is easy to get used to; in fact, I ended up using just that mode pretty much throughout. The regenerative braking does feel aggressive, but it's not difficult to modulate once you get the hang of it.
What's also very easy to get used to is the way the Recharge accelerates. All of its torque kicks in instantly, and the effect is that of being launched from a slingshot; I defy you to not grin like an idiot when this happens. Keep in mind that this car is 400 kg heavier than the regular XC40 (batteries are heavy things); it definitely doesn't feel like it, and absolutely storms to 100 kph in under five seconds, which is not something you usually associate with a Volvo. I can tell you right away that the Recharge is more fun to drive than its ICE counterpart, which suddenly seems somewhat tame (and gruff) in comparison; if this is what mass electrification is going to feel like, I rather approve. Importantly, the Recharge isn't silent as the grave — there's a certain something to its soundtrack that doesn't feel entirely sanitised. Much as you'll be tempted to drive it at full tilt all the time, it'll be more than happy to glide around at city speeds as well, and it's very easy to do this — it's very composed.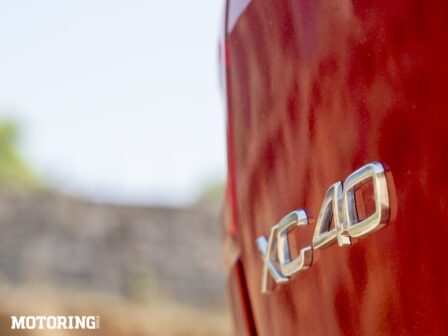 If you find yourself a set of decent corners, don't hesitate to chuck the Recharge into them as enthusiastically as you can. Despite its weight, it shows superb body control and offers plenty of grip, and unless you do something monumentally stupid, it'll simply power into and out of those corners with zero fuss; in the handling department too, this machine is far better than the ICE version, principally because it has a lower centre of gravity because of the way the battery is placed. All the good stuff extends to the ride quality as well, which is very mature and exceptionally well damped; it feels like a bigger and more expensive car, with the McPherson struts with coil springs up front and the multi-link unit at the back doing a sterling job.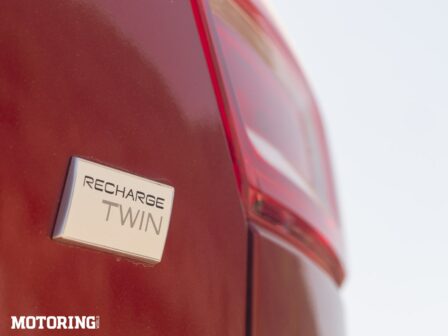 I had way more fun in the Recharge than I thought I was going to, if I'm honest. I wasn't expecting the kind of performance that will leave many hi-po ICE cars in the dust (I kid you not, this SUV will blow the doors off many of them), and even though it has a few niggles here and there, it's an astonishingly accomplished vehicle all told. It's eye-wateringly expensive at Rs 75 lakh (ex-showroom, India), but it's also less eye-watering than cars like the Jaguar I-Pace, Audi e-tron and BMW iX, which makes it a 'bargain' of sorts. Make no mistake — the future is here.
AUTODATA
Volvo XC40 Recharge
POWERTRAIN
Battery:
Max Power:
Max Torque:
Range:
78 kWh
408 bhp
67.3 kgm
418 km
TYRES
F/R: 235/50 R19 / 255/45 R19
DIMENSIONS
L/W/H (mm):
Wheelbase:
Ground clearance:
Kerb weight:
4425/2034/1647
2702 mm
175 mm
2150 kg
PRICE
Rs 75 lakh (ex-showroom, India)