In a pool full of SUVs, the six- and seven-seat SUVs are trying to make inroads with space and features that they offer. And the recent one to enter the Indian market is the all-new Hyundai Alcazar. It starts with a starting price of Rs 16.30 lakh and is available in three different trim levels. We did have a go at the camouflaged version.
On the performance front, the Alcazar gets both petrol and diesel engine options. The 2.0-litre petrol engine produces 157 bhp and 19.5 kgm of torque, whereas the old 1.5-litre diesel engine produces 113 bhp and 25.5 kgm of torque. Both the engines are available in either a 6-speed auto or a 6-speed manual gearbox. It's the 2.0-litre petrol unit paired to a 6-speed manual 'box that delivers more performance than the rest, with a 0-100-kph sprint time in less than 10 seconds, while the diesel mill is tuned for better fuel efficiency.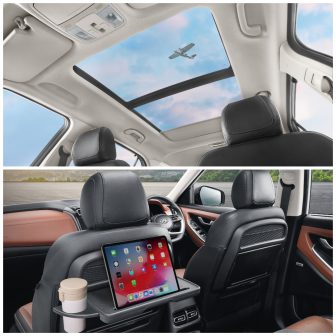 Inside, the story of the third row and the luggage space in hand is quite the highlight. The six-seater version has captain seats in the middle row, while the seven-seater version has a flat bench, which can be easily tumbled down with a one-touch feature for passengers to access the third row. The second row also has the sliding function to create just that extra amount of space. Speaking of space, with all the seats up, the Alcazar boasts 180 litres of boot space, which is far better in comparison to its rivals. As far as features are concerned, the Alcazar gets a 10.25-inch digital instrument cluster, 8-speaker Bose sound system, front row seatback table, device holder and many more.