I like hot hatches and I cannot lie. You other brothers can't deny. That when a car drives in which an itty bitty weight and round hatch in your face you get….. You know where I'm going with this. There's just something about a small car that is also fun that makes me happy. I'm not sure if it's the dinky dimensions that aid in the drivability, or the fact that something so small shouldn't be so fast, or maybe it's just me rooting for the underdog. Or maybe it's all of that and more.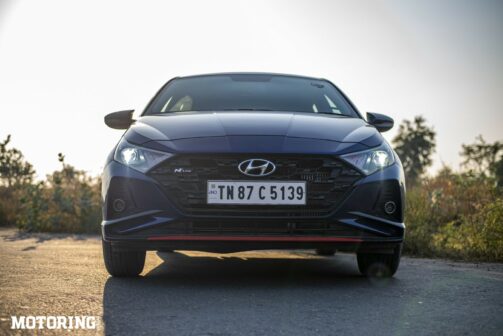 Whatever it is, I've come up with a word that, for me, defines an affordable, approachable, and exciting hatchback, that also gets all the basics correct. It's my prerogative as a self-proclaimed wordsmith to make up words (Shakespear and Milton have also done it), and two cars that fit this new word are the Hyundai i20 N Line and the new Maruti Suzuki Alto K10, at least on paper. I'm going to see if both go-faster hatchbacks tick all the boxes to be given that little bit of mind space that I devote to my dream garage.
They both do look the part of exciting little beasts. The Alto K10 is, of course, more compact (it sits a segment-and-a-half below the i20), and it has a very strong (and very Japanese) chibi characteristic. Those faux air intakes on the sides of the front bumper give the impression that the K10 is smiling at you, and it's a cute, yet mischievous smile at that. In typical Maruti Suzuki fashion, the Alto K10 looks under-tyred, but that high-profile rubber does come in handy when the going gets a little rough. While the rear is pleasant enough to look at, Maruti hasn't been as successful at hiding the narrowness as it has in the front.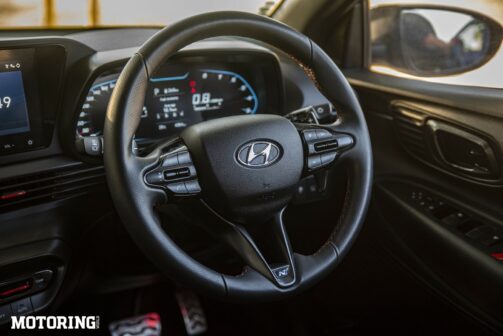 When I first set eyes on the Hyundai i20 N Line about a year and a half ago, it was the first car that fulfilled that tasteful boy-racer aesthetic right out of the production line. The standard i20 has always been a good-looking large hatchback, but the subtle (yet obvious) red highlights, the darkened 16-inch alloys, the black rear spoiler, and those dual-exhaust pipes, add to the sense of sportiness. Hyundai has ensured N Line owners will receive the attention they deserve, and at low speeds, bikers and those who drive with their windows down will also know this isn't an ordinary i20, thanks to the fruitier exhaust note.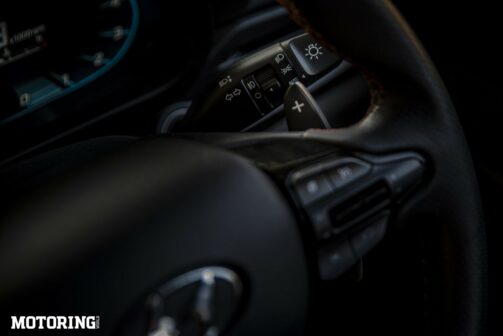 Out of the box, both these hatchbacks have something of that small sleeper appeal, though Hyundai does it better. That's understandable as the Alto K10 is at the budget end of the spectrum in comparison. Still, just some wider and larger tyres (165/60 R14s maybe) for the Maruti would give it almost everything it needs in terms of a sporty stance. It'll even improve the ride and handling prowess, but it'll come at the cost of mileage. Not enough to matter on a day-to-day basis, but enough that you may end up spending about 5 per cent more on petrol in a month. Honestly, those wheel arches deserve to be filled better, so I think it'll be worth it.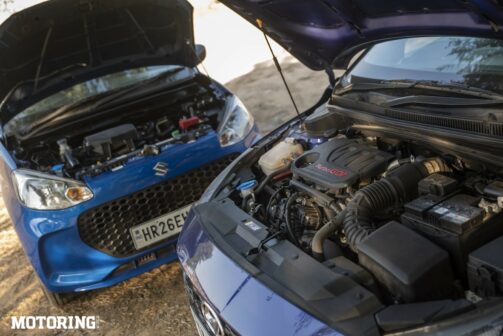 Another thing both, the Alto K10 and the i20 N Line do quite well is to get those fundamentals right. For the price, Maruti Suzuki offers a well-finished, spacious, and durable cabin, with more than a decent number of amenities in this top-spec VXi+ variant. The 7-inch touchscreen infotainment is seamless to use, but I do wish the informative digital cluster had a tachometer as well. Front and rear seat comfort is excellent for its class, though you do sit quite high up. It's great for visibility, but the short bonnet means you could modify it to be set lower without hampering your line of sight.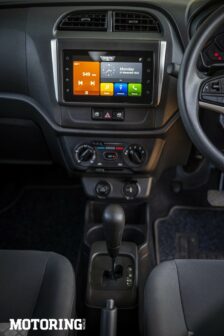 Every once in a while, Maruti Suzuki does manage to get the basics right, without too much of the cost-cutting involved coming through, and the Alto K10 is a good example of that. Hyundai, on the other hand, is quite consistently above average when it comes to getting the essentials spot on. The i20 N Line is the class standard for having a spacious, sporty, and tech-laden cabin. Those front seats really fit you in well, and everything feels ergonomically tilted towards the driver. Other than the instrument cluster, which now feels a little less appealing than when the car first arrived, there's absolutely nothing to complain about here.
Speaking of complaints, you won't be hearing a squeak from anyone sitting in the Alto K10 (if you have just four on board) as the ride quality is truly splendid for something in this price bracket. Yes, those 145/80 R13 tyres do help round off some of the sharper ruts, but it's mostly the suspension setup that is to thank for this. It's definitely set up on the softer side, and there is quite a lot of roll, but that doesn't mean this hatch isn't a blast to chuck around. The steering is direct, and has some feel, while the chassis' stiffness shines through.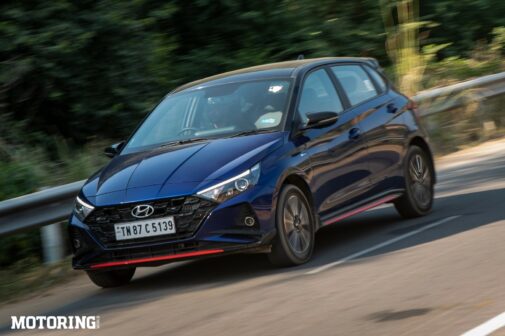 An 89 bhp/tonne power-to-weight ratio, along with a convenient AMT (which is responsive enough if you drive around its usual peculiarities), makes the Alto K10 a properly fun machine. I've said it before, and I'll say it again — with a few minor mods, this could be a cute, yet fiery little rocket. The 66-bhp 1-litre naturally aspirated engine is more than adequate for most situations, but you can feel how much of it is stifled (in the interest of that 24.9 kpl ARAI fuel-economy figure) when it is pushed with more than two people in it. For those who can forgo the ease an automatic brings, I'd recommend the smooth, and far more responsive 5-speed manual version.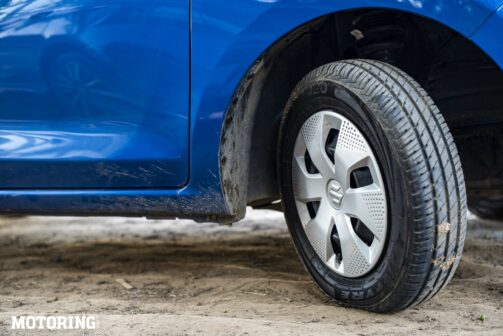 Talking about manuals reminds me of the only thing that I feel the Hyundai i20 N Line truly lacks. Neither the 7-speed dual-clutch auto nor the iMT semi-auto are a good match for the punchy 118-bhp 1-litre turbo-petrol engine, as they both feel like they constrain the excellent three-pot mill. Paddle shifters for the DCT version did add some of the immersion I was looking for, but this automatic is best driven in a more relaxed manner than this car feels capable of. There's little jerkiness from the get-go, and upshifts are smooth, but downshifts aren't quick enough when compared to what you'd get from a dual-clutch unit, and working it in an unhurried manner produces the best results.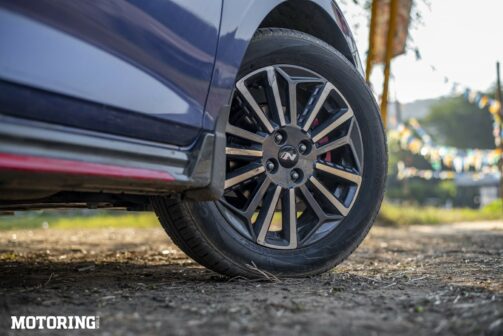 Where the i20 N Line does come alive is in long high-speed corners, and twisty downhill slopes. It feels superbly balanced at triple-digit speeds, and the tauter suspension setup and rejigged steering bring pure joy when hurling it through a set of twisties. For tighter corners, remember to brake well in advance (which isn't a problem at all thanks to the four-disc setup) and not mid-corner — this front-wheel drive hatch will understeer if you try powering out of a bend too quickly. It's a shame the engine note falls off after about 2000 rpm, as that would definitely have added to the excitement, burbling loudly while shifting down.
The ride quality has taken a bit of beating, and those tyre-marring edges on our roads do cause a bit of a judder in the steering, and some spine-crunching, but not enough to take away from the overall suppleness of the ride. The 195/55 R16 tyres help with that, and provide more than adequate grip when the i20 N Line is hustled along, making it a marvellous compromise between sporty and comfy. But for the lack of a manual, the i20 N Line would have ticked every both. And this version of the car is also the thirstiest — if you're having fun, expect single-digit mileage figures.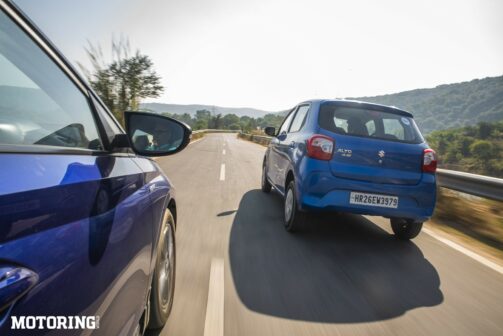 All in all, I think the Alto K10 does a little more to earn its place in my dream garage. It's quite value for money, if a little basic. However, it also means there's great potential to mod it up for not too much money. In about Rs 7.5 lakh from a base Rs 5.84 lakh, ex-showroom, Delhi, (for the VXi+ AMT variant), you'd get quite a firecracker of a hot-hatch. The Rs 12.11 lakh, ex-showroom, Delhi, price tag for the i20 N Line N8 Dual Tone is a little bit of a stretch when seen in that context. It does everything really well, but getting a manual gearbox in it will be expensive, and may not end up being worth it.
AUTODATA
Maruti Suzuki Alto K10 VXI+ AGS
POWERTRAIN
Displacement:
Max Power:
Max Torque:
Transmission:
998cc, I3, petrol
66 bhp@5500 rpm
9.08 kgm@3500 rpm
5AT
DIMENSIONS
L/W/H (mm):
Wheelbase:
Ground Clearance:
Kerb Weight:
Fuel Capacity:
3530/1490/1520
2380 mm
NA
741 kg
27 litres
PRICE
Rs 5.84 lakh (ex-showroom, Delhi)
AUTODATA
Hyundai i20 N Line DCT N8 Dual Tone
POWERTRAIN
Displacement:
Max Power:
Max Torque:
Transmission:
998cc, I3, turbo-petrol
118 bhp@6000 rpm
17.54 kgm@1500-4000 rpm
7AT
DIMENSIONS
L/W/H (mm):
Wheelbase:
Ground Clearance:
Kerb Weight:
Fuel Capacity:
3995/1775/1505
2580 mm
170 mm
NA
37 litres
PRICE
Rs 12.1 lakh (ex-showroom, Delhi)