I've been a Hero Impulse loyalist for a little over a decade now. I took my Impulse modded with a Karizma engine for a ride to Spiti back in 2020 despite knowing that the carburetted engine's behaviour at high altitudes wasn't all that great — because I'm strong of the belief that 'lighter is better'. However, while the other riders on their BMW GSes were gliding through the high altitudes, it was literally an uphill task for the poor souped-up Impulse to stay alive. I was the laughing stock for a huge part of the trip because of working with motorcycles all day back home and yet bringing an absurd motorcycle for the ride only to struggle all the way.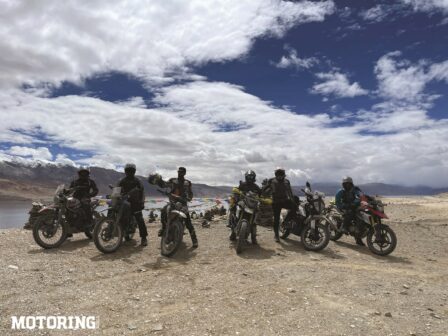 Cut to 2022 when the group started discussing a trip to Zanskar. While most were sure about taking their BMW GS 310s and KTM 390 Adventures, and even an RE Scram, I was still stuck on 'lighter is better', and the only option I could think of was the new Xpulse 4V (of course I knew that fuel injection was the way to go). A total of nine riders got ready for the trip and I managed to brainwash one more chap to take his Xpulse saying that there'll be a ton of off-roading and nothing would be better than a light motorcycle up there. I knew that the Xpulse idea would backfire on the tarmac, but I was going there for the off-road experience anyway.
Kartik Ware helped with arranging an almost brand-new Xpulse 4V for the trip (couldn't convince the Sindhi in me to buy a new/used Xpulse 4V). The Xpulse was delivered to me towards the end of July, well in advance of the trip, and this gave me enough time to add the 'personal touch'. I started by getting rid of the unwanted metal and fibre to achieve as low a weight as possible; the first few days with me and the Xpulse had already lost 10+ kg. I then installed aluminium wheel rims, a rally seat, and a crossbar handle which we install on all Impulses, Xpulses, GS 310s and many other motorcycles that come into our workshop. Finally, the stock Ceat tyres were replaced with a new set of the Maxxis Maxplore tires and the Xpulse was all set to fly.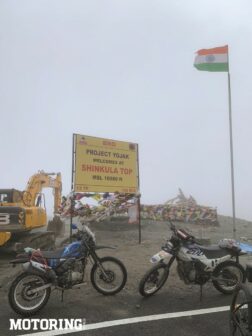 Just before sending out the bikes to Jammu via train, seven of us from the group went on a shakedown ride from Mumbai to Mulshi near Pune. The Xpulse wasn't exactly the fastest on tarmac but literally flew on broken roads. I couldn't stop grinning and visualising how good Zanskar would be. The recently lightened Xpulse was going to be the perfect weapon for the upcoming trip.
One of the guys on the trip was the one responsible for planting the idea into our heads. We were promised a minimum of 1000 km of off-roading in the 10 days of riding through Zanskar. The ardent off-roaders in us couldn't wait to experience the treacherous terrains alongside the breathtaking views on our motorcycles, even if some of us were hesitant about the well-being of our beloved motorcycles after such a huge thrashing (not me! My motorcycle was sponsored, you see). Anyway, the trip was planned with the best accommodation and a backup vehicle with an onboard mechanic. This was a refreshing change because for once I wasn't the mechanic of the group and could focus solely on riding my bike instead of fixing broken-down ones.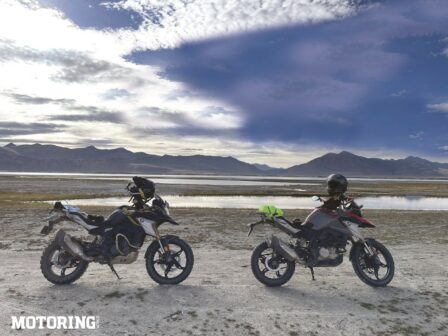 The route for our ride went thus: Jammu—Srinagar—Sonamarg—Kargil—Padum—Shinku La—Leh— Nubra—Pangong Tso—Tso Moriri—Leh, covering a total of 2300 km of which over 1200 km was broken tarmac and hardcore off-roading. All of us were to have multiple falls but were fortunate enough to get back on the saddle and continue with the ride.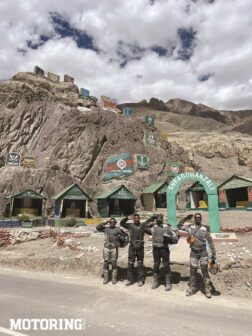 On the fourth day of the ride, while riding from Rangdum to Padum via Pensi La I encountered a deep unavoidable uphill trench at around 60 kph. The Xpulse's front wheel locked and I was thrown off the bike a few feet ahead. My right ankle hit the ground hard which resulted in a hairline fracture that was plastered later that night at a hospital in Padum. One of the riders on the trip was a general physician who was coincidentally right behind me. He advised me not to take off my riding boots as he figured there may be swelling or something broken. The hospital was approximately 80 km away from the accident spot (out of which 70-odd km was complete off-roading). Nonetheless, despite the broken foot, I was able to ride the Xpulse with ease.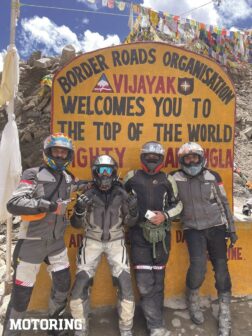 Fortunately, I had three more guys for company and they all slowed down as we made it to the hospital. The Xpulse's suspension absorbed a whole lot of the bad patches and since the bike was light, managing the weight wasn't difficult on the rough sections. Despite the raging pain in my foot, ribs and left palm, I somehow managed to ride the Xpulse to the hospital. We had started the day at 0700 hrs and reached the hospital by 2130 hrs. A very long and painful day, indeed.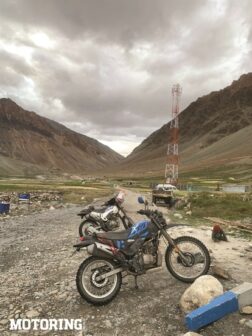 I nearly thought that my ride was over and that I'd have to pack my bags and get back to the 'Bay. Luckily, the fracture was a hairline one, and with a proper cast, I was able to get back on the seat after a day's rest and continue riding. I was surprised at how the Xpulse, despite the leaking oil cooler (which had to be topped up day to day), a bent handlebar, a messed-up front brake lever, and a few more scars, was still happy to continue the journey. I wasn't able to stand on the 'pegs and had to be more cautious about potholes to ensure that I don't stress the damage too much. The stock suspension surprisingly did great as well. Was I stupid to continue riding? Oh, I sure was, but I had to (plus the Sindhi in me wasn't too happy about the prospect of all that money going to waste and coming back disheartened).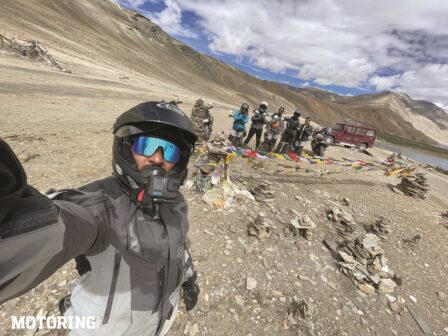 The next five days of the trip after plastering my leg changed the way I ride and taught me a very important lesson. All my life I have been a very aggressive rider, always biased to the rear brake. However, with a plaster on the right ankle, I overshot every corner while trying to ride with the front brake, and engine braking wasn't effective at my speeds, either. However, a few golden words of wisdom were whispered to me by Ali Reza Paknejad and Murthaza Junaid the following night — slow is smooth, smooth is fast. At first, I laughed it off as it didn't make any sense to me, and it was completely against my riding nature.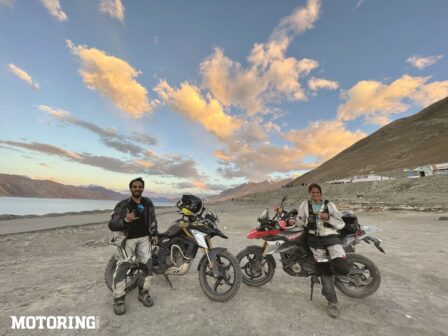 The next day, after struggling with braking and some more overshot corners, I tried going slow and turning into corners without the brakes and just relying on engine braking. To my surprise, after a few corners, I was able to go faster and struggled a lot less, and eventually, I was leading the pack once again. The ones who were with me all throughout the ride were just as surprised to see the new (and improved) Yogi, and by the end of it a few of them tried it themselves and it worked for them, too!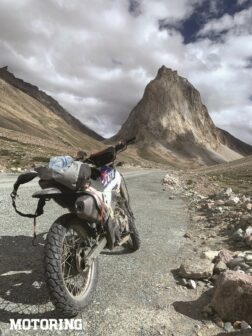 I've been riding for well over 25 years, mostly on tarmac but I've always had an affection for enduro and dirt bikes thanks to my father who rode such bikes in his younger days. The first time I went for an offroad ride was in 2014 to Rajmachi, and by 2017 I had already sold off my swanky superbikes and bought myself a gnarly dirt bike. Offroading, to me, has been a lot safer as compared to riding on roads. And over time, we've formed a bunch of like-minded people who ride offroad every Sunday, as religiously as going to church, and some of them were on this ride to Zanskar as well; Kalyani Capadia, Rahul Dogra, Mubeen Selia (the GP who was with me when the mishap happened), Kinzal Vadera, Ali Paknejad, Mayuresh Godambe, Aldrin Sequeira, Feroz Khan, Amit Kapani, Prem Suthar, Sagar Ramgade, and a few more.
All in all, it was a great ride despite the adversities. I rode a lot and learned a lot. The bikes ran great with no major breakdowns, and we made memories to cherish. There were lots of laughs and bonds made stronger over clinking glasses. A whole lot of coordination and endless phone calls went into organising this ride and making it as memorable as it turned out to be. Most of us just had to be present with our bikes at the train station and luggage at the airport. Some learnings from this trip? One needs better lights. I could do with a louder horn. Prepaid sim cards don't work up there, go postpaid; only Jio worked for us (they aren't paying me to say this, I promise). And make sure you ride closely with your group.
Having worked in a corporate avatar in what feels like another lifetime, to running a successful motorcycle and scooter restoration workshop in the form of YC Design, to starring in ads and web series, I thought I had done it all. Then I met the likes of Kartik Ware, Ruman Devmane, Janak Sorap, Varad More and a few more who wrote their hearts out on my favourite subject — motorcycles. I thought that was something I'd like to try my hand at, too, and so I took it upon myself to ride and write. Could there be a better story to start with?!
BY Yogi Chhabria
PHOTOS Mubeen Selia, Rahul Dogra & Mayuresh Godambe