It's an uncanny sensation, trundling along in a drop-top Ferrari in total silence. No crackling exhaust. No rumbling V8 or V12 engine note. Among other things, the new Ferrari 296 GTS features an 'eD' button on the steering, which decouples the electric motor and the engine, allowing Maranello's latest mid-engined convertible to channel its inner church mouse. That is, until you thumb the chequered flag button above it, at which point the on-board twin-turbo V6, with its symmetrical firing order, reassuringly roars to life, bringing back some semblance of order in this chaotic world.
Exactly a decade ago, my Ferrari journey started right here, at Motoring World, when a matte black 458 Spider introduced me to the charms of an atmospheric Italian V8. A few short bursts of speed later, the engine, unimpeded by a roof, injected heady doses of adrenaline directly into my bloodstream, rendering me incapable of looking at (let alone driving) garden variety forms of transport for a fortnight. The sonorous, almost operatic sound of the revs climbing, coupled with the momentous sensation of working the carbon-fibre paddle shifters, confirmed that this was a very exclusive club.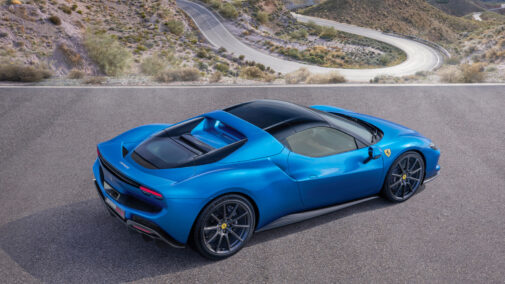 It's now 2023, and an unrelenting Arabian sun is scorching the desert road I'm driving the 296 GTS on. In the age of rapid electrification, Ferrari is persevering with the internal combustion engine. However, it's meeting environmentalists halfway by cutting down on the cylinder count of its series-production, mid-engined flagship, while leaning on everything from forced induction to an electric motor to retain Ferrari-esque power levels. With 819 bhp on tap, it's safe to say that the 296 GTS isn't hurting for horsepower. As such, its ascent to triple digit speed doesn't feel quite as organic as that of the 458, the last of the naturally-aspirated mid-engined Ferraris. The chequered flag logo activates what's called the 'Qualifying mode', and with the eManettino set to 'Race', it's the only mode where all 819 horses are unleashed at one go.
The resulting burst of speed causes horizon after horizon to swoosh past you in a way that would make arcade racers seem realistic. It doesn't just alter your notions of mid-engined Ferrari performance, it obliterates it, requiring a total recalibration of your synapses. Any apprehensions you have about a plug-in hybrid Ferrari are blasted out of the titanium-tipped exhaust, along with other trifles like 'torsional rigidity'.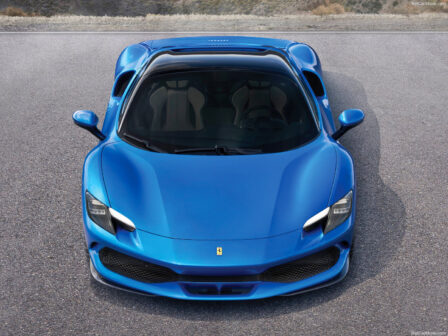 The turbos spool to rather cinematic effect, almost sounding like photon torpedoes from the Starship Enterprise. Trust Ferrari to be able to maximise the sense of occasion that comes with every aspect of internal combustion, forced induction or otherwise. When they do spool, however, there isn't a sudden, fishtail-inducing burst of speed. No, it's all very measured and contained. Brutal, yes, but also linear and consistent, all the way to 8500 rpm. If 40 per cent of all Ferraris are to be hybrids by 2030, the GTS offers a glimpse into a very promising future.
Unlike the bigger SF90, the 296 GTS is a rear-wheel drive model, with a mid-mounted, 2.9-litre V6 paired to a rear-mounted electric motor generating 185 bhp of power. The motor derives power from a 7.5 kWh electric battery, and the whole unit works in seamless unison thanks to Ferrari's new, proprietary Transition Manager Actuator or TMA. There's no lull in the power delivery. Not even for a millisecond. Everything is instantaneous and explosive.
In a way, the GTS is an even bolder supercar than the GTB, because it dares to mess with the former's dynamism. While it gains 70 extra kilos, Ferrari claims that the 296 GTS is 50 per cent stiffer than its predecessor, the F8 Tributo Spider. As a result, there's an imperceptible difference in handling, as far as public roads are concerned. Which is all I can attest to, since the Dubai Autodrome was, sadly, not on the cards.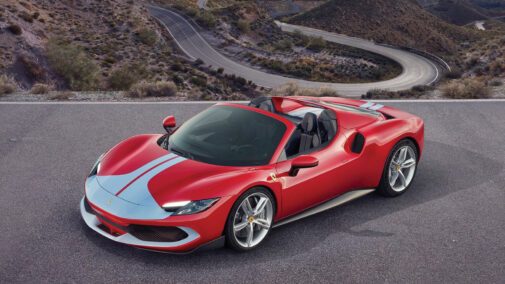 While the 296 GTS (especially in this Assetto Fiorano trim, with its multimatic dampers) can turn into a humourless track-weapon in a heartbeat, its true strength lies in just how comfortable a car it is on road. Unlike its direct rivals, the 296 GTS hasn't given in to the carbon-fibre infested, lap-time crunching madness that ails modern supercars. It's a serious performer, but it doesn't take itself too seriously. This is a car designed purely to offer one of the greatest driving experiences in the modern age.
Then there's how good this thing looks. It's far prettier than its recent predecessors (anything that takes design cues from '60s Ferraris is bound to be). The 296 GTS borrows heavily from the 250 LM endurance racer, a tribute that seems even more timely given that the 296 GTS arrived in India the same year Ferrari won its first Le Mans title in half a century. The car is a breathtaking confluence of curves. It's properly pretty and yet, the design is completely governed by the laws of aerodynamics. The underbody has been designed to channel hot air away, while the louvre on the roof allows for some more heat dissipation. There's also an active spoiler integrated into the rear bumper which helps create over 360 kg of downforce at 250 kph. This allows the GTS insane adhesion at high speeds.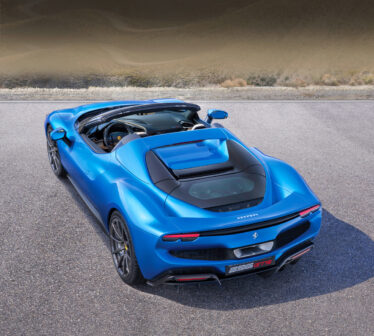 The roof is tucked away in 14 seconds and takes no more space than it has in the past, despite the added bits of hybrid tech. While it does rob the 296's design of buttresses, it manages to retain the silhouette of the coupé. The 296 GTS has an all-round softer, delicately contoured exterior compared to the F8 Tributo. Its design, rooted in tradition, stands in stark contrast to the bleeding-edge tech underneath it.
It's laughable to assume that the GTS isn't as pure or hardcore an expression of speed as the phenomenal GTB. Both of them have the same, bonkers 0-100 kph time (2.9 seconds, in case you were wondering). In fact a folding roof, in my experience, has always made the driving experience empirically better. Track-based, performative elitism is best left to professional track drivers. By every other metric, the 296 GTS is a ferocious supercar, capable of surpassing some hardcore, track-based Ferraris – and that's really saying something. Switch that eManettino to 'CT Off' and you can see some measured tail-out action around empty roundabouts and exit ramps.
At Rs 6.2 crore (ex-showroom), the 296 GTS is expensive, even by supercar standards (not that that bothers Ferrari or any of its customers). It's a phenomenally accomplished supercar, one that prefers to err on the side of being too powerful – because it would still be an absolute beast even with a 100 bhp less. It stands out not only as a breathtaking piece of design, but also as a technical achievement, and there's far more demand for it globally than Ferrari is capable of addressing. Reviewing a Ferrari is largely for posterity's sake, an act aimed purely at documenting the evolution of what is arguably the most storied automotive brand in history. The 296 GTS marks a massive evolutionary leap, not just for series-production Ferraris, but for drop-top performance in general.
All images by Ferrari