India Bike Week (IBW), the most awaited annual biking fiesta, is gearing up for its milestone 10th edition. This year, Vagator, Goa, is set to host the roaring celebration of all things motorcycling on December 8-9, 2023.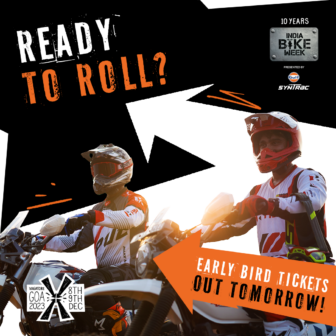 For biking enthusiasts across the nation, the excitement is building, and the countdown has begun. But here's some news that will make your engines roar even louder – the early-bird tickets for IBW 2023 are now available! It's your chance to secure your spot at this spectacular event at discounted rates. Don't wait; these early-bird prices are valid until October 29, 2023, after which the prices will rev up.
The pricing for early-bird tickets is as follows:
Day Pass: Rs. 1,999
Weekend Pass: Rs. 2,999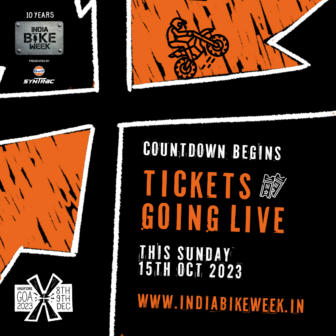 In addition to the regular tickets, IBW 2023 offers several other ticket options. You can choose from Club Packages starting from Rs. 2,599 per person or opt for the IBW Festival Kit priced at Rs. 799. The festival kit includes a tote bag, T-shirt, water sipper, keychain, decals, and a newspaper.
Expect IBW 2023 to be a thrilling and grand affair with a plethora of attractions to captivate every visitor. The event will showcase mesmerizing bike displays, jaw-dropping custom bike builds, electrifying live music performances, and adrenaline-pumping stunt shows. In essence, there's something for every biking enthusiast, from the die-hard riders to those who simply appreciate the culture.
View this post on Instagram
Of course, no biking festival is complete without the excitement of races and rides. IBW 2023 will feature a variety of races and rides tailored to different skill levels, offering bikers ample opportunities to showcase their skills and camaraderie.
To curb your hunger pangs, a wide array of food and drink stalls will be on hand, serving up delectable treats to keep you fueled throughout the event.
So, what are you waiting for? Grab your early-bird tickets now and become a part of India's most prominent biking extravaganza. Join fellow enthusiasts, let the engines roar, and let the celebrations begin!