Cars these days are deceptively digital beings. In a typical car, we interact and control them with the throttle and the steering wheel, but over the years, the physical connections between those controls and the car have all but disappeared. Take the throttle, for example. It used to be a simple cable that used to dictate the amount of air and fuel that goes into the engine. These days, though, your inputs go through a computer which analyses a whole host of variables before actually actuating the throttle valve. Even the most 'pure' sportscars, with their manual transmissions and rev-happy engines deceive you with their analogue facade.
Underneath it all, there is a vast network of cables and microprocessors modifying your inputs. Why am I talking about this, you ask? Well, if there's one company that makes no qualms about its pursuit of technology, it's Mercedes-Benz. Mercedes has always been at the forefront of tech, with its cars offering an insight into what regular cars will be like in the future. Still not making any sense, am I? Welcome to my world. Even a few days after I drove the Mercedes-AMG GT-R, I still couldn't make any sense of it.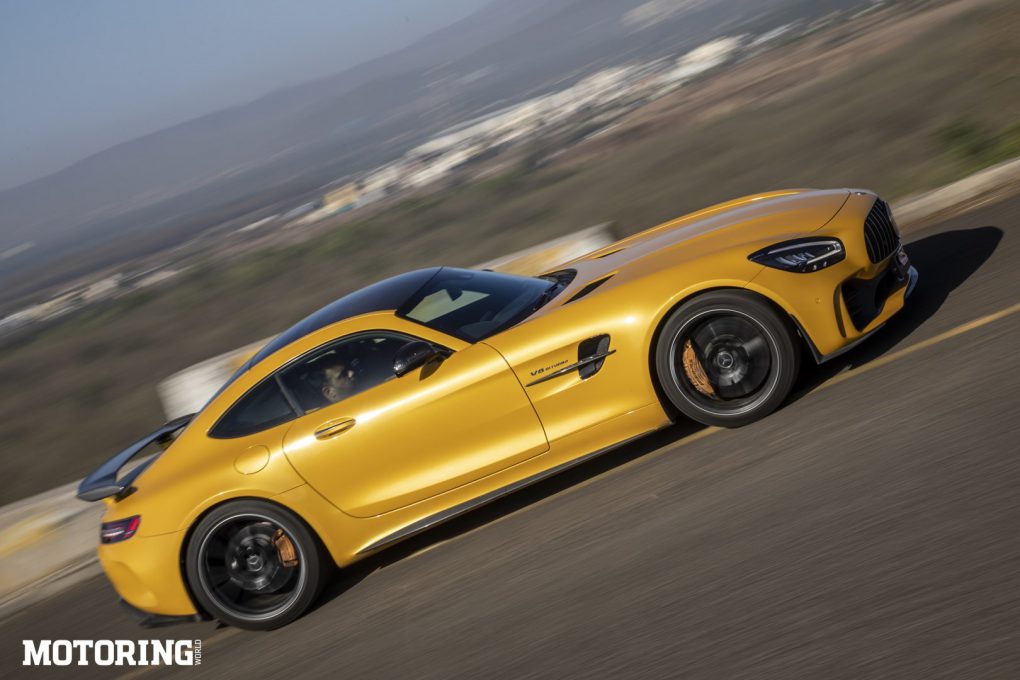 For a car that looks imposing in every picture I've ever seen of it, it looks pretty small in person. 'Low-slung' doesn't even begin to describe it. There were a few kerbs near my house that were taller than the GT-R. Its classic long-hood-and-short-deck design is an absolute visual treat, but you'll first have to adjust your eyes to the bright yellow paint job. The brightness is only broken up by high-gloss carbon-fibre elements. The front splitter, mirrors, roof and massive rear wing are all made of the lightweight material. The rear wing is adjustable, but you'll have to bring out the tools to do it. If you're looking for something a little easier to adjust, take a look at the front splitter. You can extend and retract that at the touch of a button. To be completely honest, if it weren't for the bright paint scheme, it would be pretty easy to blend into traffic with the GT-R. If you were the sort to drive this in regular traffic, that is.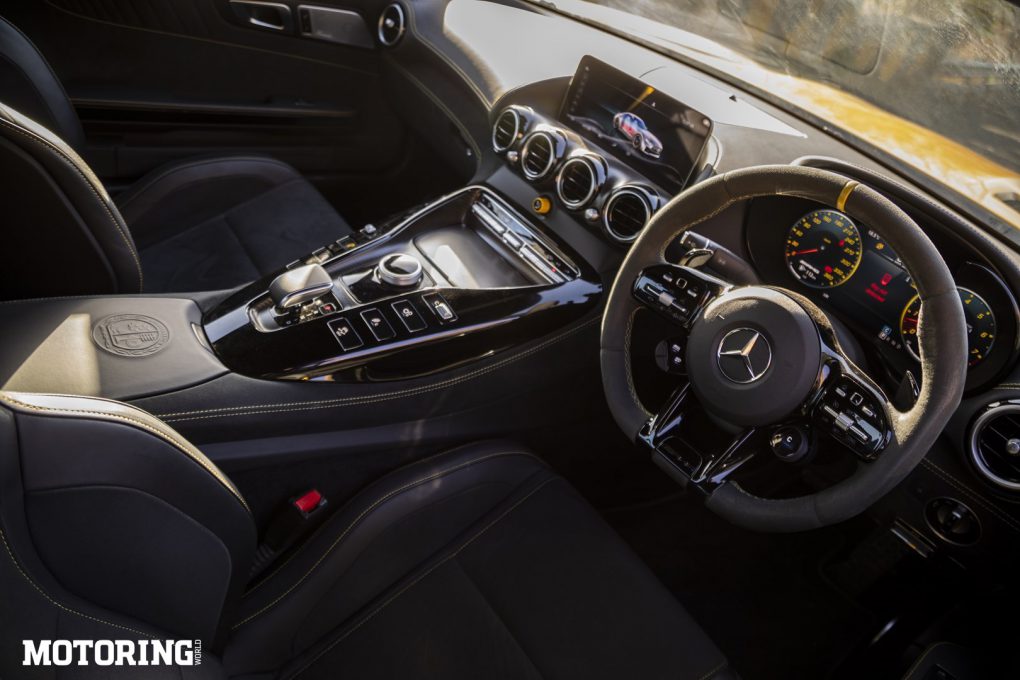 Once you contort yourself into the snug bucket seats, you'll realise that the interior is roomier than you'd have thought. Especially considering the fact that the mid-mounted engine is inches from your feet and you're essentially sitting on the transmission and rear axle. I would describe the rest of the interior, but, really, the only thing that matters inside the AMG GT-R is the traction-control knob that takes prominence on the center console. When you turn off traction control, this bright yellow knob jumps into action and lets you dial in the exact amount of slip you want the car to achieve. Everything else is irrelevant in the face of this magic knob!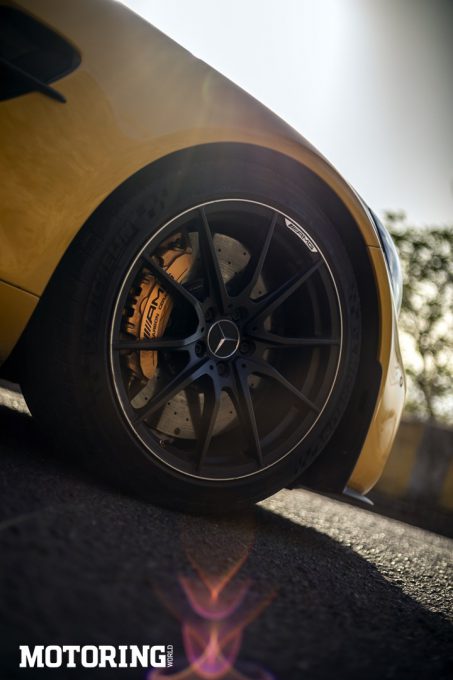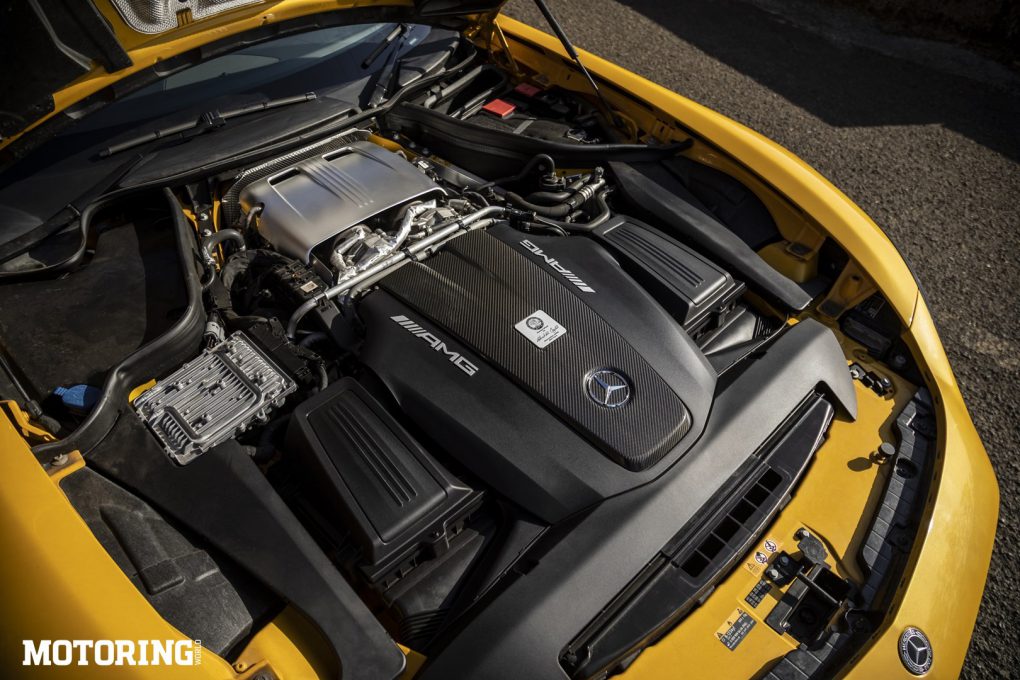 All this time, I've loathed traction-control systems for their intrusiveness and the way they suck the joy out of everything, but I realise now that it's because of badly executed systems. With the nine stages of traction control on offer here, you can set the GT-R to behave exactly how you want it. Maybe you're okay with the rear end stepping out just a little; well, you can do that, and the electronics will not intervene until you surpass that limit. Or maybe you want to turn everything off and fend for yourself; you can do that as well. Even when the system does kick in, it does so gently, allowing you to regain control of the situation pretty easily.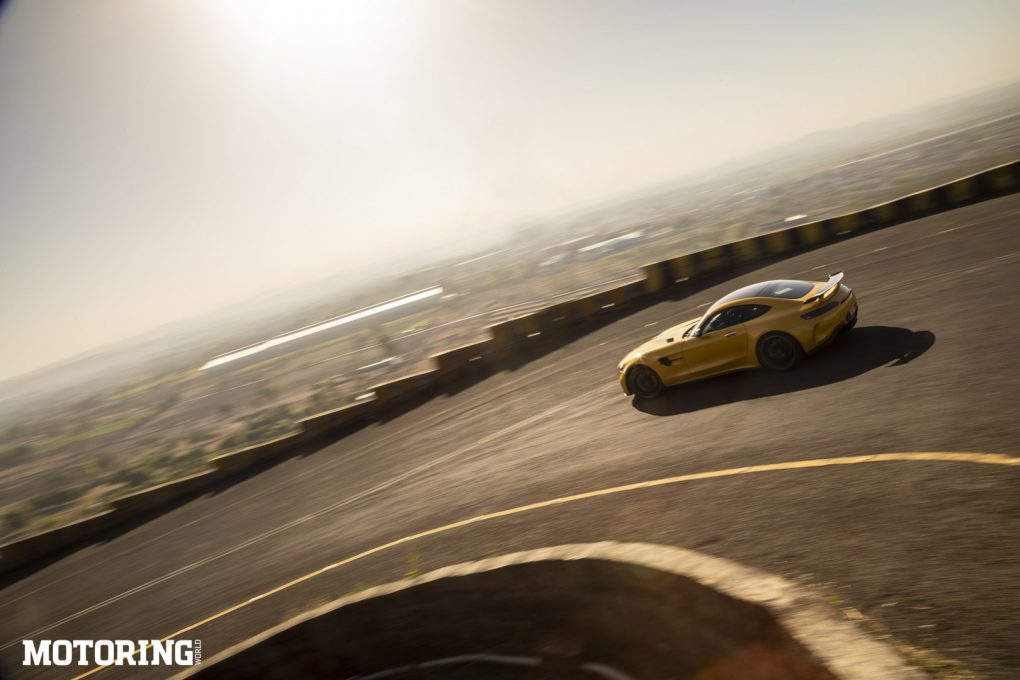 Helping you manage all of that pendulum action is the fire-breathing 4.0-litre twin-turbo V8 engine under the hood, of course. With an eager V8 and switchable traction control, you can't blame me for smoking the rear wheels a bit. It wasn't for fun, though, no! It was all to bring the rear wheels up to temperature so I could promptly rearrange my internal organs on my way to 100 kph from a standstill. It takes 3.6 seconds, if you're wondering, both to hit 100 kph and to also combine your spleen, kidney and liver to create a new organ. Now, while the engine is most definitely one of the highlights of the AMG GT-R, it is so much more than just a seat strapped to a rocket.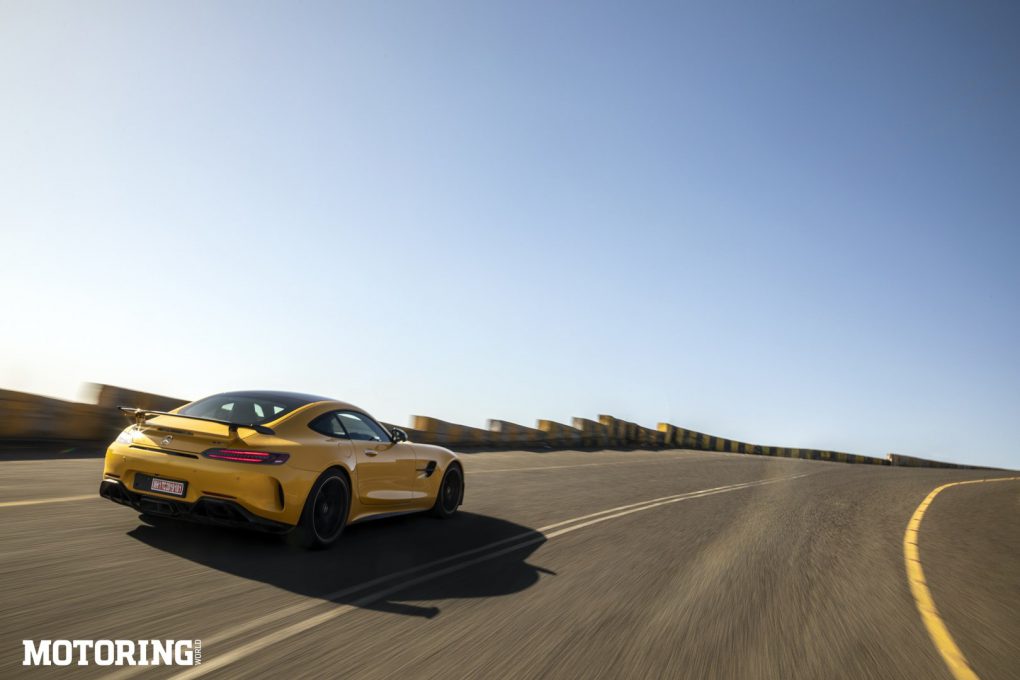 With the aforementioned sticky tyres, rear-wheel steering, rear-biased weight distribution, and an enormous amount of functional aero, the GT-R is as planted through corners as an oak tree. The steering is quite lively in your hands, too, letting you know exactly what each front wheel is up to. The chassis is incredibly chatty, but then again, it's difficult for it not to be when you're sitting on the rear axle. Overall, for a car that is brimming with electronic nannies, it feels refreshingly analogue to drive. You know how they say a car shrinks around you? In slow-speed corners, the GT-R really does shrink around you, pivoting around its midpoint like a go-kart. It makes quick work of a series of bends and leaves a smile on your face that the Joker would be jealous of!
If it weren't for the low, low ground clearance, and the fact that I can't afford it, I would drive the GT-R every single day. I knew I would like this car, but even I was surprised at how much I ended up liking it. It's a car that is incredibly honest, even through the multiple layers of its electronics. The GT-R proves that you don't need to go back to the Stone Age to get a rewarding driving experience and I very much like that.
AUTODATA
Mercedes-AMG GT-R 
POWERTRAIN
Displacement: 3982cc, V8, turbopetrol
Max power: 577 bhp@6250 rpm
Max torque: 71.3 kgm@2100-5500 rpm
Transmission: 7-speed, auto
TYRES
F/R: 275/35 R19 / 325/30 R20
DIMENSIONS
L/W/H (mm): 4551/2007/1284
Wheelbase: 2630 mm
Ground clearance: NA
Kerb weight: 1890 kg (gross weight)
Fuel capacity: 75 litres
PRICE: Rs 2.64 crore (ex-showroom)