The automotive industry is fundamentally about gaps, if you think about it. A manufacturer believes that a certain gap exists in the market, a need that isn't being met. It decides to do something about it and conjures up a product that it believes will fill that gap, and meet that need. Sometimes, what it also wants to do is to create a gap that nobody really thought existed, in order to be seen as a first-mover in that slot. When I chatted with some Maruti Suzuki officials during the Fronx media drive, they said that their belief was that a car was needed to fill the gap between the Baleno ('premium hatchback') and the Brezza ('compact SUV'). They were convinced that there were plenty of prospective buyers out there who wanted something more substantial-looking than a Baleno — but who were also not willing to pay Brezza-levels of money; hence the Fronx, an 'entry-level SUV'.
Now, is this a case of a genuine market need being met, or of a manufacturer creating a need because it felt like it? I'll leave that to you to decide. I'll also leave it to you to decide what you think 'Fronx' means. Apparently, it's a portmanteau of 'frontier next', which… doesn't make much sense, at least to me. It puts the car in a long and illustrious list of Japanese car names that make you raise an eyebrow — Bongo Friendee, Naked, Active Urban Sandal, Mysterious Utility Wizard and many more. Nevertheless, there's no doubt that the name does make you stop and do a double-take, so there's that.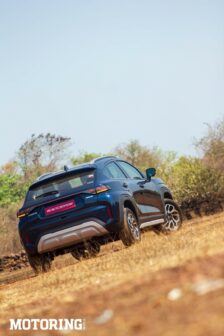 When you get down to the basics, the Fronx is a Baleno on stilts — a Baleno Cross, if you will. Maruti Suzuki's HEARTECT platform underpins both cars, and they share the same wheelbase of 2,520 mm; since the Fronx has more ground clearance than the Baleno, and also bigger bumpers and more body cladding, it's a little higher, longer and wider. It's safe to say that the Fronx looks nothing like the Baleno and has a character of its own — which is to say that it's an amalgamation of a Baleno, a Grand Vitara and a Brezza. Look at its front end, for example. When I was driving around in Goa during the media event, I saw other Fronxes (Fronxii?) driving towards me and thought that they were Grand Vitaras, at first. There's that tri-LED headlight design flanking a prominent grille, a chrome connecting strip on top of the grille, similar tri-LED DRL clusters under the headlights and a silver scuff plate rounding things off at the bottom. Looked at from the side, the Fronx has some flared wheel arches, butterfly-wing diamond-cut alloy wheels that fill out those arches well, a sloping roof with rails and reasonably muscular character lines meeting the end of the roof at the rear. The rear has a very prominent silver scuff plate, Brezza-like (and GV-like) connected tail lights and vertical light clusters at the bottom. All said and done, the Fronx manages to look sufficiently different from the Baleno while appearing as a shrunken Grand Vitara, and that's… well, it is what it is.
In the cabin stakes, the Fronx is much closer to the Baleno (I'm sticking to the top-spec variant, which is what I drove). In fact it's almost identical, save for some extra features and a black/brown colour scheme (which is rather nice). I'm particularly fond of the analogue instrument dials, which are refreshing in this digital-only age. In fact, I was happy to see that the vast majority of controllers in the cabin are actual buttons and rocker switches, because I greatly dislike having to dive into menus on touchscreens in order to carry out basic functions.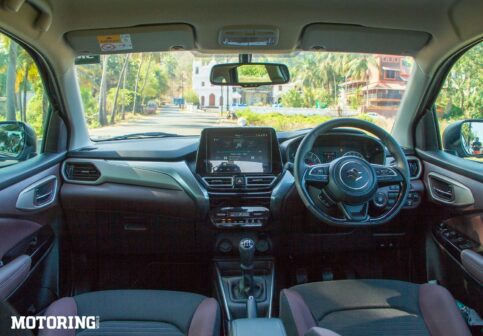 The top-end car has all the features that you would expect in this segment — a Smartplay Pro+ touchscreen infotainment system (which is a little cluttered), automatic climate control, wireless smartphone charging (which is missing in the Baleno), wireless Android Auto and Apple CarPlay, a 360-degree camera, a 6-speaker Arkamys audio system, cruise control, paddle shifters (in the automatic), connected car tech, a HUD, keyless entry, reverse parking sensors and ambient lighting, among others (no sunroof, however). The seats — front and back — offer plenty of back and gluteal support, but they lack a certain amount of thigh support, which is a common drawback in many cars; I wonder why this continues to be the case. Legroom at the back is quite generous, and four adults can travel in pretty good comfort in the Fronx; the 308-litre boot will take a decent amount of luggage as well, although the loading lip is a little high.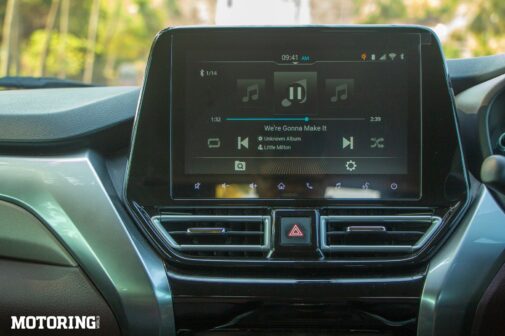 As far as I'm concerned, the best thing about the Fronx is that it sees the return of Maruti Suzuki's Boosterjet turbo-petrol engine, and it's currently the only car in MSIL's line-up that gets this powerplant; the 1-litre, 3-cylinder engine is a mild hybrid, makes 99 bhp and 15 kgm of torque, is available with a 5-speed manual and a 6-speed AT and gets regenerative braking and torque assist during acceleration. There's also a mild hybrid naturally-aspirated 1.2-litre, 4-cylinder petrol engine making 88.5 bhp and 11.5 kgm, which you can option with either a 5-speed manual or a 5-speed AMT. I drove the turbo version with a 5-speed manual, because of course I would.
The good news first. The Boosterjet is rather refined for a 3-cylinder unit, and there's none of the usual gruffness associated with those engines. It's quiet at startup and at idle, and even when you accelerate hard, it doesn't become noisy. Once you get to a cruising speed of around 60 kph, it's absolutely calm and happy to lollop along in 5th gear, with the engine gently purring at just under 2000 rpm; at this point, the real-time fuel efficiency readout will hover in the 40+ kpl region, which is very good news for… well, fuel efficiency.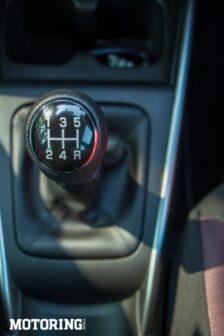 The downside? This is a very small turbo engine, which means that it starts stretching and only gets out of bed at around 3000 rpm; once its feet are on the floor, it sprints towards its morning cup of coffee very impressively, running all the way to its redline in a linear fashion. This is all well and good if you have a clean stretch of road ahead of you, but when in traffic, you'll need to downshift to keep the engine in the juicy section of its powerband; the same goes for overtaking manoeuvres. The 5-speed manual gearbox is a smooth one to work through, although the clutch in my car seemed to have a snappier action than necessary. While I didn't drive the variant with an AT, I'm familiar enough with that transmission to know that it'll be a smooth operator in most conditions, without being especially quick.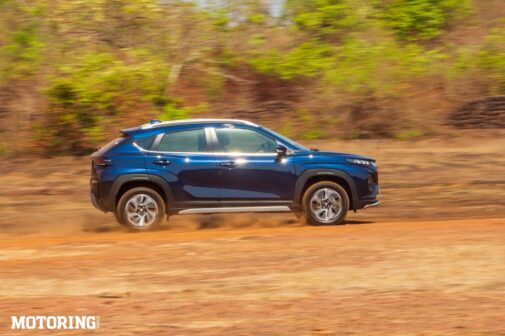 On the move on NH66 in Goa — which is smooth but not like a baby's bottom — the Fronx immediately displayed that its suspension had been tuned for as much comfort as possible; at cruising speed, there was a noticeable amount of that wafting sensation that usually exists in cars that are both softly sprung and have also had their ground clearance increased (190mm is what you get here). Things improved considerably when I got off the highway and began driving on better tarmac; the car felt more planted and less floaty. At city speeds, the ride quality is perfectly acceptable, since the suspension doesn't have to work as actively, and as a city runabout, the Fronx has no problems.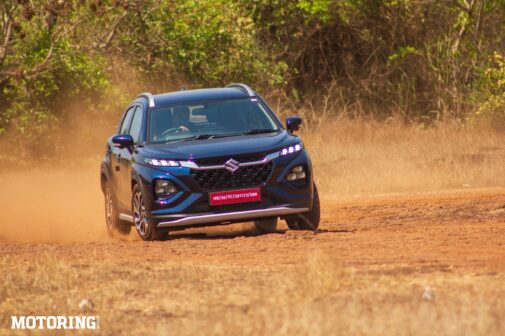 Its handling characteristics are… predictable. Again, it's been set up to cater to the everyday driver, so don't expect agile cornering with no body roll. I did treat the car like most people would not when I found a set of corners, and it passed the 'enough for most people' test. It certainly didn't feel sporty; the steering wheel didn't offer much by way of feedback, neither did the brakes (although they worked absolutely fine) and the tyres offered adequate grip. Due to the turbo engine's nature, some deft working of the gearbox was needed to keep the engine on the boil, so as not to let the Fronx bog itself down mid-corner.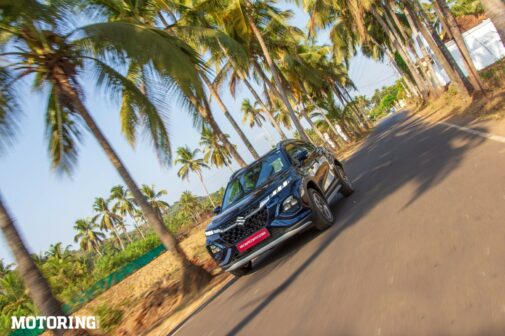 All told, the Fronx turned out to be almost exactly what I had imagined — a taller Baleno, with more or less the same cabin and feature set, funkier looks and a peppy engine that the suspension couldn't quite keep up with. Like virtually every Maruti Suzuki out there, it's a box-ticker —comfort, space, practicality, refinement, ease of use, features, peace of mind et al are all checked off the list. If it's priced at Rs 8 lakh onwards, I think it makes a good case for itself as a car for the kind of person that the Maruti Suzuki officials described to me. Is it a gap-filler or a gap-creator? Frankly, that doesn't matter.
AUTODATA
Maruti Suzuki Fronx
POWERTRAIN
Displacement:
Max Power:
Max Torque:
Transmission:
998cc, I3, turbo-petrol/1498cc, I4, petrol
99 bhp@5500 rpm/89 bhp@6000 rpm
15.05 kgm@2000-4500 rpm/11.52 kgm@4400 rpm
5MT/6AT / 5MT/5AMT
DIMENSIONS
L/W/H (mm):
Wheelbase:
Ground Clearance:
Kerb Weight:
Fuel Capacity:
3995/1765/1550
2520 mm
190 mm
965-1060 kg
37 litres
PRICE
Rs 7.47 lakh to 13.14 lakh (ex-showroom)