You can't fault Maruti Suzuki for bringing a CNG variant for its Ertiga with nearly every iteration of the MPV, considering the brand doesn't have diesels anymore and needs an alternate fuel to keep private buyers on a budget (not to mention fleet operators) happy. The 2022 Ertiga facelift, which arrived in April, also comes with two, higher-spec factory-fit CNG variants that cost about Rs 95,000 more than their respective petrol options. So, what makes this Ertiga different from its predecessors? Well, the biggest change is the engine — the new 1.5-litre four-cylinder DualJet unit is claimed to be far more frugal than the older engine.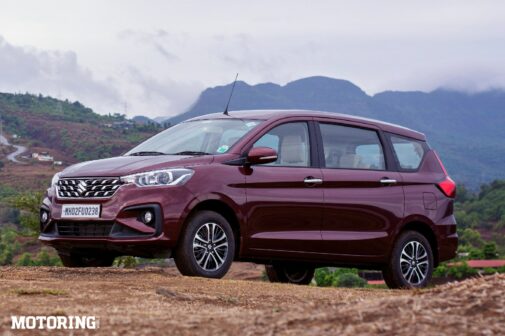 As is standard with Maruti's CNG-powered cars, the engine starts up on petrol and then, almost immediately switches over to CNG. You honestly won't miss the more expensive fuel when driving the Ertiga CNG as the engine has been tuned to respond rather well to compressed natural gas. Even when run on petrol, the 1.5-litre dual-fuel engine produces about 3 per cent less power and torque than the same unit in the standard Ertiga, but when run on CNG, that figure reduces by about 15 per cent.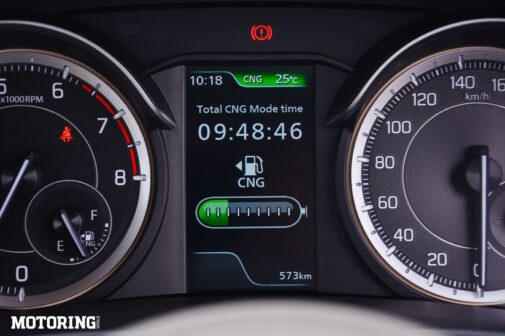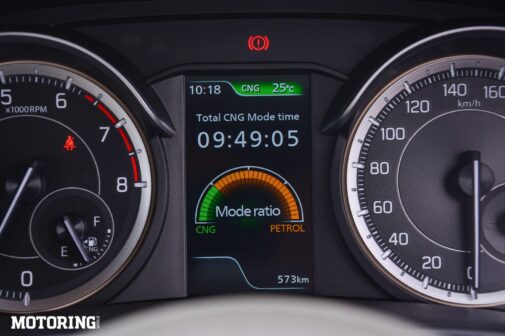 In either case, the Ertiga isn't one for blasting past anything, regardless of whether you're running it on petrol or CNG. In fact, there's a lumpiness (unfortunately, not eagerness) to the engine when it's running on petrol that smoothens out beautifully on CNG. In either case, it's nearly fruitless to rev the engine higher than the 4000-rpm mark as everything seems to be focused far below. Getting up to highway speeds is a leisurely affair, and overtaking at speeds above 80 kph can be hair-raising on our chaotic roads. Downshifts don't really help, which is sad considering the almost exciting sound coming from the exhaust.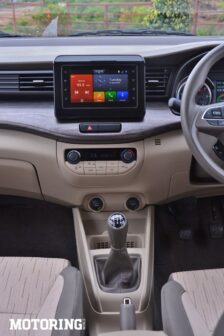 However, make no mistake, the Ertiga CNG will easily keep up with city traffic, and even surprise by pulling cleanly in a higher gear than expected. In recent months, I've been a bit spoiled by the raft of automatic cars that have come in for testing, and despite that, I found that leaving the smooth-shifting 5-speed gearbox in third can let you potter around all day without issues. The light clutch, with a definitive bite point, also helps while doing the usual urban crawl, making the Ertiga CNG a breeze to drive in the city.
Still, that deficit of power will show up when the Ertiga CNG is loaded up with passengers and luggage, especially on an upward incline. Just remember to use the lowest gear possible and the car will keep moving, albeit not in a manner that any enthusiast will like. And that's another rather unfortunate aspect as the 100 kg from the additional CNG hardware helps the Ertiga CNG feel more planted in the corners. It's a somewhat pleasurable experience on a downslope, for a largish seven-seater. The light steering weighs up quite artificially, but it's direct enough to let you know which way your wheels are pointed.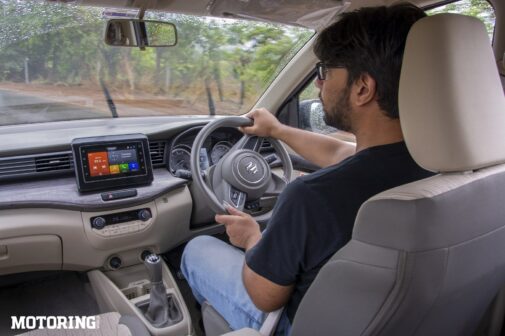 Even if you really want to hustle along, drive it to seven-tenths of its capability and not more, as pushing it harder will see understeer set in heavily. Another reason why are the brakes, which are adequate for most situations, but not enough to feel sporty by any measure. On the other hand, one of the Ertiga's major highlights is the way it smothers bad roads, and the confidence it inspires cruising away between 80 kph and 100 kph. The rigid chassis and revised suspension set up over the standard Ertiga definitely helps in this regard.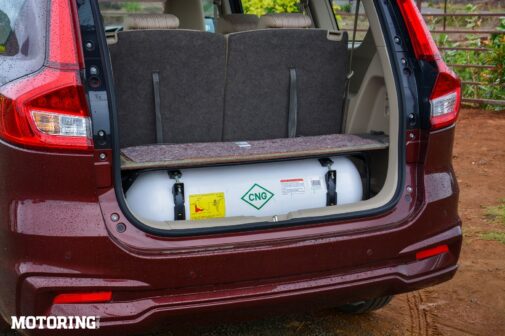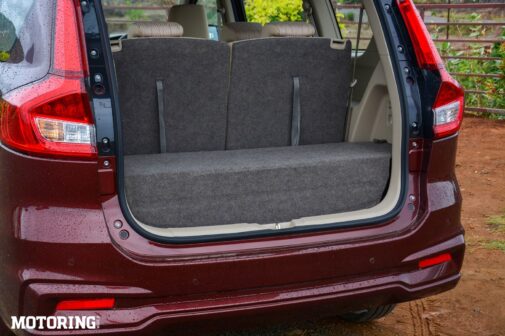 Besides being quite comfortable in the middle row (at least for two large people), passengers seated there won't feel that weird bounce that sometimes seeps into seven-seaters when loaded down on the highway. However, the last row isn't much to write home about and is best used for luggage (or children), especially because its carrying capacity is compromised by the large CNG tank at the rear. The front seats offer a surprising amount of side support, but a bit more in the lumbar region would have been perfect.
Other than a CNG gauge in the instrument cluster and a dedicated screen on the MID for the amount of fuel in the CNG tank, the cabin of this Ertiga is identical to the standard car. This means it's functional yet homely — the faux wood finish on the dash looks nice (but it is quite plasticky to touch) and the new dual-tone seat covers also uplift the cabin. All the controls are within easy reach though I do wish the easy-to-use infotainment screen faced the driver a bit more as it does reflect the outside in an unseemly manner, making you think there's a notification, but it's actually just some passing shade or a cloud.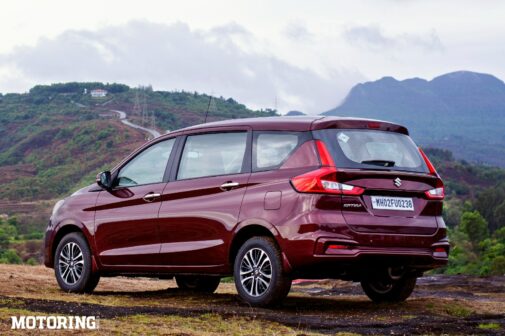 What all this means is that if you're looking to make frequent getaways with more than five people, the Ertiga CNG is an excellent option if you're on a budget. I managed to go a little under 200 km before I had drained the CNG tank and had to shift to petrol, and that included city and highway running. Add to this that CNG still costs Rs 40 less than petrol, and you've got an extremely economical people mover, that's comfy enough, and rides superbly. The Ertiga CNG is so good in this aspect that you don't miss yesteryear's Ertiga diesel, except when it outguns you on a stretch of tarmac.
AUTODATA
Maruti Suzuki Ertiga S-CNG Zxi
POWERTRAIN
Displacement:
Max Power:
Max Torque:
Transmission:
1462cc, I4, CNG
86 bhp@5500 rpm
13.87 kgm@4200 rpm
5MT
DIMENSIONS
L/W/H (mm):
Wheelbase:
Ground Clearance:
Kerb Weight:
Fuel Capacity:
4395/1735/1690
2740 mm
NA
1255 kg
60 litres (water capacity)
PRICE
Rs 11.54 lakh (ex-showroom, India)