I'm of the opinion that any day that begins at a race track is bound to be a good one. Now, I'm no stranger to driving bog-standard mass-market SUVs on a race track, but when the invite came from Mahindra to come to their custom-made track and try and race against Gaurav Gill in their new XUV300, I was titillated.
The reason was twofold. The first was that the Mahindra XUV300 has always had the potential to take on more power — Gaurav has won the INRC in the aptly named SuperXUV more than a few times. The second reason was that the first of Mahindra's mStallion series of engines is an absolute blast — that 2-litre unit is brilliant in the Thar, the XUV700, and the Scorpio-N.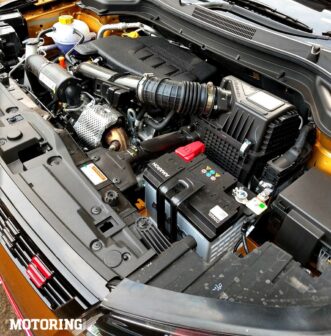 This 1.2-litre T-GDI engine is the smallest in the mStallion range, but its output figures place it on top of the current crop of small turbo-petrol engines. A 129 bhp and up to 25.49 kgm of peak torque (by what Mahindra calls the Transient Over boost Function) is sent directly to the front wheels via a decently smooth-shifting 6-speed manual gearbox. Not that we had the opportunity to shift higher than the second gear on this tight, dusty, and eventually, water-logged track.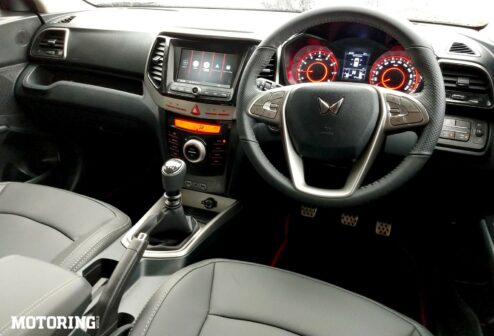 But I'm getting ahead of myself. We first had to see what kind of time Gaurav would be clocking on the track before we got a chance to drive this (marginally) new and improved XUV300. It was sunny yet quite humid as Gaurav set out to do his laps — one sighting lap and three hot laps. It was an entertaining two-and-a-half minute as the rally ace wowed us with a lap time that was a mite over 39 seconds; it involved some beautifully executed handbrake drifts and left the air with more than a hint of tyre smoke.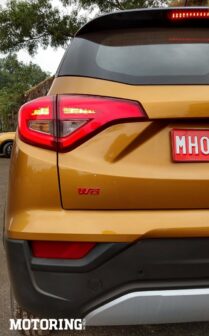 As his time came up on the board, I thought to myself, 'If I can manage an under 45-second time, I think I'd be ok.' After all, Motoring World has a long-standing tradition of having some of the best drivers around, and I'd like to live up to that. There's also the fact that my initials, 'RS', stands for Rustomfram Shukla, Rally Sport, or Really Sorry, depending on who you're asking. I was adamant it shouldn't stand for the last moniker and hoped I wouldn't spin out or take some tyres out with me.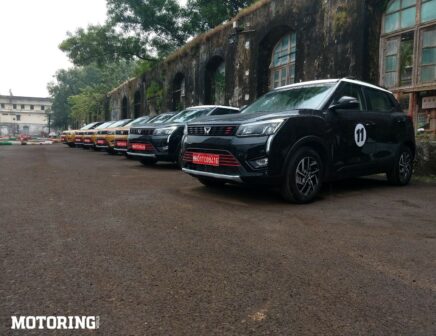 As the journos went onto the track one by one, I was starting to sweat, and it wasn't just because it was getting even muggier. The sky was turning grey, and fat drops of rain had begun pelting towards the ground. I wasn't sure if this would be beneficial or a hindrance, but that was answered when Gaurav took the XUV300 TurboSport for a run in the wet. Considering he managed an even quicker time of 38.14 seconds, I felt even greater pressure to deliver.
I had a brainwave as I waited for my turn — this is a tight track where braking would be crucial. The tyres and brakes would need some warming up, and a single sighting lap may not be enough. So, I ran through the heavy rain to my designated XUV300, fired it up (to get the engine temp to optimal), and started pumping the brakes and rolling the tyres a little. Whatever little helps me come close to that 38.14-second time.
I also had the benefit of speaking to some of the journos who had gone before me. I knew where to shift into second, how much to rev it before wheelspin sets in when the light turns green, and where I could liberally use the handbrake to counter the understeer. My sighting lap was a decently quick under-45-second time, which emboldened me. The XUV300 was also doing a rather spectacular job for a compact SUV.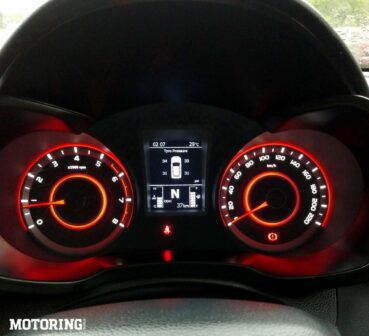 The stiff chassis and punchy mStallion engine made the XUV300 come alive. Grip levels were decent, considering I was pushing hard and sloshing through over 6 inches of water in places, leaving behind some rather picturesque splashes. There's a hint of torque steer, and that's despite the first gear only allowing for 23.45 kgm of torque, but it's manageable. It's almost understandable that understeer set in quite hard on this drenched and hard-cornering circuit.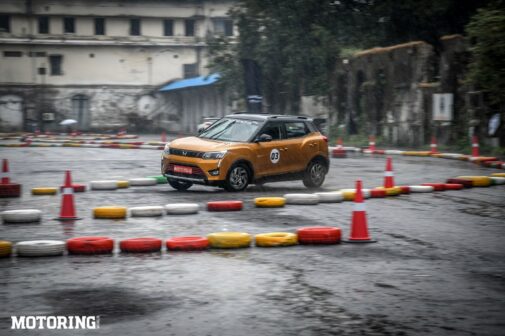 A quick yank on the handbrake and that chassis stays rigid, but the body does roll — not nearly as much that you'll be worried it'll topple, but enough to know that this suspension will probably take on a mild trail with ease. That's something I'd like to test out quite soon. For now, I'm happy with my 42.29-second time. It was among the faster ones (fifth by my approximation), and 4.15 seconds behind a rally champion isn't too shabby if I do say so myself.
I'm also excited to find out what the Mahindra XUV300 TurboSport can do in the real world. Its claimed 18.2-kpl economy figure is class-leading, and it's definitely a hoot to drive. The pedals aren't really suited to heel-toe action, and the overall setup is of a road-going SUV, which is why I think it might be even better on actual roads than on a track. However, even without taking it for a proper drive, I deem the Rs 12.9 lakh, ex-showroom, you pay for this range-topping variant you see on these pages is worth the price, the small touchscreen and unorthodox interior layout notwithstanding.
AUTODATA
Mahindra XUV300 TurboSport
POWERTRAIN
Displacement:
Max Power:
Max Torque:
Transmission:
1197cc, I3, turbo-petrol
129 bhp
23.45-25.49 kgm
6MT
DIMENSIONS
L/W/H (mm):
Wheelbase:
Ground Clearance:
Kerb Weight:
Fuel Capacity:
3995/1821/1627
2600 mm
180
NA
42 litres
PRICE
Rs 12.9 lakh (ex-showroom, India)