Around 5 am on a sleepy Thursday, it began. The scarlet silhouette was ready and waiting, looking oddly at home on the cobblestone street, and yet all I could fathom it doing was screaming down the adjacent road in a fit of uncontained laughter at its self-attested superiority. It's amazing what the mind allows you to experience when you're expectant. Even before I could get a grubby thumb over the steering, my mind was speeding. A steady, glowing pulse just waiting to be squeezed into a devastating shriek and a squiggle of glowing, scarlet lines. My mind was all over the place. What I was to step into in moments was a legend. It didn't matter that this isn't where it began for Ferrari. At that moment, it mattered more that it began then for me.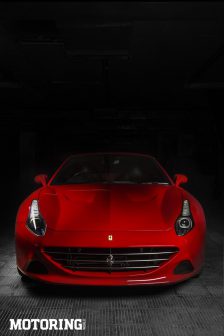 And so it did. It's common knowledge that repetition breeds familiarity, and that in turn breeds an easiness that's hard to put your finger on. Of course, it could also be said that familiarity breeds boredom, but I can assure you that a Ferrari would cough up nothing of the sort. Over the past while, I've gotten accustomed to a fair bit of extravagance in terms of exotica made from aluminium and steel, and fitted with engines that bellow and bark, and spit fire, even. Getting into this car, however, is different. There's a wave of familiarity that hits you instantly, and at the same time, you're in awe at the newness of it all. It's a strange feeling, really. Strange enough to warrant an unusually long time getting to know your surroundings better. This car is what Ferrari calls the California T.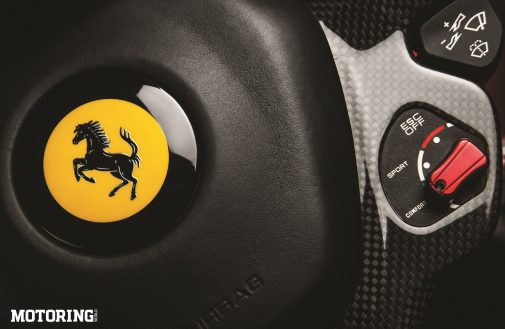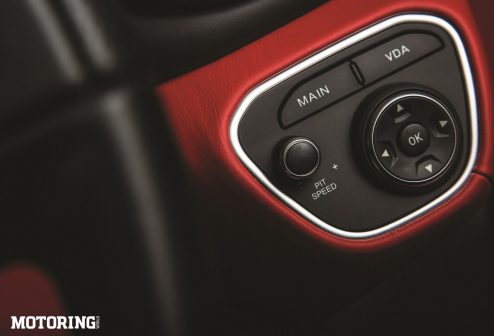 Let me take you through the bullet points. To begin with, the original California (sans the 'T') had a less-than-ideal start. It was riddled with faults that had the best of the lot cringing at what Ferrari had given birth to. Can you imagine that? A rubbish Ferrari. It's true, though, and it didn't go down very well with most. It was almost like Jamie Oliver serving up a roasted turkey with chestnut and sage stuffing and flavoured butter… garnished with goat droppings. It somehow just didn't fit. But it doesn't take long for Ferrari to understand its folly, and rest assured, the new California T is about as far away from being a polished turd as Mika Hakkinen is from being an aces ballerina instructor. It took me not more than a little while to truly grasp that feeling.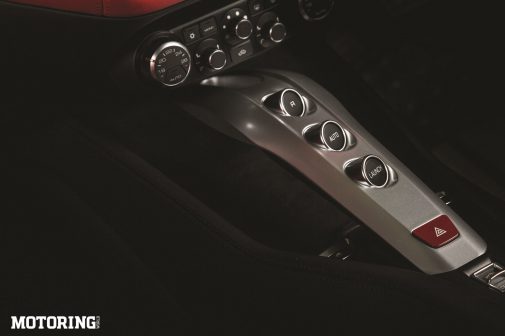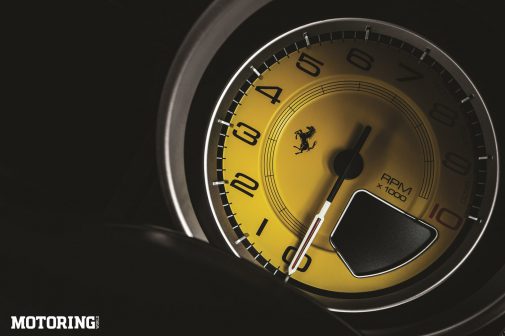 This Cali, thankfully, is a true Ferrari. What you should know is that the 'T' in the car's name stands for The-Polar-Bears-Shall-Live. A 3.9-litre twin-turbo V8 is what's responsible for giving you a major case of goosepimples, and as such, it's almost like it's tugging at your heartstrings all the way through. Listening to, and feeling this engine waking up is the reason people fall in love with it. Every blip of the accelerator is served up to you in a condensed ball of the happiest moments of your life. You're almost reluctant to shift up, really. What I believe goes on, exactly at the bottom of the 'V', is a tiny explosion caused by Ferrari gremlins whose sole purpose is to fire up an everlasting grin on your mug, which is to say that I believe it's magic. Don't believe me? Well, how else do you explain the fact that it has two turbos and drives — and, importantly, sounds — exactly like a naturally aspirated engine? You could say that it's not as strong nearer to the redline as it is anywhere else, but that's a bit precious coming from you unless your day job involves driving on the weekends throughout the year in cars that make the LaFerrari and 918 Spyder look like pocket-sized radio-controlled cars. Ferrari may have resorted to turbocharging after a long time (think F40), and it's done so not out of choice this time, but what it's managed is simply astonishing. Trust Ferrari to keep the magic of an N/A engine alive — sort of a finger to the naysayers who predicted the death of speed.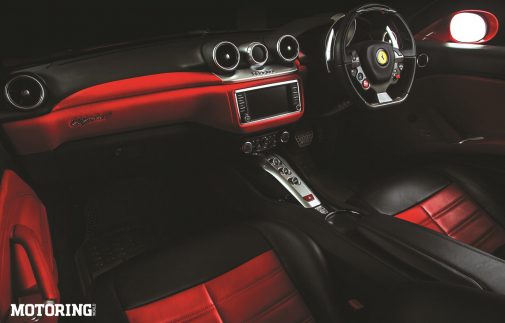 Every fibre of my being wanted to strangle the California T and bring it alive. I wanted it to betray its weaknesses, because on paper, this front-engined, rear-wheel-drive convertible shouldn't ideally be right up there with the best when you make it dance along the twisties, but it's just so shockingly good at that, too. Getting the Cali to make quick direction changes is about as cumbersome as asking Usain Bolt to collect another medal at an Olympic meet. Driving the Cali as though you're being chased by a pack of seriously pissed-off wolves is much too easy, and it's genuinely such a relaxed drive when you bring things down by a few notches as well. How does Ferrari do this? It's genius.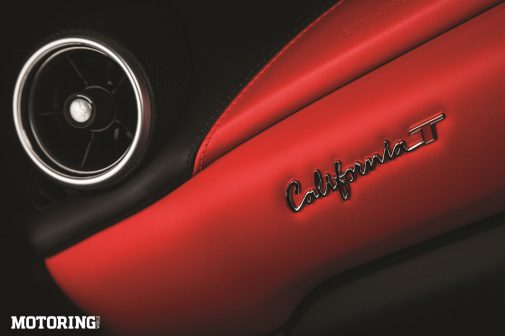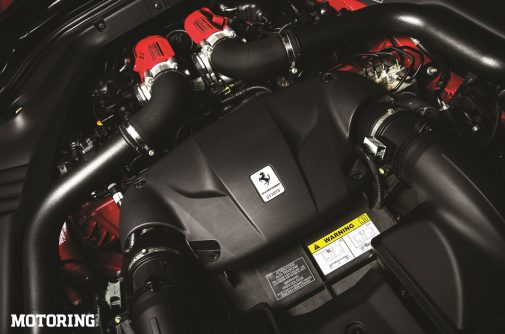 Ferrari knows that its cars are known to rev their pants off. It knows that we expect that, and so its engineers simply restrict the amount of torque in first, second and third gears to around 60 kgm of its listed 77 kgm. As you go up the gears, that number gradually increases until you reach seventh, which is when all of that torque is readily available. What this allows the Cali to do is feel like a naturally-aspirated car in lower gears, and a regular, relatively lazy GT car in the higher gears. Pardon the nerdy trivia, but to know exactly what I'm talking about, there's no other place to be other than the driver's seat. Each gear is a delirious explosion of all that is right with this world, and that lasts all of a few seconds at best, and then you shift up, and repeat. The V8 lulls you into an all-encompassing trance, and it's all orchestrated by that twin-clutch transmission. I do believe it's quicker than it's legally allowed to be, if there is such a thing. It's a genuine wonder why Ferrari doesn't use its powers of telepathy to decimate the war on peace we're currently having.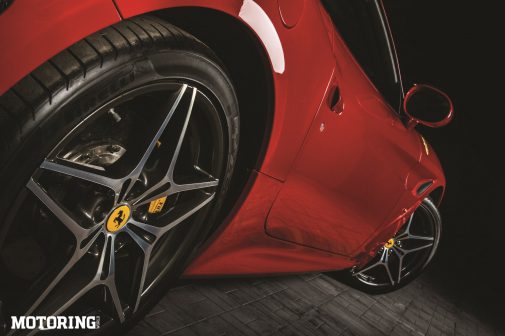 At this point, it's taking a considerable amount of restraint to not launch off into another paragraph or two to tell you about how well the California T handles the less glamorous stuff. Call me old-fashioned, but that's not how things are supposed to be. Yes, you absolutely can drive it around like a geriatric in an Alto wondering if he left his glasses at the shops, because for some reason, Ferrari's made it ride pretty well and given it enough ground clearance for you to not go past every speedbreaker and pothole with you sobbing uncontrollably and wondering how you're going to explain this one to daddy dearest. But that isn't the point of this car. I am under no illusions that this can be passed off as a track car, either, because it can't, but a Ferrari isn't meant to be taken down to the shops to refill your heart medication. Use it as the GT car it's meant to be, and stop droning on about how it can be the 'best of both worlds'.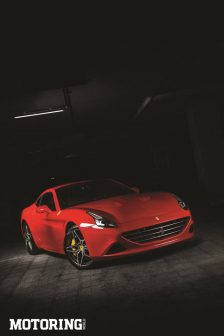 You'd be missing out on what the car can be so good at thanks to its exceptional handling balance. Like I mentioned earlier, the Cali's a front-engined, rear-wheel-drive car and that means there's a slight tendency for it to understeer, but unlike most, the vast reserves of torque and power can have you exiting a corner hilariously sideways. The limited-slip differential will help you keep things in check, although that 'ESC off' setting on the manettino can be a huge invitation for trouble if done wrong. And that's what I love about this car. Despite being such a new experience, it somehow lulls you into a strange sense of familiarity, and that's what gets you so connected to the drive right from the start. It's as tempting to drive the pants off of it as it is to drive up to your neighbouring coastal town with the top down.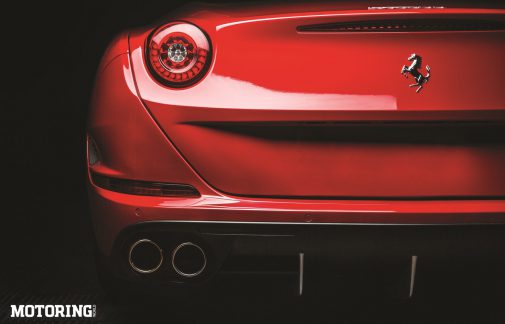 The Ferrari California T, then, is the real deal. So what if Ferrari didn't exactly nail it with the previous one, and so what if it's looked at as the baby Ferrari? Yes, it's true that it's hackneyed to say that a Ferrari is great, but like I pointed out earlier, the previous Cali wasn't, by any yardstick. And if you look back on Ferrari's rather long history, it's made the odd mistake here and there. The way the Cali's sales have gone so far, it's become clear that a majority of the people buying it are buying into the Ferrari family for the first time, and it's a fine way to get in, too. A claimed 0-100 kph time of 3.6 seconds and a top speed in excess of 300 kph are figures even the best of the lot wouldn't scoff at. And unlike its predecessor, the Cali T will happily take on its rivals. So what if, at the end of it, you have to pay north of Rs 5 crore for it? That's what armed robbery is for, right?
PHOTOS Kartik Sadekar
AUTODATA
Ferrari California T
POWERTRAIN
Displacement: 3855cc, V8, twin-scroll turbo
Max power: 552 bhp@7500 rpm
Max torque: 77 kgm@4750 rpm
Transmission: 7-speed, auto
TYRES
F/R: 245/40 R19 / 285/40 R19
DIMENSIONS
L/W/H (mm): 4569/1910/1321
Wheelbase: 2670 mm
Ground clearance: 109 mm
Kerb weight: 1730 kg
Fuel capacity: 78 litres
PRICE: Rs 4.5 crore (ex-showroom)
[This story was originally published in our October 2016 issue]