In a feat that sends ripples of nostalgia through the Indian automobile industry, the Maruti Suzuki Alto has reached yet another historic milestone by achieving a staggering 45 lakh proud owners. Fondly dubbed "India's favourite car," the Alto has not only secured its place as the highest-selling car in the country but also cemented its legacy as an icon of trust and reliability over two glorious decades.
The journey of the Alto reads like a gripping novel, captivating hearts from the moment it first graced Indian roads. Over the years, it has redefined itself time and again to cater to the ever-changing tastes and demands of Indian consumers, consistently setting new benchmarks in the hatchback segment.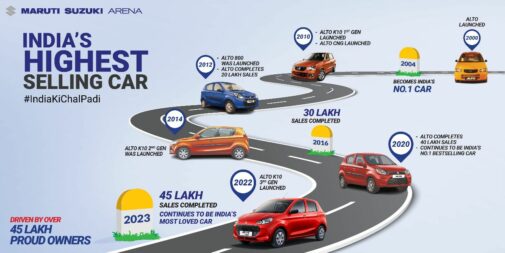 From electronic power steering to the convenience of front power windows, Auto Gear Shift (AGS) option for the ease of driving in city traffic, Dual Airbags for safety, and Anti-lock Braking System (ABS) for enhanced control, the Alto has seamlessly adapted to the aspirations of its 45 lakh+ proud owners. And let's not forget its environmentally conscious side with the availability of a factory-fitted CNG system.
Rewinding to the year 2000, the original Maruti Suzuki Alto struck a chord with the Indian audience like a love-at-first-sight affair. By 2004, it had already clinched the title of India's top-selling car – a position it continues to hold to this day with the All-New Alto K10 as its worthy successor.
With a playful wink, the Maruti Suzuki Alto's proud legacy is bound to keep roaring down the roads, leaving hearts smitten and roads well-travelled. To the Alto, we say: "Keep zooming, keep winning hearts, and keep adding more laughter and joy to the Indian roads!"