On the 15th of August at Austria's Red Bull Ring, there will be a new MotoE safety car — the BMW i4 M50, replacing the hybrid BMW i8 sportscar. The i4 M50 is not a proper M car, but a 537-bhp fully electric machine that's capable of leaving even the M3 behind! With a 0-100-kph sprint time of 3.9 seconds, that's almost three tenths quicker than the M3.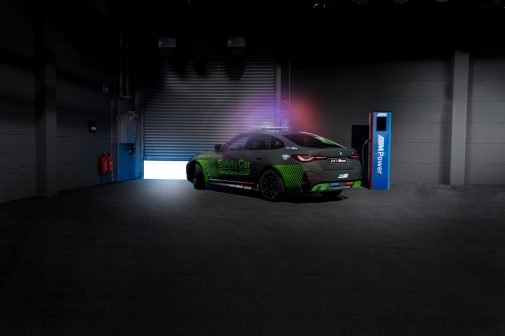 It will be the first time that a fully electric sedan will lead the 200-bhp electric bikes. It comes with all the required features and equipment that need to go on a Safety Car like the light bar on its roof, another green light popping out of the grille, some more fluorescent green graphics and featuring plenty of sponsor decals. Since this is a fully electric vehicle, the range on it is 510 km on a single charge. In the future, BMW's promised the same driving experience with sportiness, power and dynamics in its fully electric cars. We're not sure how BMW's going to make an electric motor sound nice though.
For us mere mortals, the BMW i4 M50 will be officially available in the month of November. As for India, we're still waiting for BMW to offer its first electric vehicle.