The Tata Nexon EV, and the more recent (and longer range) Max derivative, are among the most-seen EVs on the road, and for good reason. They provide buyers with a value-for-money, uniquely fun EV, with a more than decent range. The Nexon EV Max, with its larger 40.5-kWh lithium-ion battery pack and 437-km ARAI-certified range, particularly impressed me when I had driven it first. I was convinced that I would be able to get about 250-300 km of range in the real world, and was curious to see if I could actually pull an all-dayer in it.
To add to that, one aspect that I didn't have the opportunity to test out then, was how the Nexon EV Max (and by extension, the standard Nexon EV) could handle some of the rougher stuff when needed. After all, rural roads in our country are usually worse than city roads (which is saying something), and this EV will need to clamber over what could only be described as mild trails. These feel similar in kind to those off-roaders who like to go on for leisure, but these paths are usually taken out of necessity.
I set out early in the morning for Pune with the battery at 72 per cent — infrastructure issues prevented the car from charging to its full capacity, which is something EV owners should be wary of. The plan was to rendezvous with Kaizad on the other side of Pune, where we had identified a trail that we could use, one that would give us a good idea of what the Nexon EV Max is capable of, and one that wouldn't have us call Tata with trepidation saying, 'we've toppled over,' or something along those lines.
This outing would also help us understand where the Nexon EV Max stands in a setting where its long range and performance claims would be put to the test. As is the case with electric cars, the early start and relative lack of traffic meant our range indicator was dropping quicker than I would have liked. I woke up the bleary-eyed Keshav, who was snoozing comfortably in the well-bolstered and ventilated front passenger seat, and he helped me pinpoint a Tata showroom a little after the Expressway ends, and well within the 168-km range the display showed us.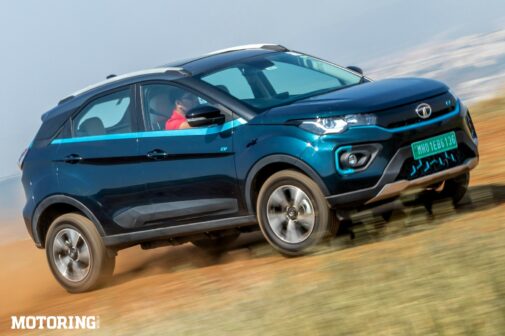 As I wasn't worried about the range, I allowed myself to experience what that 50:50 weight distribution brings to the Nexon EV Max, making the ghat section especially entertaining. The car feels balanced to a fault, and you know exactly when the understeer is going to set in. 25.49 kgm of torque is always available, and it makes the Nexon EV Max a hoot to (safely) blast out of corners. Power from the 141-bhp electric motor is metered out very efficiently, but there's enough go to overwhelm the tyres when really pushed. Now, that's a fun ride!
However, maintaining a quick pace on an uphill section does drain the battery, and by the time we had completed the 90-km journey to the fast-charging Tata Power station in the brand's showroom, we were down to 38 km of range. After downloading the Tata Power EZ Charge app, registering the Nexon EV Max we were driving, filling the account with Rs 750 worth (it's a prepaid system), and connecting the charger, we headed off to grab a quick, or not-so-quick, bite. I had elected to use the 25-kW fast charger and chose 45 minutes on the clock. This would cost me a little over Rs 300.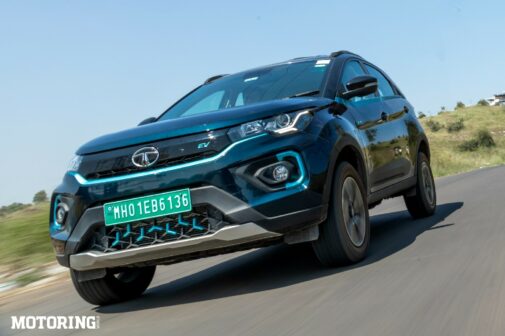 Unfortunately, one charge wasn't going to be enough to set my mind at ease. After all, we had about 40 km more to go, and a tail to (hopefully) demolish, not to mention drive back to Mumbai. So, another 45-minute charging session was called for. Waiting as the sun rises in October shouldn't make one sweat this much in Pune, enough led to a curious question. Can one use the Nexon EV Max's auxiliary systems, such as the climate control and infotainment, while it was charging? I reasoned that we do the same with our phones all the time, but it does slow down how quickly the battery charges.
Another Rs 300 charge later, we headed off with 92 per cent displayed on the part-digital instrument cluster. I decided I wouldn't pay attention to the distance-to-empty meter, as it didn't seem to be as reliable as I wanted. Sure, I should have modified my driving style to suit this EV a bit more, but I was still a little concerned that shifting over to an EV may not be for me, and that's despite my love for the Nexon EV Max's ride, handling, and performance. With a nearly full battery, we raced as fast as we could through morning traffic on the NH4, and, finally, met up with Kaizad.
After a quick round of our makeshift trail to see if conditions had maintained what we had marked out, I set off. The grip levels on gravel were pretty high, even in Sport mode, with the ESP working overtime (and effectively) to mitigate any slip. The traction control also came into play multiple times, just keeping things well in hand, and the natural strengths of the 50:50 weight balance, the stiff chassis, and that pliant, yet sturdy suspension setup shown through brilliantly. This EV is fun on almost any sane surface, so chuckable, yet stocky does it feel that you're never worried about anything. That high 190-mm ground clearance also helps clamber over most obstacles you would find on a mild trail.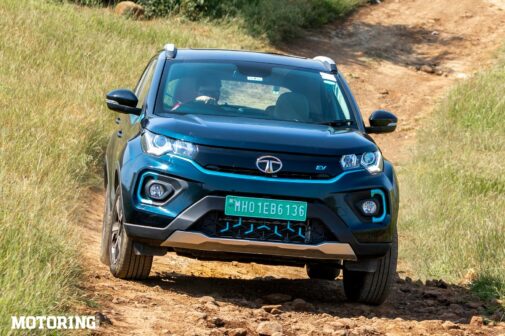 There was a point where Kaizad suggested I come in hard at a natural (and quite small) ramp, so that we could get a jump shot. It was a tactic we had used many times before, on a variety of SUVs — from the Renault Kiger and Kia Seltos, to the Mahindra XUV700 and Lexus NX 350h. However, the Nexon EV Max just wouldn't lift. It went over the large bump with a fluidity I hadn't experienced in a car without active adaptive suspension, and it did so while providing a feeling of utmost confidence. Everything, from the brake setup to the steering, makes this EV properly fun.
Having spent about 25 per cent of its range proving just how good the Nexon EV Max was at taking on some rough stuff, Keshav and I headed back to Mumbai. But, we had to make a stop at the same Tata Power EZ charging station again. After all, I wanted not just to reach home, but to have enough charge to get to another charging station afterwards. I decided on a quicker, 20-minute charge time at the 25-kW fast charger, as I prefer passing Vashi by before the evening rush starts.
I find that there seem to be a lot of calculations involved in running an EV day-to-day. Besides double-checking how many kilometres to the journey's end, the remaining charge, and taking a guess at the distance to empty, there's the 'fuel' cost that has to be taken into account. I had spent just over Rs 790 charging the Nexon EV Max, which made it the most affordable Pune trip I had ever done, barring a recent trip I did in a CNG-powered Ertiga, where I spent all of Rs 480.
I found it a little irritating that the EZ Charge app doesn't allow one to use all their balance, as it always asks one to keep about 10 per cent more money than the charging time you choose. There's still over Rs 450 in that account that may never get used, which I find quite vexing. However, other than the inconsistent distance to empty reading, I had nothing to complain about on this trip. In fact, even this last quibble redeemed itself on the way back.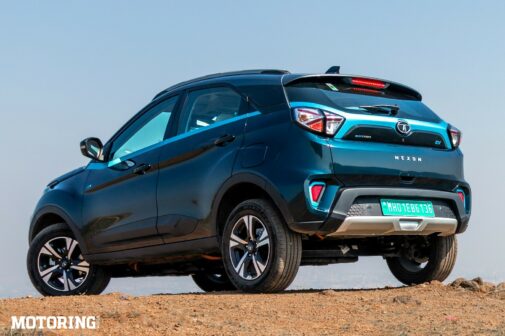 Going downhill for extended periods really brought a lot of juice from the regenerative brakes. From the four settings, I had it at level 2, which was more than enough to simulate engine braking, and provide some amount of charge to the battery. That I got some of that traffic at the Vashi toll that I was dreading actually helped keep the battery at a decent level, too. There was 68 km (32 per cent) charge left by the time I pulled into my parking lot, which was more than enough to get to any of the charging stations in the vicinity.
And I arrived home with a big smile on my face, and a longing look at the Tata Nexon EV Max parked below. It had been a properly
fun day, and besides the near-two-hour charging time, the all-electric SUV delivered everything the brand promises, and more. Well, that range issue needs to be looked at more closely, but after this experience, I admit, this EV can work as an intercity mode of transport. I honestly feel that those who drive EVs will always be prone to range anxiety — the thought of your vehicle stopping in the middle of nowhere isn't nice at all — but it's a feeling that the Nexon EV Max mitigates to a great degree, while entertaining thoroughly. Now, that's a mass-market game-changer.