We decided to start with people who have been Nissan customers earlier and then went on to purchase the Magnite as well. This is something that demonstrates utmost trust in a brand, which tells you that in the long term, the experience almost always overshadows retail price. Virtually every such customer said that their experience with their previous Nissan product had been one of good build quality, good service response and low maintenance costs throughout the ownership period.
Another thing we noticed was that Nissan seems to have made a product that fulfils all of their customers' demands. Sub 4-meter? Check. Appealing design? Check. Feature-rich for the price band? Check. Most importantly, every one of these customers was sure that their Magnite would be well built, would stand the test of time and that they would have a low cost of ownership.
WHAT MAGNITE BUYERS SAY?
Ajoy Joseph from Mumbai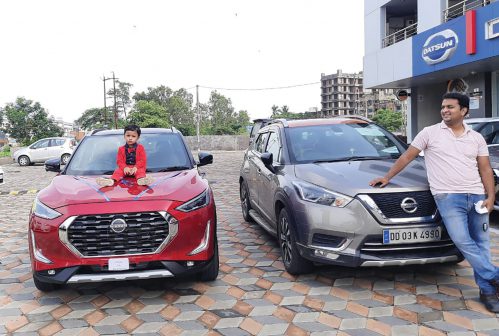 Ajoy likes his new dual tone Flare Garnet Red and Onyx Black Magnite a lot, and proudly parks it alongside his Nissan Kicks. When we asked why he chose the Magnite, he said, "I like my Kicks, it is well built and has a pretty low cost of ownership. I wanted a sub-4-meter SUV as well, and the Magnite just fits the bill. It looks amazing, and I trusted Nissan build quality and the customer experience enough to bring the new Magnite home."