When it comes to legendary indestructibility and unwavering reliability, one  name that stands tall in the world of pickup trucks is the Toyota Hilux. Its reputation as a rugged workhorse and an offroad champion has transcended generations. As we prepared for our Motoring World slush fest issue, there was no doubt that the Hilux had to be at the forefront of our feature lineup. Beyond its renowned performance, we were eager to explore the lifestyle aspect of this pickup, a vehicle that has seamlessly adapted to various roles over the years.
But we didn't want to just scrutinize the Hilux from a driver's perspective. We wanted to inject a bit of fun and adventure into the mix. That's when the idea struck us: why not invite three enthusiastic and adorable Golden Retrievers — Mango, Bumpy, and Don — to join us on this Hilux journey? After all, what better way to assess the practicality and comfort of a pickup truck than to have it judged by our furry friends who never hold back their opinions?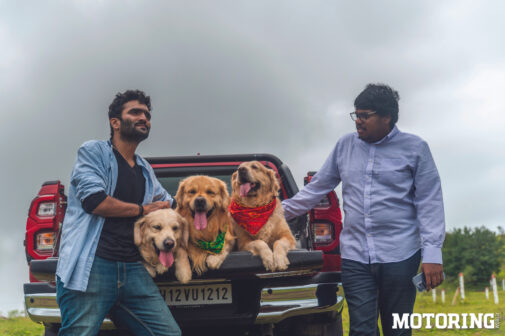 So, with our canine companions onboard, we embarked on a unique exploration of the Toyota Hilux, ready to delve into its driving experience and see what our furry critics had to say about this legendary pickup. Robust and dependable, it effortlessly carried our furry friends and us through terrain as diverse as their personalities. From smooth highways to rough off-road stretches, the Hilux handled it all with ease. We decided to get some adorable buddies for this drive.
Our three exuberant golden retrievers, each with a personality as distinct as their wagging tails. Mango, the wise old soul of the pack, brought his sage-like calmness. Bumpy, the perpetual bundle of energy, was ready to bounce into any adventure. And then there was Don, the charming heartthrob, stealing hearts with every furry glance. These three weren't just passengers; they were our copilots for the day—a quartet of adventurers ready to tackle whatever the road had in store.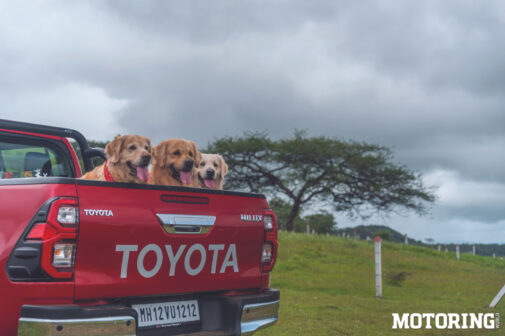 But it wasn't all serious business. With Mango, Bumpy, and Don in tow, our  journey was punctuated with moments of furry delight, as roadside pit stops for impromptu games of fetch and photo ops that captured the sheer joy of our fourlegged travellers. It was a day that celebrated the pickup lifestyle — adventure, companionship, and the unbridled excitement of the open road.
Now, let's talk lifestyle, shall we? We were on a mission to unravel the Toyota Hilux not just as a vehicle but as a lifestyle statement, especially for pet owners. And oh boy, did it deliver! You see, the Hilux isn't just a machine; it's a lifestyle tool that caters to adventurers of all kinds. For pet owners, it turned out to be the ultimate chariot for our three Golden Retriever pals—Mango, Bumpy, and Don.
The spacious, flatbed at the back of the Hilux turned into a canine oasis. After a day of romping around in the fields, chasing balls, and exploring the great outdoors, our furry trio found the Hilux's flatbed to be their piece of paradise. It was all lounging, lazing, and taking in the scenic views. The Hilux, with its sturdy build and ample space, transformed into a veritable pet haven.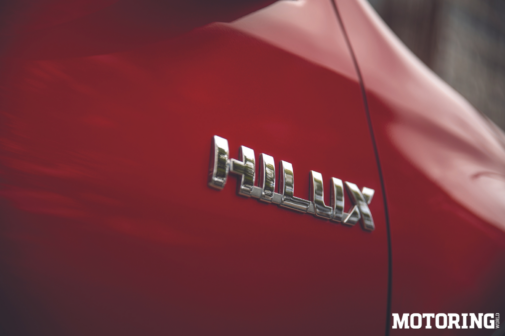 Now, let's dive straight into the heart of the matter—the Toyota Hilux. We had the pleasure of spending some quality time with it in the real-world chaos of city traffic, and boy, did it make quite an entrance. You see, when you're behind the wheel of the Hilux, you can part the city traffic and make your way through it. Maybe it's the sheer size of this beast on wheels or perhaps it's that vibrant shade of red that screams, 'I'm here to conquer the urban jungle!' Whatever the reason, people seem to part the seas, or rather, the lanes for the Hilux.
Despite its imposing presence, manoeuvring this pickup through the hustle and bustle of the city was surprisingly easy. It's like driving a gentle giant that has  been trained well. You can't help but appreciate the refinement that Toyota  brings to the table. But here's the kicker — while it handles like a dream, there's a bit of a bouncy party going on in the rear seat. It's like the Hilux is saying, 'Hey,  we can handle this terrain, but a bit of cargo back here would surely smooth things out!' So, there you have it, the urban saga of the Hilux—where city traffic bows before its red-hot charisma, and the only complaint is a bouncy backseat that's just asking for some cargo action.
The Hilux demonstrated its mettle in muddy off-road areas and slushy conditions. It gave us the impression that no terrain was too difficult for this beast as it ploughed through the mud like a child in a candy store. It was exquisite and undisturbed, like seeing a ballet dancer float through a dirt puddle. The Hilux simply enjoyed playing in the slush and mud, while many vehicles would struggle to maintain calm. The gang of enthusiasts for off-road driving were left beaming from ear to ear, maybe wider than the mudsplattered Hilux itself.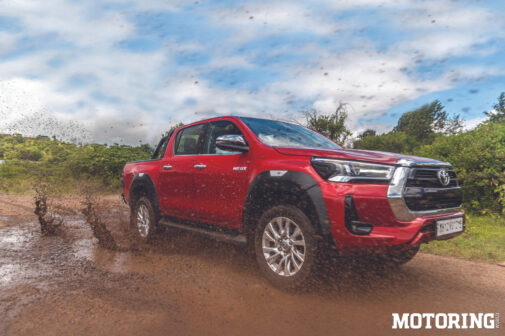 Now, let's get down to the nittygritty of the Toyota Hilux—it's essentially a  Fortuner dressed up in pickup form. Think of it as the Fortuner's rugged sibling, sharing the same 4×4 system, and a sturdy ladder-frame chassis.
Underneath the hood, that familiar 2.8–litre diesel engine from the Fortuner quietly flexes its muscles, delivering a punchy 201 bhp and a substantial 51 kgm of torque or 42.8 kgm in the manual variant. With three Golden Retrievers  aboard, each almost tipping the scales at 33 kgs, you'd think the Hilux might  break a sweat. But fear not, this pickup takes the load in its stride, making  hauling look like a leisurely walk in the park. And let's not forget the NVH levels—pretty well-behaved for a vehicle in this class. Even when you decide to give that accelerator pedal a good prod, the engine may raise its voice a tad, but it's  nothing that'll ruffle your feathers. Plus, the six-speed automatic gearbox is as refined as it gets, seamless, and companion ready to tackle any when you shift to Sport mode, it can be as sharp as a witty one-liner in a comedy club. So, whether you're hauling cargo or a trio of fluffy adventurers, the Hilux has got your back, and it's ready to take on the world, one bark at a time.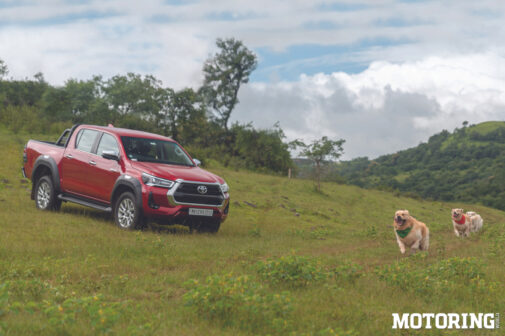 Renowned for its durability and off-road prowess, boasts an interior designed to be the perfect blend of comfort and practicality. The Hilux packs a punch with features like an 8-inch touchscreen infotainment system, complete with Android Auto and Apple CarPlay, dual-zone automatic climate control, a power steering system featuring Variable Flow Control (VFC), steering-mounted controls with  voice assist, and even an electrochromic inside rear-view mirror. And that's not  all; it throws in cruise control, privacy glass, a 4-spoke steering wheel, a JBL  sound system that boasts six speakers, and versatile driving modes — ECO and  PWR.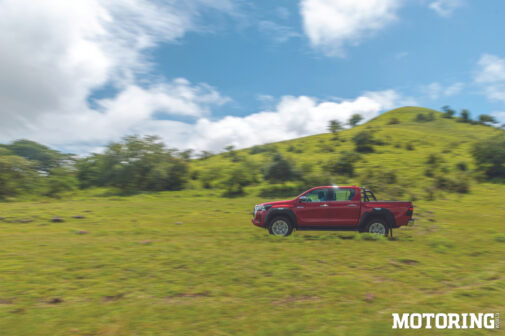 Inside the Hilux, you'll find an abundance of space, whether you're carrying passengers or cargo. The front seats offer comfort and support, while the rear  seats generously provide legroom and headroom. This interior is not just about comfort; it's designed to endure. Crafted from robust materials, it's built to withstand the elements.
Lastly, the Toyota Hilux isn't just about urban charm; it's a rugged beast when it comes to off-road adventures. Our trusty companion, packed with incredible off-road capabilities, proved it can handle the wild side. It was the perfect ride to take our trio of Golden Retrievers for a romp on the off-road trails around Pune. With open spaces aplenty, our furry pals had a blast as the Hilux tackled the terrain like a pro. It's the kind of pickup that doesn't just talk the off-road talk; it happily walks the off-road walk, making every adventure a walk in the park, or in this case, a run in the wild.
With a price tag nudging close to ₹38 lakh for the fully-loaded AT variant, the  Hilux may appear as a bit of a splurge when compared to the Isuzu V-Cross. However, you're not just paying extra for a pickup, you're investing in a capable companion ready to tackle any challenge thrown its way. From its rugged  prowess to an array of impressive features, the Hilux shines in the spotlight. And, as an added bonus, it seems we've secured the seal of approval from our trio of Golden Retrievers, who found the Hilux's back quite irresistible, making it clear that this pickup is more than just a ride; it's an experience. So, if you're seeking a vehicle that's as pet-friendly as it is adventureready, the Hilux might just be your golden ticket to the ultimate pickup lifestyle.