What is this?
The shiniest thing I've seen in a while! More importantly, it's the second of Royal Enfield's J-platform variants, featuring the name and form that sells the most in its lineup. If there is a motorcycle that carried RE from 2009 to today, one bike pulled the company to the top of its game, it's the Classic 350. It's virtually impossible to overstate just how important this motorcycle is, and in its newest form, the Classic 350 is immediately ready to win hearts, both new and old.
On my first day with the bike, I was standing at a traffic signal when a chap riding an older Classic Chrome went past. And as he did, the new bike forced his neck to perform a pretty accurate impression of an owl's swivelling neck, his eyes widening at this red and chrome beauty. To do that to a guy who's already used to chrome is a pretty special thing, I'd say. The new Classic 350's appearance is the same as the old one's, but it's also completely different. After all, it's not a good idea to mess around with something that looks and is called Classic for very obvious reasons.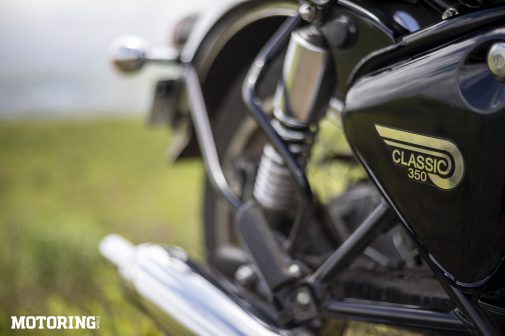 Whom is it for?
For the overwhelming majority of Royal Enfield's customers, to begin with. And, as with the Meteor, it's also those who've stayed away from REs for mechanical reasons that have become invalid since the cruiser came out. It's for those who want timeless looks, a smooth motor, and unflappable poise, too. For me, personally, that headlamp casquette is quite literally a family heirloom, passed from one generation to the next; only, mine is of 1975 vintage, and the new one is similar only in appearance, not size or function. That last bit holds true for the entire bike, of course.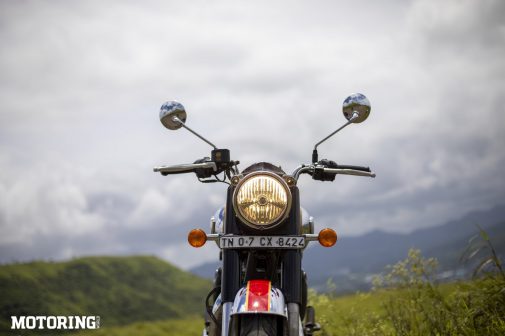 And no matter what your preference of colour/theme, RE has you taken care of. If you opt for a rear drum brake, you get two choices of Redditch shades, green and grey. For the dual-channel ABS versions, there are a lot more: a Halcyon theme in either green, black or grey; the Signals in grey or brown; a Dark version in black or grey; and my favourites, along with most others, I bet, the Chrome in red or bronze. I like the Halcyons, too, but the shiniest ones are too hard to resist.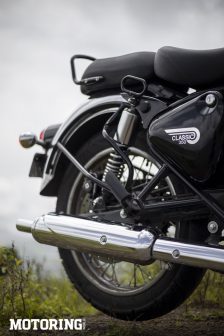 Does it handle?
Quite well, actually! With the new twin-downtube spine frame, a new 41-mm front fork with twin rear shock absorbers to match, and upsized wheels and tyres at both ends, the Classic 350 is as planted as they come. What's more, my biggest pet peeve with the older Classic — footpegs that were forward-set just the right amount to get on my nerves — has been resolved. The riding position now has my knees bent and my feet placed where they should be. However, changing gears with full-length size 11 riding boots is still a challenge; for me, there isn't enough range of motion to use just the toe shifter. A gear-lever swap with a suitable one should work things out, I suppose.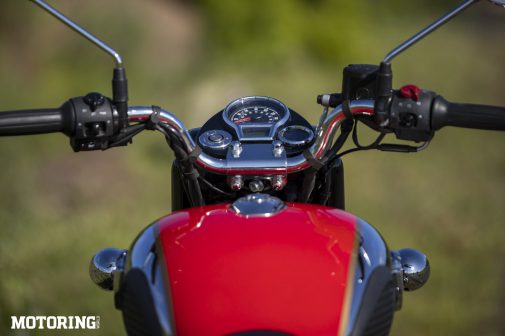 The Classic 350's ride quality is a great balance of comfort and stability, even if it might appear that it prioritises the latter. It's not super-plush, but it's not back-breaking, either, and the other side of that coin is its excellent handling. The Classic 350 is agile in the city crawl and stable when speeds rise. Brake feel from the 300-mm front disc isn't exactly the best, but it gets the job done safely and in time, especially when the 270-mm rear is used in conjunction as the Classic prefers. The tyres are great, though, both in the dry and the wet over all kinds of urban surfaces. And now for the most familiar part after the looks — the engine.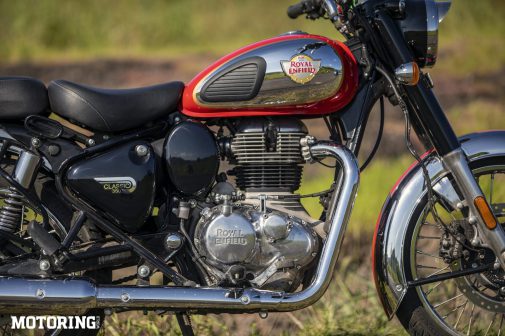 How fast is it?
Um, not very, really. And, like the Meteor, it certainly doesn't offer the velocities that you'd expect from a 21st-century 350cc motor. Although it accelerates smartly till 80 kph, with an 83-kg me aboard it tops out at around 110 kph, while the Meteor goes past 120 kph when given the whip. Then again, I was always thinking of the Classic 500 while riding this bike, not the old 350. Compared to the latter, the new one is most certainly beefier in performance and feel. It's smoother, too, but retains just enough long-stroke vibes to bask in. And ultimately, it's worth bearing in mind that this is the Classic, and not a GT or a Race.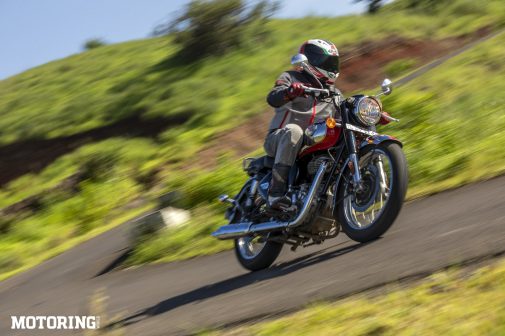 By now, most people should be familiar with the engine and how it has changed people's expectations and assumptions from an RE single. And it's more of the same with the Classic 350. It can hold 80-90 kph all day without breaking into a sweat, and it'll even hold 100 kph if you insist. But I find myself riding it somewhere around 70 kph, the right amount to take in the sights, waiting for a suitable spot to present itself as a backdrop against which I can take photos of the Classic. The 5-speed gearbox is still iffy, or maybe I'm not used to that gear lever yet; it gets stuck between gears and throws up the occasional misshift, although it did sort itself out on our long-term Meteor, so I'll wait for a few hundred more km to say for certain.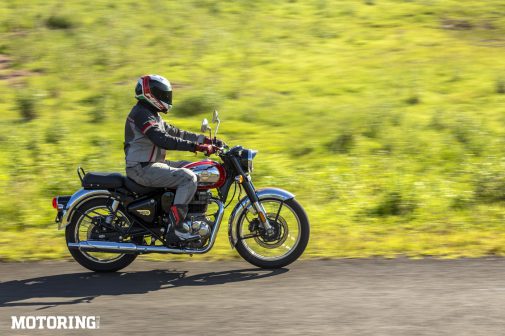 And yes, the thump is present, too, and different to what we hear in the Meteor; it's more suited to the Classic's looks, and has a more authentic character that's more Brit bike than just another long-stroke single. Doesn't change the fact that I still want a louder pipe on mine, though.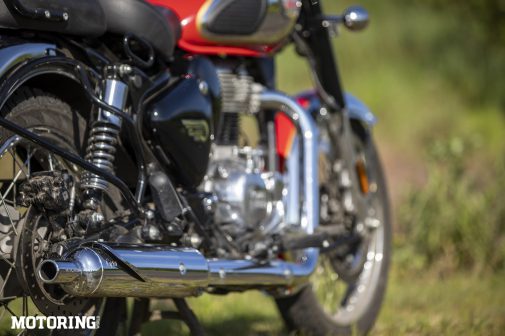 Is it fun?
Ever since the Meteor came out, I've been waiting for the Bullet based on this new platform, resigned to the fact that my savings account is a hapless shooting target for the aptly named motorcycle. The Classic is swaying that notion harder with each passing day, and it's only been a week or so. I really liked the Meteor, but I think I may end up falling for the Classic. Especially since I removed the pillion seat and the bike looks almost too good to be true! Plus that pillion seat weighs around 4 kg, so that's a good chunk off the Classic's 195-kg kerb weight. Not to mention the complete lack of obligation when a pillion presents itself.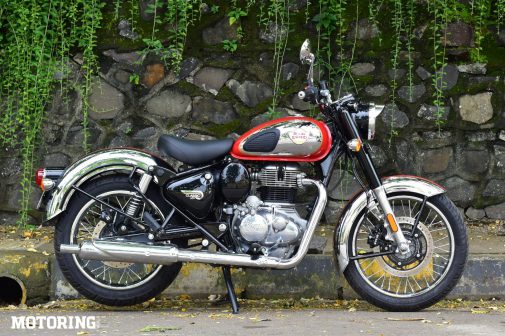 As for the practical bits, it now has a fuel gauge for its 13-litre tank, so tank-ups are no longer a who-blinks-first contest between you and the low-fuel warning. It has the Tripper navigation in the casquette for those who need it, and it has a neatly hidden USB charging port under the clutch-lever yoke. The tool boxes? Filled with all the things required to make a motorcycle meet modern norms, I'm afraid. There's space for papers and a cleaning cloth, at best. With all that shiny chrome, you'll need one, too.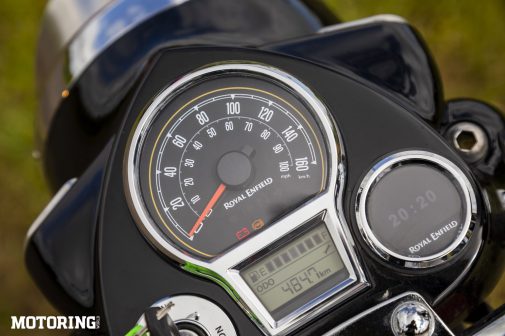 Underscoring the new Classic's presence and appeal is the reaction it gets on the road. I wouldn't be surprised at all if most of the people who stopped to ask about the bike have been to an RE showroom already. The new Classic 350 enhances the best aspect of the old one — its look — and combines it with the smoothness and composure of the latest platform, and it does that to brilliantly soothing effect. I can see myself heading down the coastal highway, stopping every half an hour to wander and wonder, indulging in the kind of motorcycling that the Classic 350 demands. Like its shape, its ways are timeless and essential, too.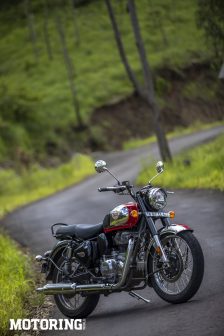 MOTODATA
Royal Enfield Classic 350
POWERTRAIN
Displacement: 349cc, single
Max power: 20.2 bhp@6100 rpm
Max torque: 2.75 kgm@4000 rpm
Transmission: 5-speed
CHASSIS
Type: Twin-downtube spine frame
BRAKES
(F/R): 300-mm disc / 270-mm disc (or 153-mm drum)
TYRES
(F/R): 100/90 R19 / 120/80 R18
DIMENSIONS
L/W/H (mm): 2145/785/1090
Wheelbase: 1390 mm
Ground clearance: 170 mm
Seat height: 805 mm
Kerb weight: 195 kg
Fuel capacity: 13 litres
PRICE: Rs 1.84-2.15 lakh (ex-showroom, Chennai)