Shared platforms and badge engineering are all too common in this day and age. The QJ Motor SRV 300 displays exactly that, as the frame, engine and a lot of other components are shared with a model from a sister company. This setup works out well for manufacturers looking to gain a footing in any new market. It is easier to co-develop and bring in multiple models based on the same platform under different brand banners. With significant changes to differentiate between them, this strategy works out well, but what happens when there are no distinguishing features and the market sees a sudden influx of almost identical products wearing different badges?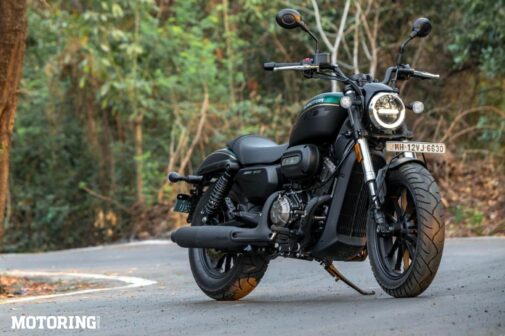 There are certain exceptions though, wherein some examples feature essential changes and functional improvements. It seems like that in itself would go on to justify the new product. QJ Motor has acquired a few well-known brands and has not held back in the least from immediately integrating the newly acquired technology into new models under the QJ brand banner. It also is rumoured to have quite a few co-developed projects, and the SRV 300 could very well be the result of one such project with the likes of Harley-Davidson.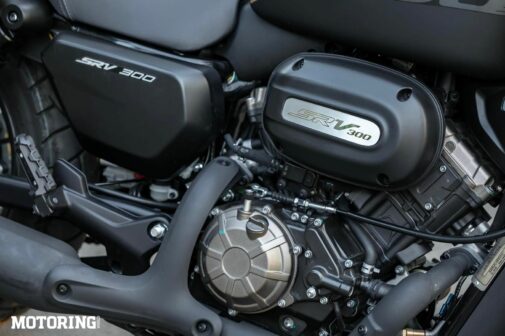 The SRV 300 is powered by a 298cc, V-twin liquid-cooled motor, which makes 29.88 bhp and 2.65 kgm of torque. These figures are not at all shabby when compared to other motorcycles in the segment. And as noticed on other QJ motorcycles, this one has itself a set of sweet-sounding pipes. The exhaust note is pretty pleasing to the ear, and upon opening the throttle, has the tendency to growl with questionable intent. A 6-speed gearbox takes care of transferring power to the rear wheel via a chain drive, unlike the belt-drive system on the Keeway V302C.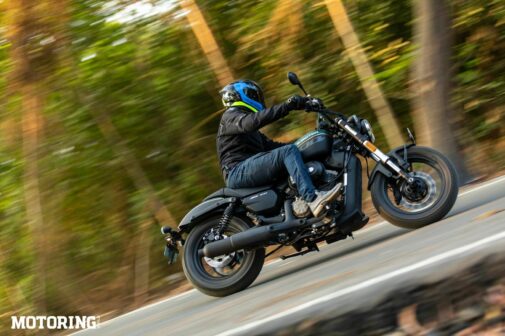 The rider triangle feels decently relaxed but could get very exhausting for taller riders, not to mention that the suspension, which comprises upside-down front forks, and twin spring-loaded shock absorbers at the rear, seems to be tuned to be on the stiffer side. Coming to the pillion seat, which is almost non-existent, comfort goes right out the window with this setup. It could very easily be classified as a single-seater bobber rather than a cruiser, but it is what it is I guess. The brakes seem to be pretty effective in bringing the motorcycle to a safe and swift halt as far as I can confirm, which is a welcome change in comparison with other motorcycles from the manufacturer.
The motorcycle does feel enthusiastic to showcase what it is capable of, and after riding it for quite a bit, I won't hesitate to confirm that it is indeed fun to ride. The front wheel pops up quite earnestly, with a bit of coaxing of course, and the compact nature makes it quite nimble as well. Introduce it to some dirt and it slides around with glee, breaking free from its cruiser roots for a while. The build quality, and the fit and finish do feel pretty premium, and the bike feels rather solid overall. Not bad for something stemming from a South-East Asian brand.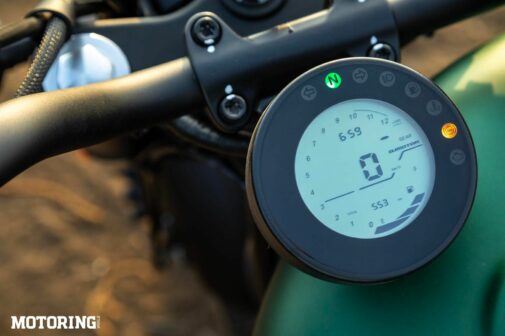 The SRV 300 seems to generate a lot of interest wherever it goes, and the conversations around it generally revolve around how much it costs, and a general curiosity regarding the QJ badge, since it is fairly new in the market. They all end in a slightly presumptuous, but unanimous conclusion that the motorcycle is overpriced, and that there is no saying how long Chinese things last. I guess only time can tell, as for now we just focus on what we have with us in the present.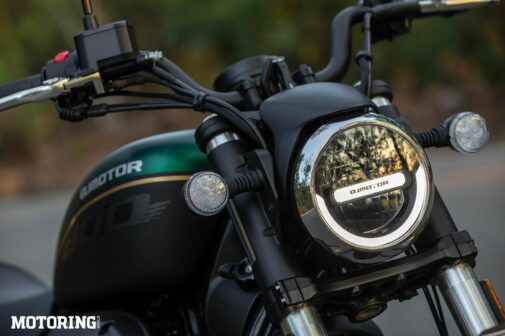 QJ Motor has done quite a commendable job of scaling down the whole cruiser experience with the SRV 300. With a better service network and more consistent product quality, I am confident that the public will warm up to the idea of fun and reliable Chinese motorcycles. That, along with more practical pricing could maybe just do wonders for the brand, but till then the SRV 300 remains a motorcycle for those with deep pockets and a hunger for excitement.
MOTODATA
QJ Motor SRV 300
POWERTRAIN
Displacement:
Max Power:
Max Torque:
Transmission:
296cc, V-twin
29.88 bhp@9,000 rpm
2.65 kgm@5000 rpm
6-speed
BRAKES
F/R: 280-mm disc / 240-mm disc
TYRES
F/R: 120/80 R16 / 150/80 R15
DIMENSIONS
L/W/H (mm):
Wheelbase:
Ground Clearance:
Seat height:
Kerb Weight:
Fuel Capacity:
2110/850/1100
1400 mm
160 mm
700 mm
164 kg
13.5 litres
PRICE
Rs 3.49 - 3.59 Lakh (ex-showroom)