What's better than a Yamaha RD 350? An RD 350 with expansion chambers! Of course, there are many more intricate things people do to wrest every last hoof of horsepower from the legendary seven-port reed-valve parallel-twin. But those mods won't make sense without a pair of pipes that sound like a million buzzing bees on the back of your neck. This custom RD 350 by Bangalore's MotoMatic R&D is a glorious example of that philosophy. Yes, expansion chambers are eligible to be categorised under 'philosophy'. Or at least that's the angle you could try to convince the cops with to let you go, however futile the attempt.
The irony of riding this bike in Bangalore, where cops use road rollers to flatten aftermarket exhausts, was hilarious. Obviously, we had to head to a deserted area to ride the bike, and even at the smallest of throttle openings, the DG expansion chambers were hysterically vocal. Once at the secluded location, they were unexpectedly surreal. Every blip of the throttle sent out shockwaves that seemed to bounce back towards us from kilometres away. Indeed, there was nothing around in this flat area except trees and steel-lattice transmission towers. The RD's shriek seemed to reflect from every available surface, recreating the long-forgotten atmosphere of racetracks enveloped in 2T mist.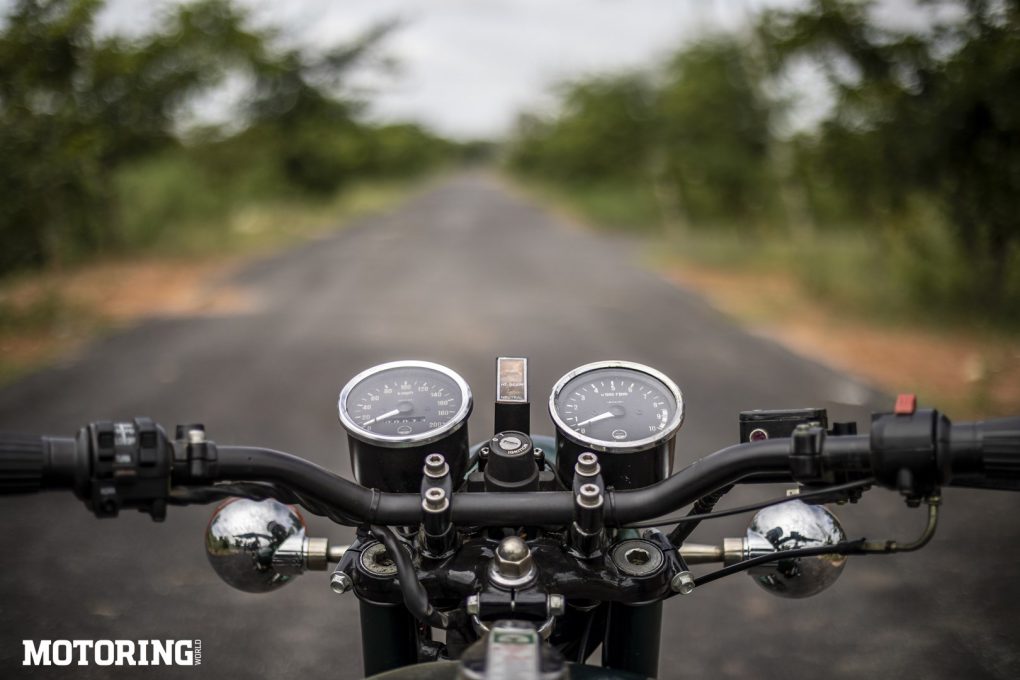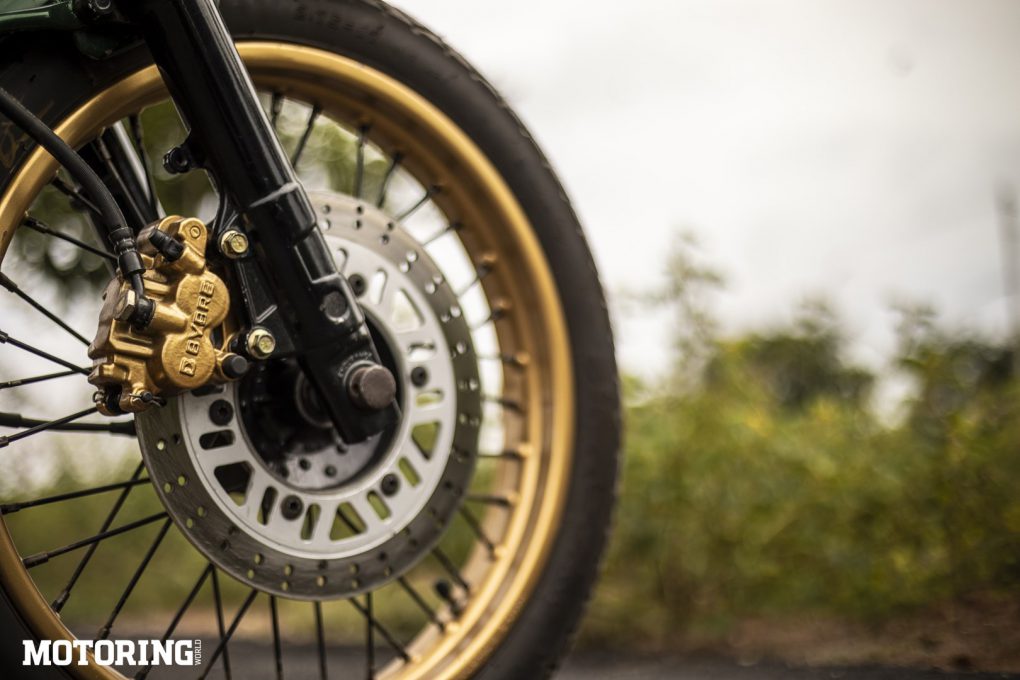 As my mind basked in the pipes' aural virtuosity, it was almost too easy to overlook the other mods on the bike. And also how compact this particular RD was. Honestly, its proportions were closer to that of an RX, and it was 15 kg lighter than a standard RD, too. A compact and lightened motorcycle is always a good idea, especially if a welcome side effect was a front wheel that performed a high salute to the memory of two-strokes every time the throttle was opened in the first two gears. Maybe even three, but since the motor was fresh from a rebuild, it was best not to ask too much of it. It also had a mild porting job, Mikuni TM28 flat-slide carburettors, Uni air filters, and an RDD CDI kit upgrade, all of which made the bike breathe and run freer than a normal RD. This makes for a 350cc two-stroke that one can be simultaneously happy about and afraid of.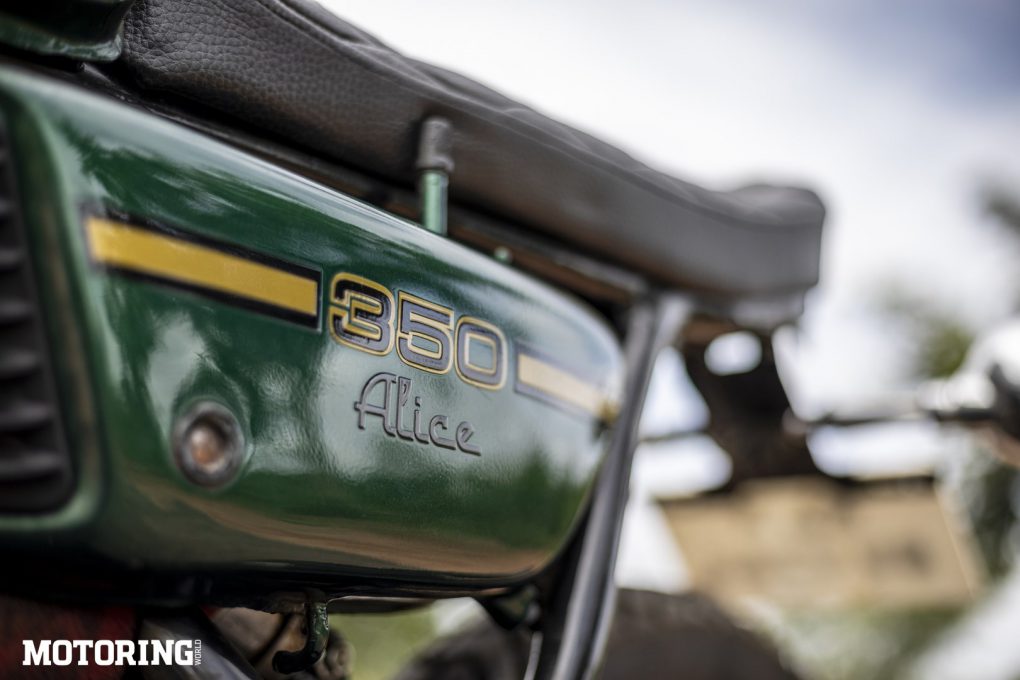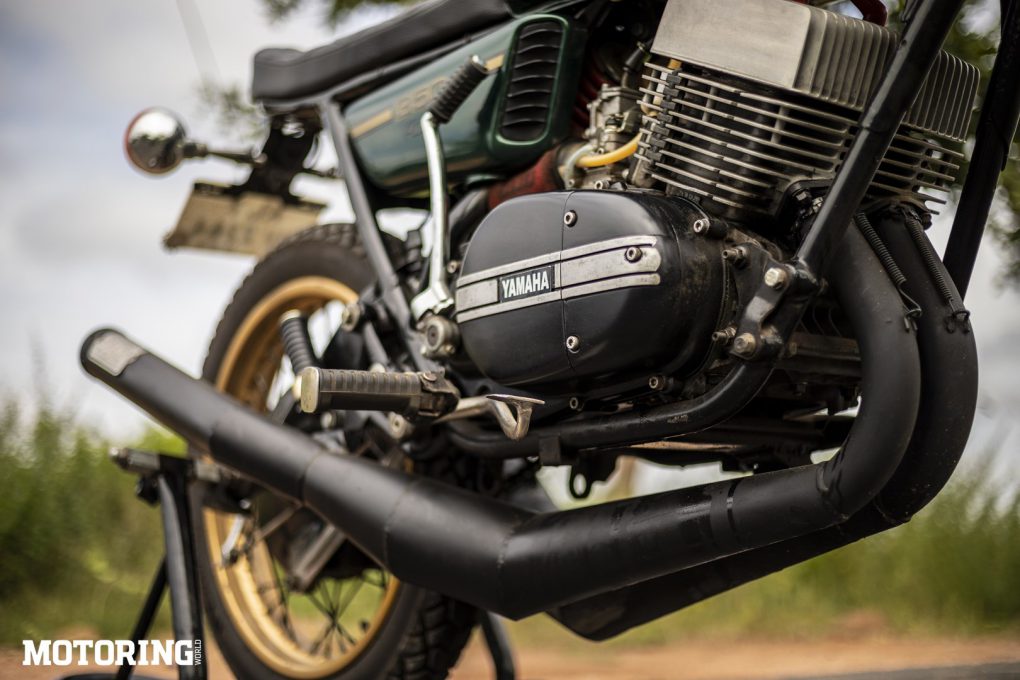 To slow down the fear somewhat, there was also a ByBre front disc brake, front forks from a Bajaj Pulsar 220, and 17-inch Michelin Sirac Street tyres, a 2.75 inch up front and a 3.00 inch at the back. That wasn't exactly a reassuring footprint for a bike pushing 45 bhp in a very two-stroke-doomsday manner, but as long as things were kept straight up, it all worked out. MotoMatic had also managed to work out a monoshock system for the bike with an inhouse-designed swingarm which worked so well, it didn't feel like a mod at all. It was a painstaking rebirth of a bike that had stood rusting and unused for years. No wonder, then, that the bike behaved like it had to make up for lost time in a single moment.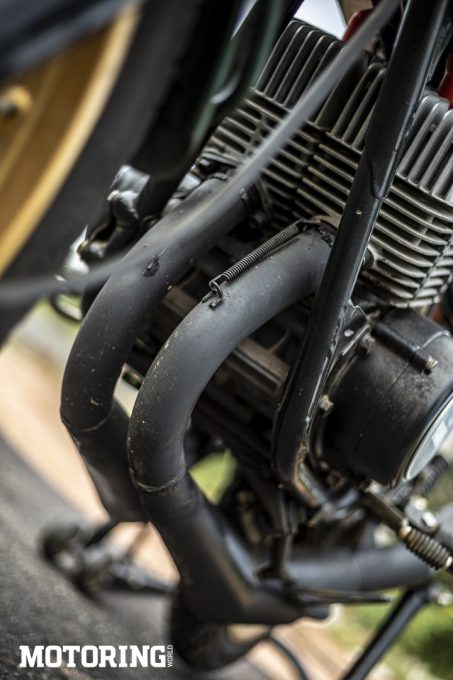 For my 184-cm frame, either the footpegs were too high up or I need to lose weight. Those DG pipes claim to increase power by 13 bhp from the mid-range to the top end, a claim my backside-dyno wasn't calibrated to verify, especially since the RD constantly threatened to stand on its rear wheel if I got too liberal with the throttle. On someone else's custom bike, one that was being run in, it was best not to get carried away. And yet, the bike was the latest in a long series of reminders that the RD 350 was, is and always will be an untameable beast. Every straight-line run was a hair-raising occasion. Heck, even the leaves of the surrounding trees looked alarmed, not least because of the smoke flowing out of the pipes.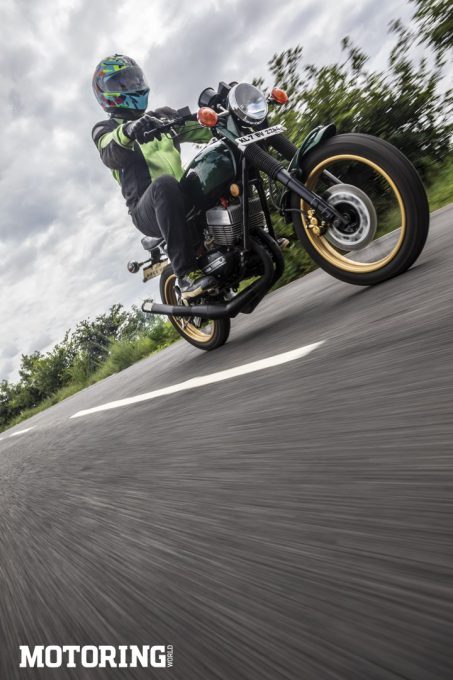 A run through the gearbox revealed a personality that's almost lost to time, which influences the minds of Indian motorcycle enthusiasts to this day from the edge of history. Modern bikes, no matter how accomplished, cannot even hope to feel like this. Then again, it's not their fault they can't have expansion chambers. After years, I remembered what 'on the pipe' means and feels like. A gradual and full twist of the throttle went thus: a restless metallic burble to begin with, a smoothening of vibrations at around 4000 rpm and an imaginary coiling up for the strike, and then bursting into a frenzy of revs whose crescendo demanded the next gear. A full-on drag-racing launch meant a front wheel hopping up and down as if the road was red hot.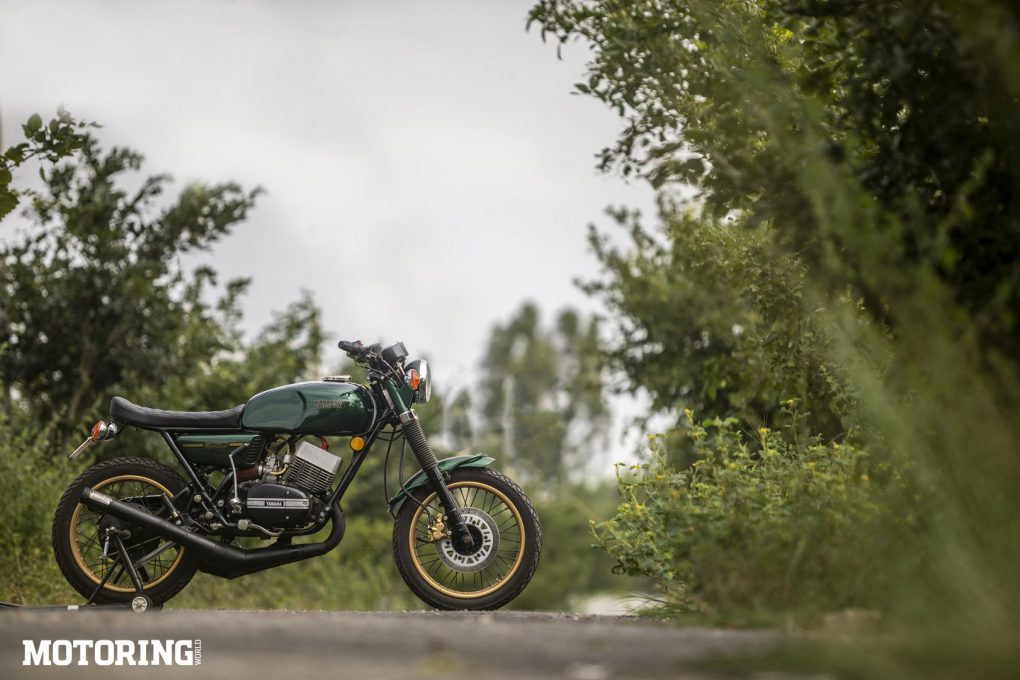 The elegant green-and-gold paint scheme seemed incongruous on such chaos, but it looked great nonetheless. And that crosshatched custom seat isn't built for great distances, either, and neither is the bike. I imagine this bike will end up parked in a suitably beautiful spot, cleaned and warmed up every other day, and on days when all is right with the world, it'll head out to raise hell. That green paint is from DuPont, by the way, and I did a pretty good job of approximating it on myself even as I admitted that the owner is one lucky guy. The RD 350 will remain an eternal flame, a tribute to speed always waiting to burn bright. And in this case, bleed your ears, too.