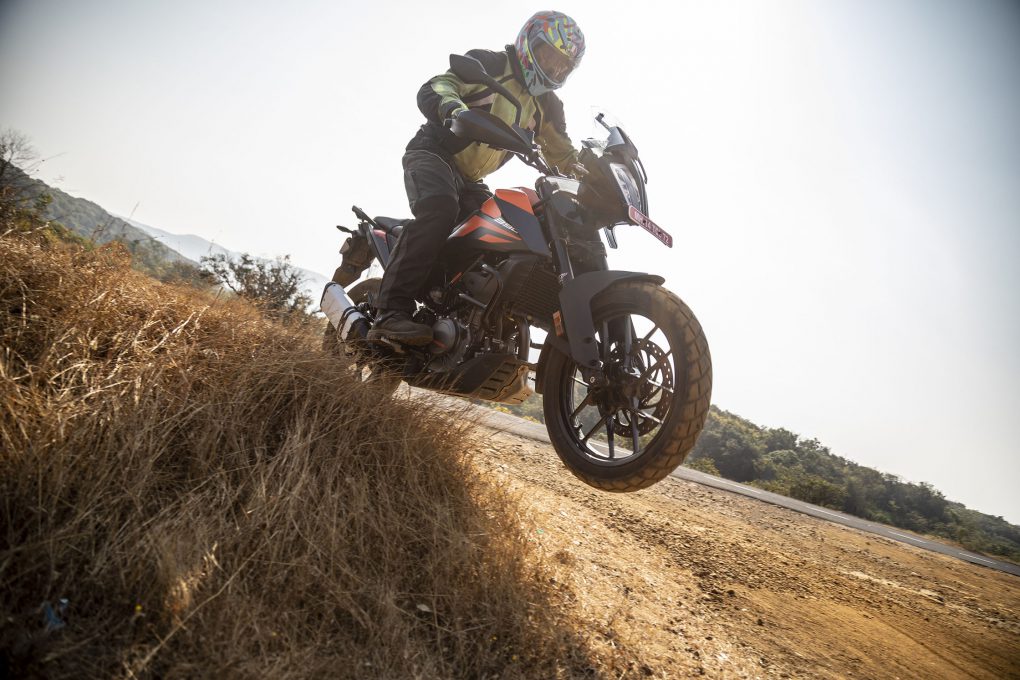 No one likes waiting. In an age where the Internet hurls spy shots in your face without warning, a seven-year wait is perhaps a bit too much. I fell in love with the KTM 390 Duke when I first rode it in 2012, and everyone's pretty much been expecting the 390 Adventure since then. I mean, it's KTM, the off-road brand, winner of the Dakar Rally for 18 years straight, right? It had to make it, of course, but no one guessed it'd take this long. And what do I get after all this time? A bunch of loud lamenters who complain about the lack of spoked wheels.
Seriously, I need to set one thing straight at the outset. Now, I don't know why some people were expecting the 390 Adventure to climb trees and cliff faces, but right from its unveil it was clear that this motorcycle wasn't meant to do any of that. Otherwise, KTM would've launched a 390 Trials or a 390 Motocross or even a 390 Enduro (and who knows, it just might!). Let's not forget, people, that today 'Adventure' actually means 'Will Keep You Comfortable On Bad Roads' and not 'Come Race At The Dakar'. Also, I suspect most of those critics couldn't change a tubed tyre if their lives depended on it. And those who want to indulge in proper off-roading, well, they're quietly ordering aftermarket rims by now anyway. Yeah.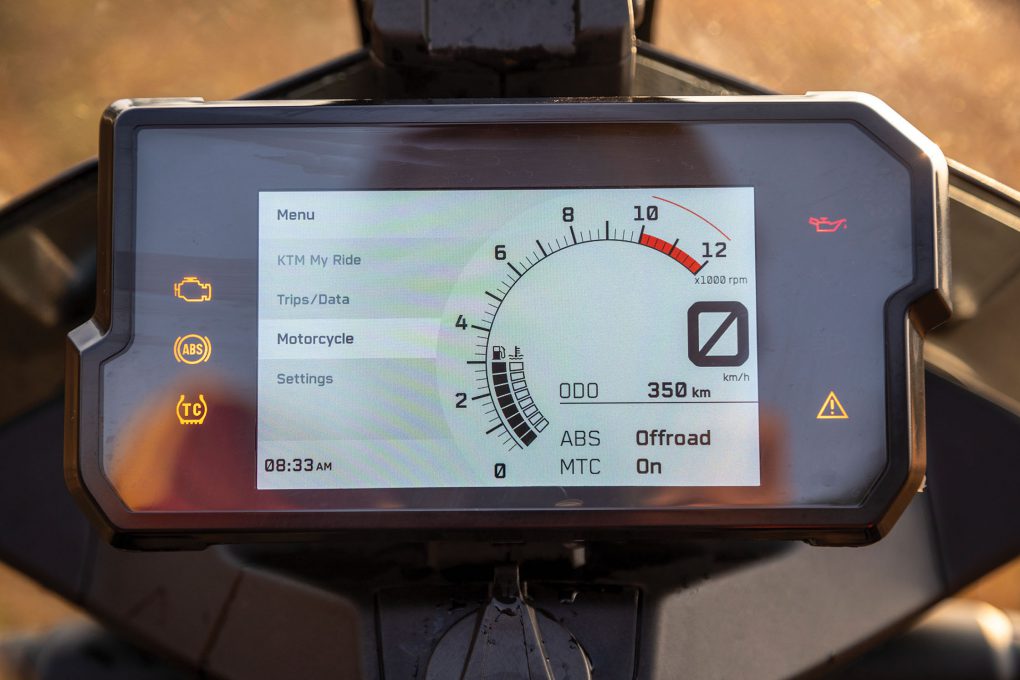 So, with that rant out of the way, let's get to the motorcycle at hand. The 390 Adventure looks like a KTM and nothing else; Kiska Design has pretty much mastered the art of producing Austrian origami. What I can't decide is whether it looks good or not. It's definitely not pretty, with the wind deflectors next to the headlight making an excellent impression of the frill-necked lizard, and the overuse of black colour on the bike. But there is definite purpose in its proportions and I like that. And I don't mind the alloy wheels at all, either.
It's got all the 'adventure' touches, too; a metal/plastic bash plate, hand guards, adjustable levers, a two-position adjustable windscreen, toothed footpegs, a 12-volt socket, and so on. No doubt, the subframe for the headlight assembly and those guards on the bikes flanks will be found most convenient by owners to mount enough auxiliary lights to blind most people in the neighbouring state, an obligation of adventure riding. Overall levels of quality are typical KTM, with no visible cause for concern.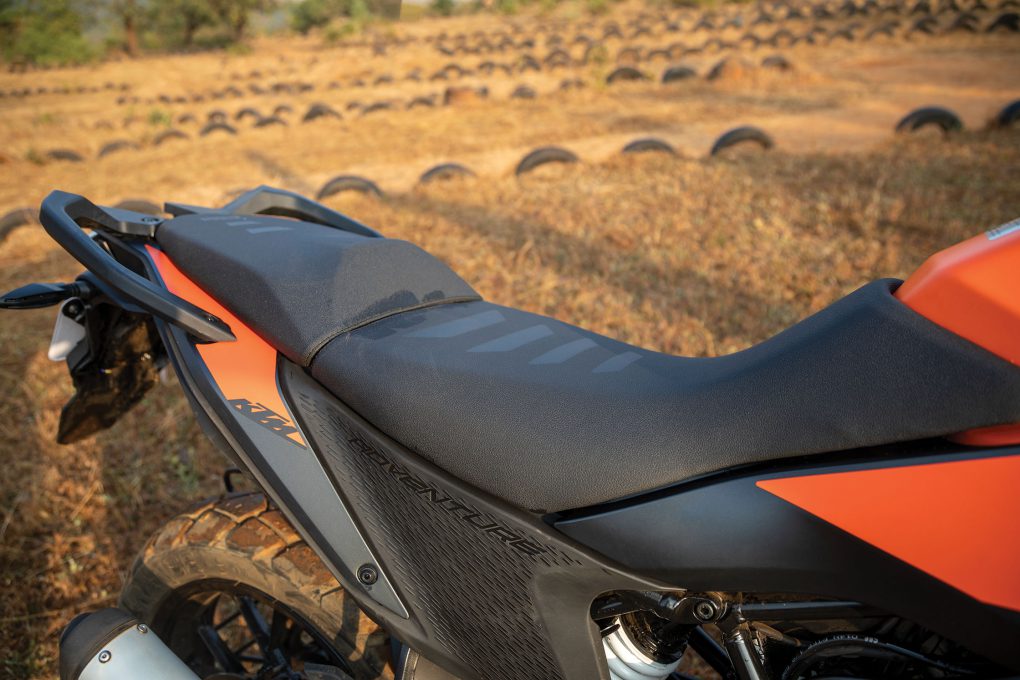 The ram-the-air-with-my-face headlamp, high tail and 14.5-litre fuel tank make this bike a lot bigger than its stablemates. Seat height is a substantial 855 mm, though this should pose no problem for anyone who is hellbent on riding a motorcycle. The riding position is very comfortable indeed and I can see anyone riding it non-stop till its time to refuel. And trust me, you will want to ride it as much as possible.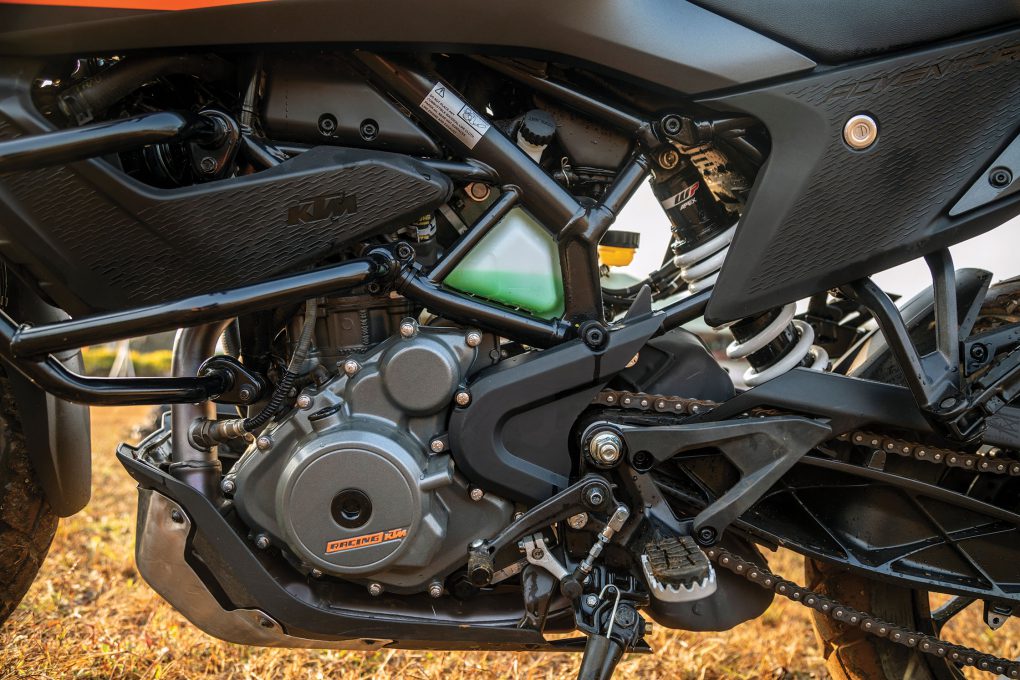 You see, the 390 Adventure delivers the familiar firepower of that motor through a revised frame and more pliant suspension setup, all backed up with switchable traction control and cornering ABS. What this means is that the new bike now offers even more control over its behaviour than the older ones. More control, but no less thrills. It's not numb, just more composed at all times. That was expected, really — I don't think KTM could ever make a soft, boring bike.
That much was confirmed in the first 10 minutes or so aboard the bike. It felt very much like a KTM, responsive and encouraging. On the road, I was genuinely surprised at how good it was. There is an all-pervading sense of balance to the 390 Adventure, and that's the standout part of its behaviour. To this, the electronics and the excellent Metzeler Tourance tyres add their substantial contributions, and make this one of the safest bikes around. Not that that was on my mind going around corners — and that's exactly the point of this bike.
Beginning a stretch of about 15 slow, medium and fast corners, the 390 Adventure braked and turned without a care in the world; it feels light but supremely stable. It held its line even when I forced the brakes to upset it; that cornering ABS really works. Whacking the throttle open while dragging the 'pegs through corners did nothing to upset the bike. On the road, the electronics work seamlessly and I doubt anyone will ever notice they're there. And that's how it should be. However, things are a bit different off the road, though the pitchforks-and-torches gang need not bother.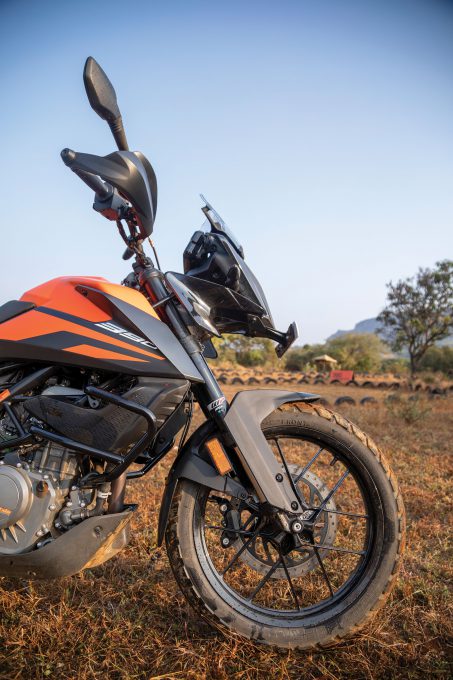 Now, I must admit I am no off-roader and my experience has largely been brief and casual. I'm just never in the mood to break any more bones than I already have. Still, the bike completed an off-road course that, frankly, was entirely unsuited to the bike. It had huge boulders and rocky climbs that the bike isn't really made for. And it had gravel sections and bumpy narrow paths where it excelled. To see landscapes that are suited to your riding skill, the 390 Adventure will take you there, one step at a time.
For setting stage times, surely, the 390 Adventure has more off-road capability waiting to be unlocked. For starters, I'd get spoked wheels shod with proper off-road tyres, a higher front mudguard, a softer-action front brake, a chain tensioner, a taller handlebar and an all-metal bash plate. For the road and light trail use, I'd leave it pretty much as it is. However, I do think that the bike is about 10-12 kg heavier than it should be, but that's something I look forward to correcting. Also, I'd want the adjustable-suspension caps that the Euro-spec bike gets; KTM India has swapped it out for a quickshifter that works quite well, but I'd take the former instead, every single day.
I haven't said too much about the motor because, well, it's still what everyone knows it to be. It's strong and smooth enough to accelerate like hell and get up to speeds that prove to be too fast for our roads and it'll easily cruise above 100 kph. But I'll safely bet my helmet on it being slower than the other 390s. Its 177-kg kerb weight will see to that (curiously, the Euro-spec bike is 172 kg). However, over rough surfaces where its more exuberant siblings will slow down — and slow down, they will — the Adventure will sail through with a smile on its goofy alien face. And so, we have a motorcycle that is easily the most versatile package to hit the market at and around its price bracket.
I loved the 390 Duke for its fantastic motor and handling, but couldn't live with its unforgiving suspension, like many other people. The 390 Adventure sorts that right out. I loved the Hero Impulse for its suspension, but it didn't have enough power. The 390 Adventure, then, is a perfect combination of two key characteristics that make for fun motorcycling in our conditions. And that's why the 
390 Adventure took such a long 
time to arrive.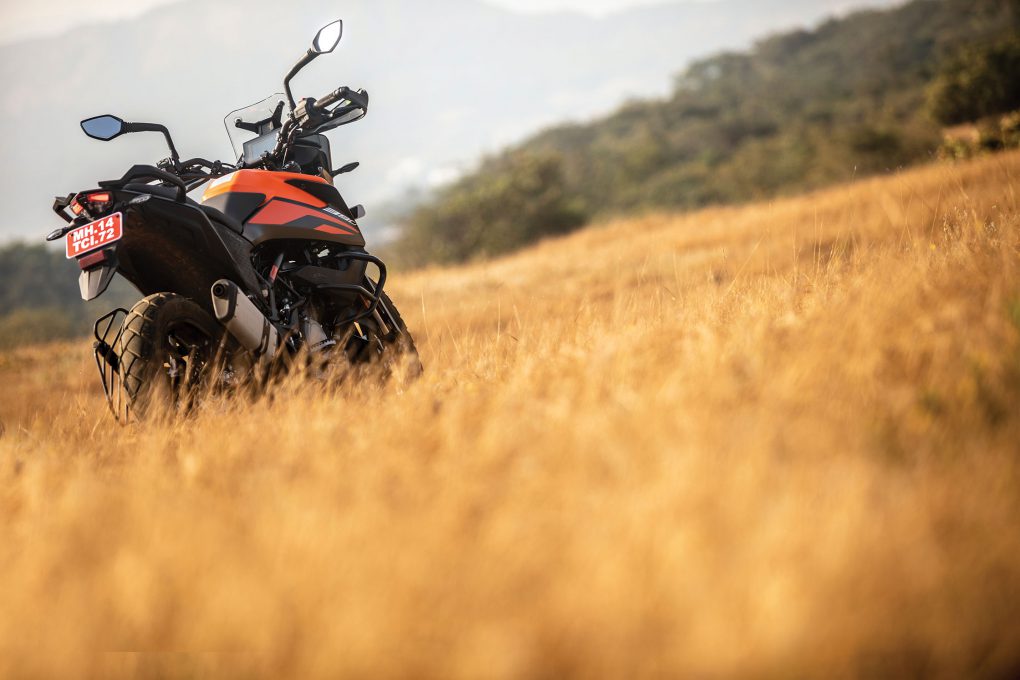 To translate engineering into that intangible feel that riders always chase; to distill that into a motorcycle that is relevant, one that makes commercial sense, offers something new, and the non-negotiable fact that KTM absolutely could not mess up a bike built on the dust-lined philosophy that's defined its history — well, all of that takes time. And finally, I can tell 
you one thing with absolute certainty — there's no reason for you to wait any longer.
MOTODATA
KTM 390 Adventure
POWERTRAIN
Displacement: 373.2cc, single
Max power: 44 bhp@9000 rpm
Max torque: 3.78 kgm@7000 rpm
Transmission: 6-speed
CHASSIS
Type: Steel trellis frame
BRAKES
F/R: 320-mm disc / 230-mm disc
TYRES
F/R: 100/90 R19 / 130/80 R17
DIMENSIONS
L/W/H (mm): NA/NA/NA
Wheelbase: 1430 mm
Ground clearance: 200 mm
Seat height: 855 mm
Kerb weight: 172 kg
Fuel capacity: 14.5 litres
PRICE: Rs 2.99 lakh (ex-showroom, Delhi)