We've been harping on for years about how smaller displacement dual-sports would really hit the Indian off-road sweet spot. Not every off-road enthusiast has the time or money to own a dirt bike that isn't street-legal, needs to be transported to the location because it can't be ridden on public roads, and finally be limited by the handful of dirt tracks that we do have in India. But we do have an abundance of off-road trails that lie on the outskirts of just about any city. And we all know that once you're bitten by the dirt bug, there's no turning back.
Well, Hero answered some of our prayers and took the plunge when it launched the Impulse in 2011. And despite a lot of our countrymen not quite understanding the versatility of this genre of bike, it did sort of turn into a cult machine with off-road enthusiasts. But alas, that wasn't enough. Aside from the power deficit, sales plummeted and Hero ceased production in 2016. But Hero raised our hopes once more when it announced the XPulse, a slightly larger displacement dual-purpose motorcycle that wouldn't break your wallet, or need you to have the muscle power of Thor himself to ride it, like large ADV bikes normally demand. Enter mid-2019 and we finally get our hands on the XPulse 200.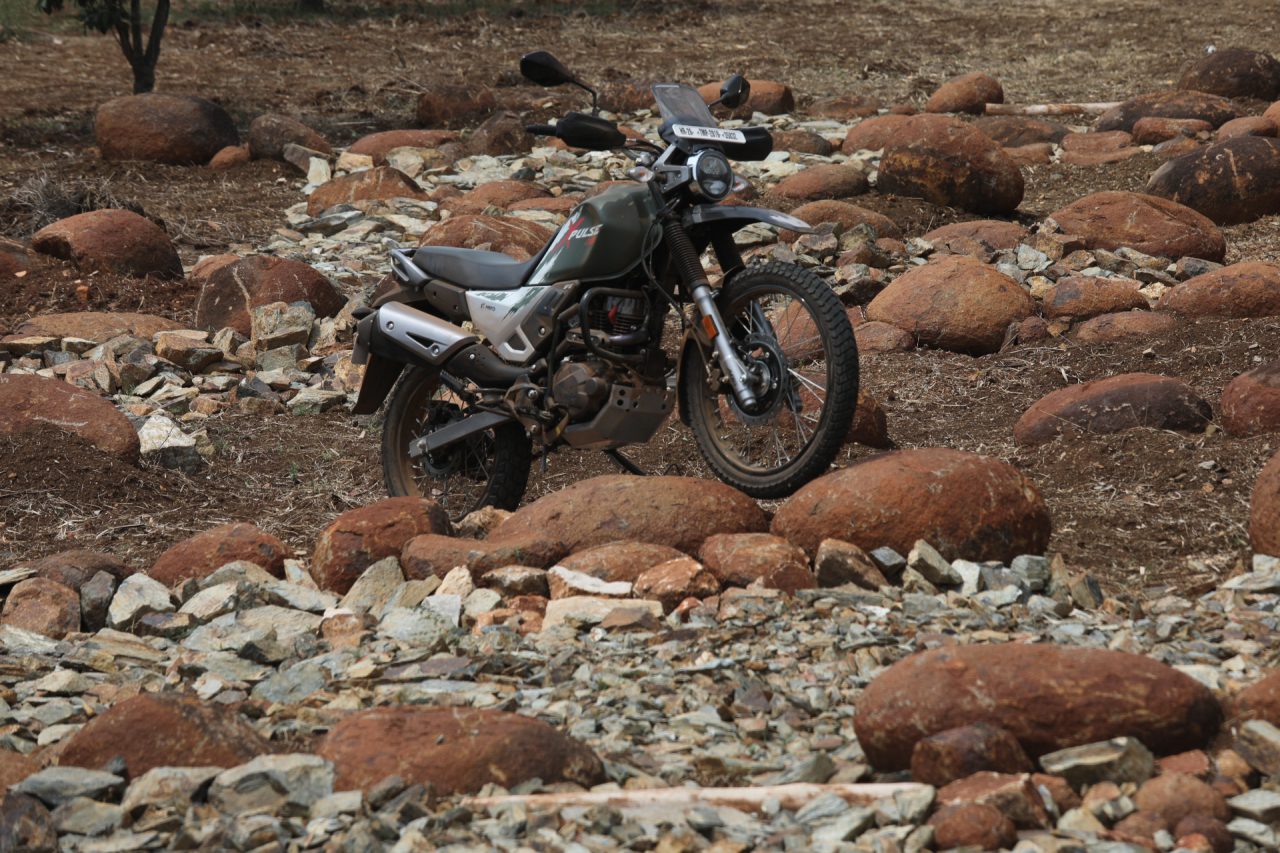 On the face of it, Hero's crafted quite a handsome machine. It's got a fairly rugged look while still keeping things quite civilised. That 21-inch front wheel really gives it the stance that a dirt-worthy motorcycle should have. This is further enhanced by its tall mudguard and compact circular headlight that's divided by a central strip. Now I'm no expert on headlights, but I assume that this full-LED setup wouldn't be all that effective with the minimal reflective area it contains. Also, there's a neat little windshield for touring that conceals the speedometer console.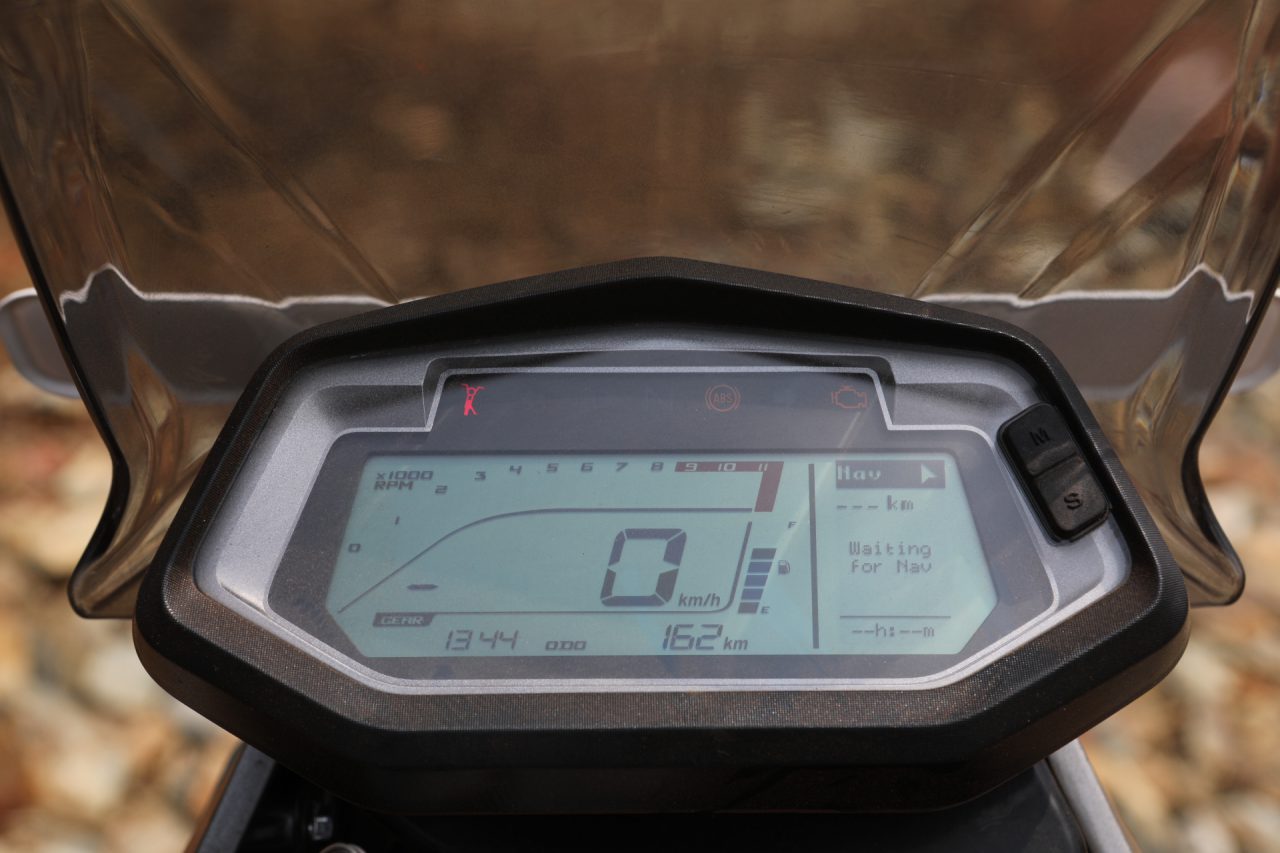 Now the console itself is pretty cleanly laid out. You've got all the necessary information on display, with a cascading tachometer that runs across the top of it. But to the right of the screen there's an all new navigation assist feature that allows you to pair the bike to your phone via Bluetooth. Once the bike is paired with the Hero Ride Guide app (that's Android and Apple compatible), it'll give you turn-by-turn navigation on the speedo console along with call notifications. This is a pretty handy feature if you're out exploring the country. We've seen it on the TVS Ntorq 125 before and now the XPulse 200 gets it, too.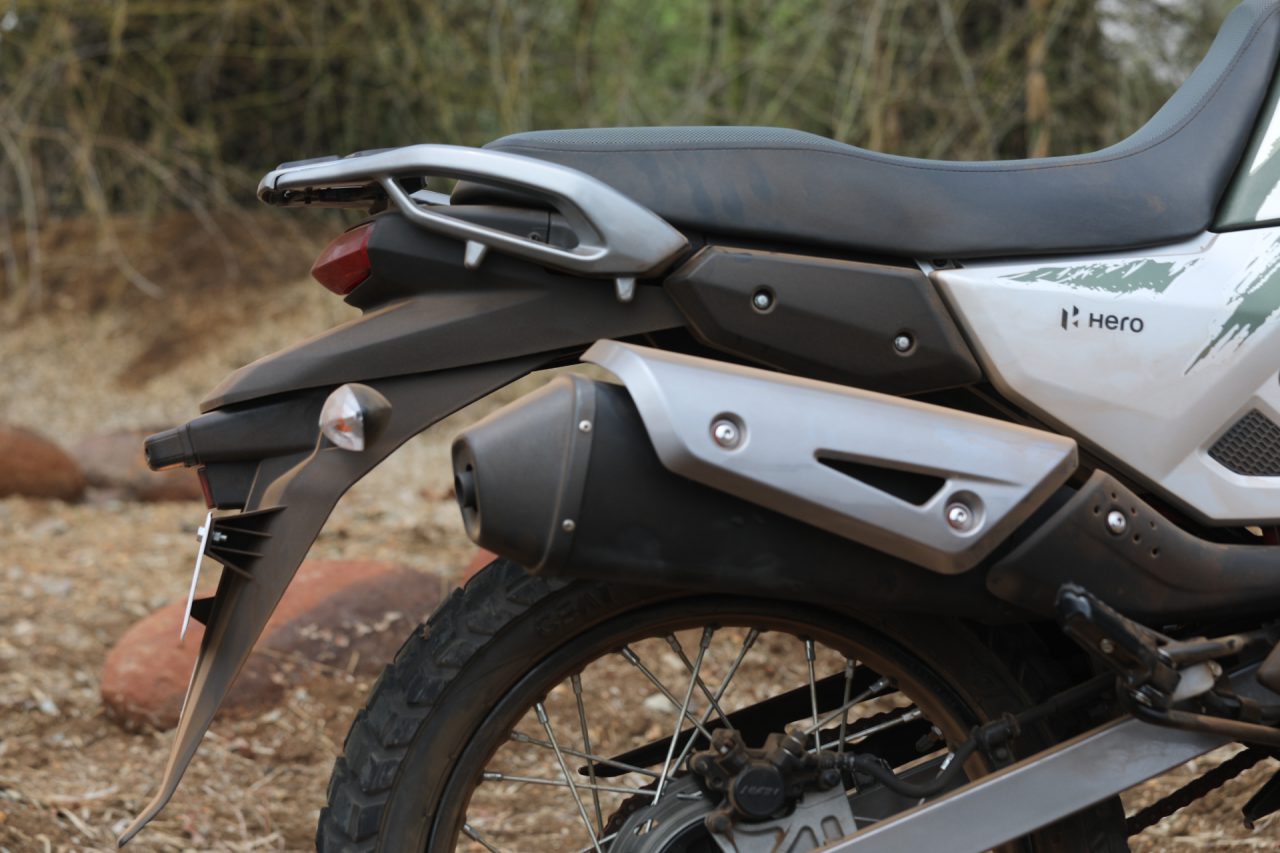 The XPulse's tank is nice and narrow and has contour lines that will remind you of the Karizma. The tank/seat junction is pretty narrow, too, which means it's quite easy to move around on the bike when you're standing upright and hitting the trails. The footpeg rubbers are removable for that extra grip when you need it; it's a fairly easy process that doesn't require any tools to get it done. The seat on the XPulse 200 is set fairly low to compensate for the increased overall height of the bike thanks to it's longer legs. Now, when I say low, I mean in comparison to the bike itself. The actual seat height stands at 823 mm, but because of how narrow the bike is, it isn't too intimidating.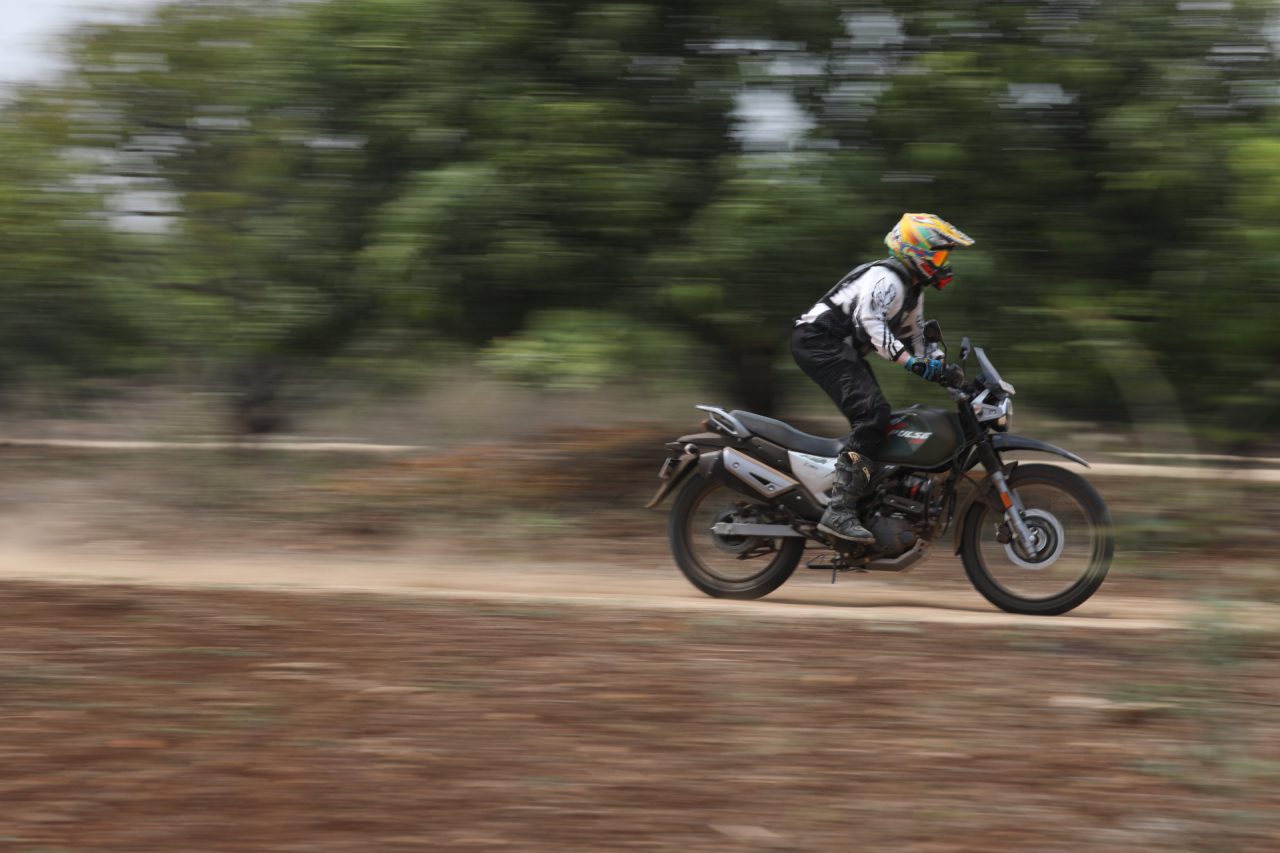 When you're on the move, you'll find that the bike loses out a bit on that commanding feel because of the lowered seat. Even when trail riding, the transition between sitting and standing is quite a bit. But that's probably a compromise Hero had to make to keep the bike more approachable for shorter riders. The tail section of the bike is pretty neat and tidy, too. The grab rail has an integrated luggage rack. And the side-mounted exhaust, while chunky, doesn't really get in the way or bother you with heat.
To say the XPulse 200 is an all new machine wouldn't be completely true, though. It shares it's 199.6cc engine and 5-speed gearbox with the Hero Xtreme 200R but gets a rear sprocket with one extra tooth. The Xpulse, however, also has a fuel-injected version, which we journos rode at the ride. Power output remains the same as the Xtreme, with 18 bhp churned out at 8000 rpm. There's also the handy 1.74 kgm of torque that peaks at 6500 rpm.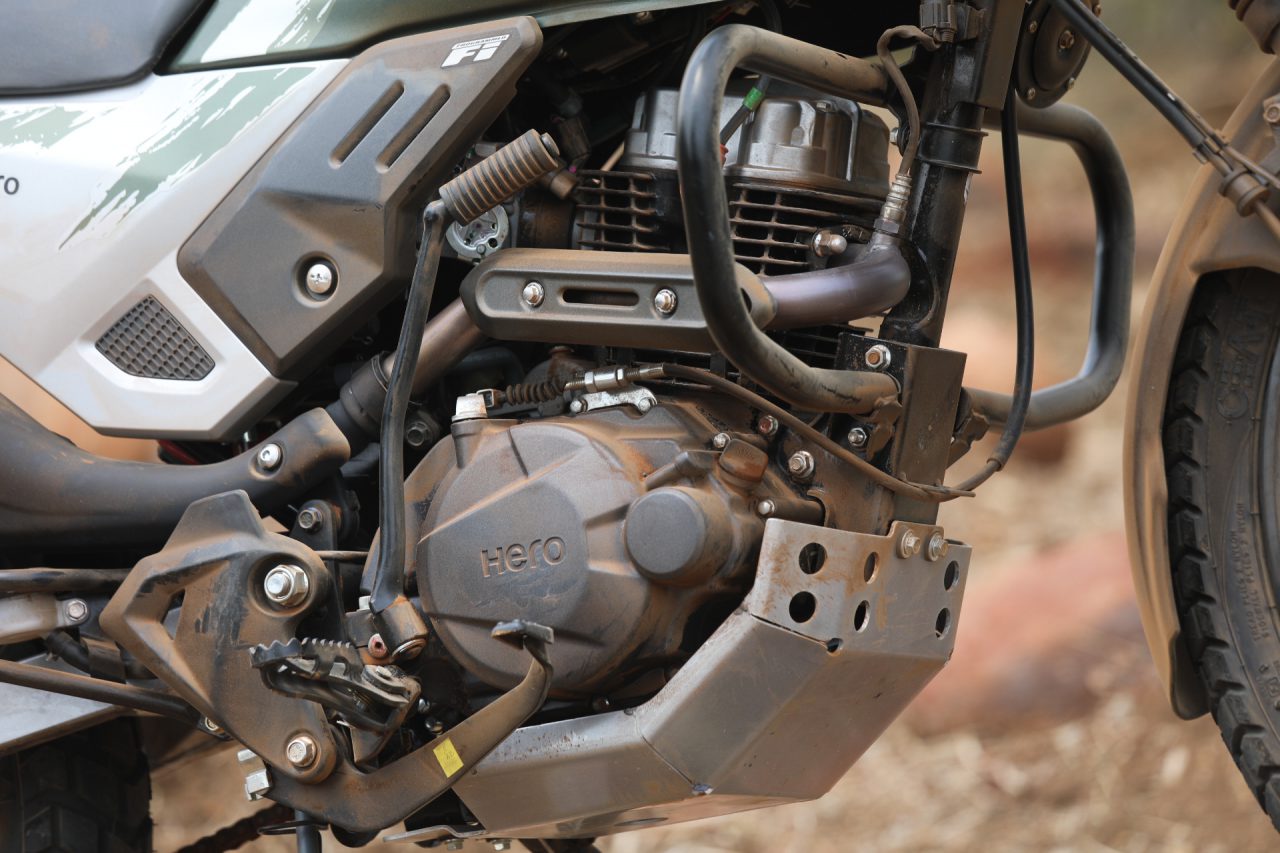 Now this engine certainly isn't the most exciting 200cc out there, but it gets the job done. The short gearing means you'll really have a blast ripping through urban conditions. Out on the highway, don't expect too much. The engine starts feeling stressed at about 100 kph at 7000 rpm; post that it'll just about get you to 120 kph. But the vibrations at this speed are certainly noticeable. The engine feels linear and has enough grunt to get you out of sticky off-road situations. It'll feel quite at home on country roads and while you're hitting the trails. And if you're okay cruising at 80-100 kph on the highway, then it's got you covered here, too. You'll just really need to wring its neck for any overtaking manoeuvres.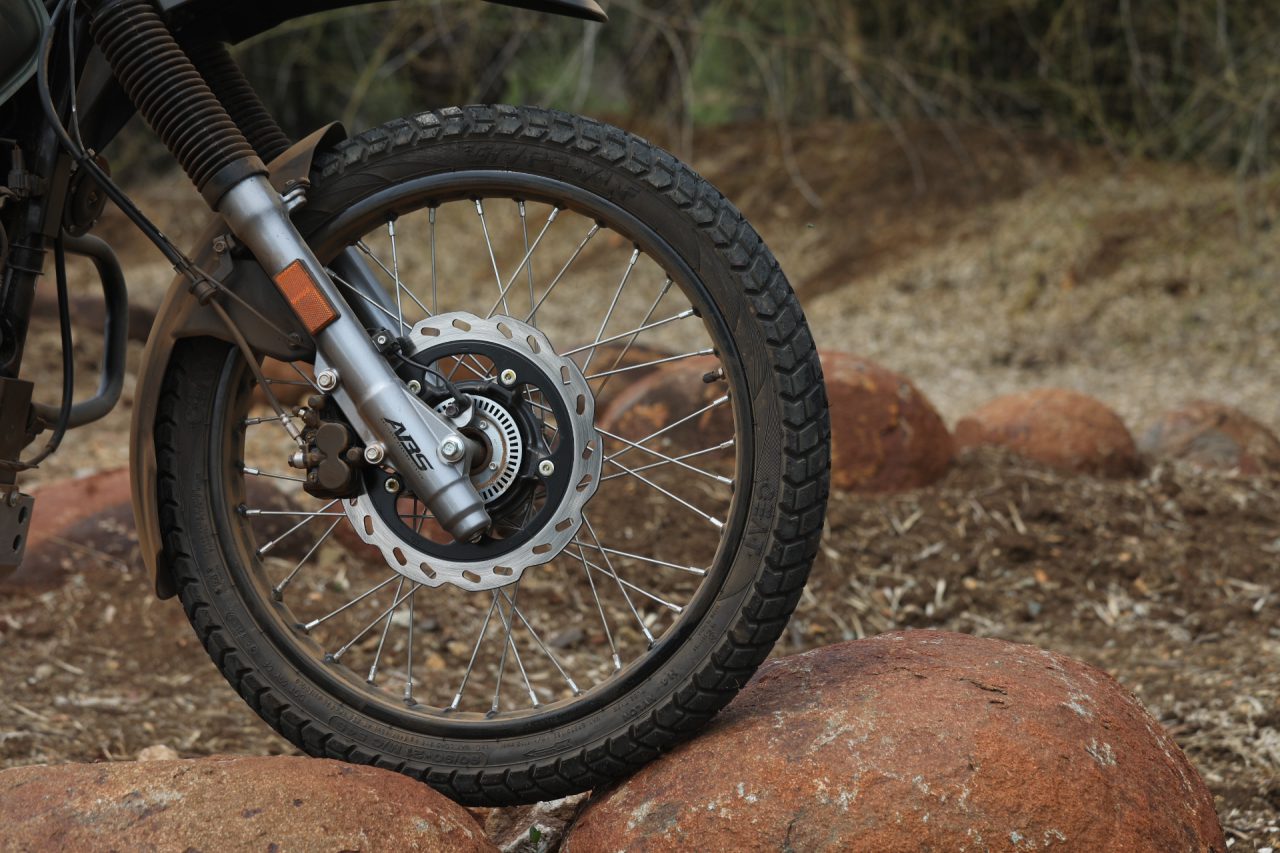 One area Hero's really hit the sweet spot is the suspension setup. There are 37-mm forks up front that have a whole 190 mm of travel, while the rear monoshock has 170 mm of give. Coupled with a 220-mm ground clearance and 154-kg kerb weight, there's a lot you could easily do with this bike off-road. And even on the road, the suspension feels pretty sorted. It isn't as soft and pliable as, say, a Himalayan, or even the Impulse. But it certainly does give you a whole lot of feedback and feel. The neutral handling means you're going to have a pretty planted ride through the twisties and on bad roads. But it's off the road where this bike really shines. Everything feels very natural and doesn't require much effort on the rider's part. I'd say this is one of the most forgiving bikes you could ride on the dirt.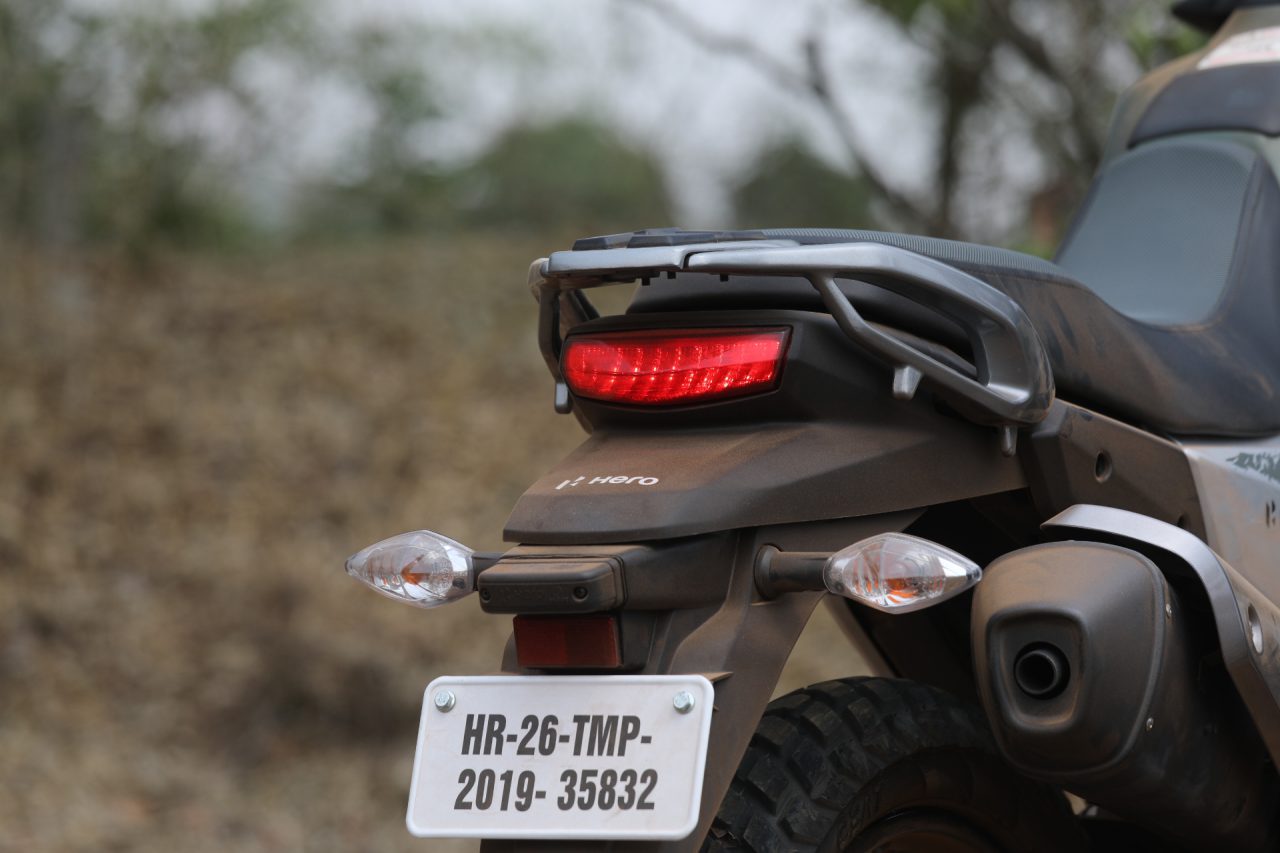 The brakes work excellently on the dirt, too. The front's got single-channel ABS, while the rear doesn't. While this works perfectly on the dirt, there's a little to be desired for the road. Since the bite from the front brake isn't exactly sharp, it does require you to compensate with the rear. And that means you're going to have to get accustomed to a supermoto riding style where you're comfortable locking up the rear tyre.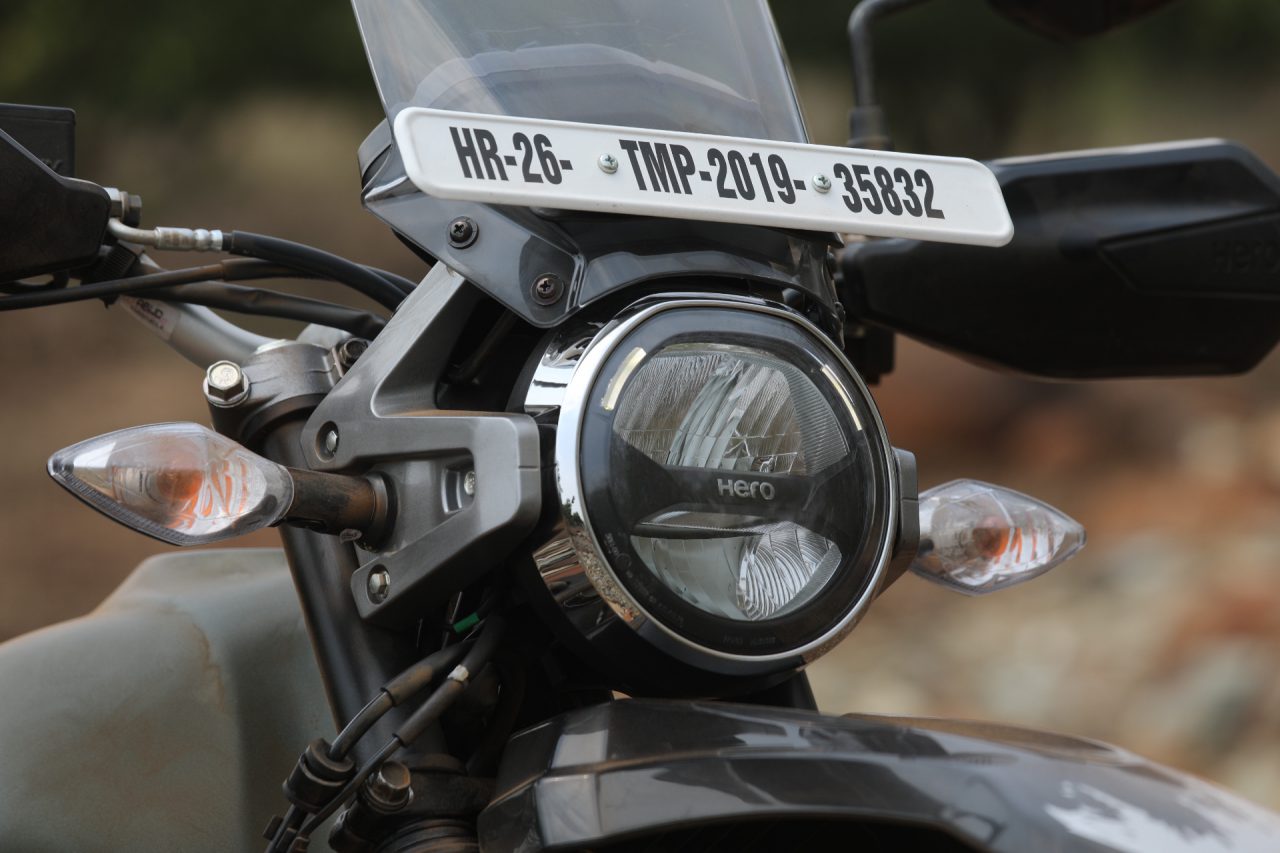 Overall, I'd say it's good that we have the option of an entry-level dual-purpose motorcycle again. With the heft of Hero's off-road and rally expertise, I'd say there's no one that could have taken a better swing at this. The beauty of this bike is it doesn't have to just appeal to the hardcore off-road enthusiast. It's a great starter bike and and an even better commuter. Because let's face it, our deplorable road conditions aren't very far from off-road anyway. If you plan to use this bike to get comfortable off-road, then you're going to have a few falls in the process. The beauty of it is that replacing parts on this bike won't be a very complicated or expensive affair.
Being an off-road enthusiast myself, I had an absolutely stonking time riding the XPulse 200 off-road. We had the whole of Big Rock Dirt Park to explore. After a day of riding there, I can't wait to get my hands on the XPulse again and go back there as soon as I can. Yes, it was that much fun. And with price of Rs 97,000 for the carburetted version and Rs 1.05 lakh (prices are ex-showroom), this makes the XPulse 200 the most affordable dual-sport in the country. So who knows? Next time you might just see me fooling around at Big Rock Dirt Park with one of my own.