The rear tyre chirped like a songbird all the way into the corner, the brake pedal throbbing its quiet protest against my right foot. For accompaniment, the twin exhausts let loose a persistent burble that was nothing but poetic in the way it traced the arc into the curve. And on the way out, the L-twin forced the rear to dance to its belligerent tune, even as the front playfully threatened to point out the scant clouds in the summer sky. This sequence more or less summarises the handful of days I spent with the Ducati Hypermotard 950 RVE. And I wish it never ended.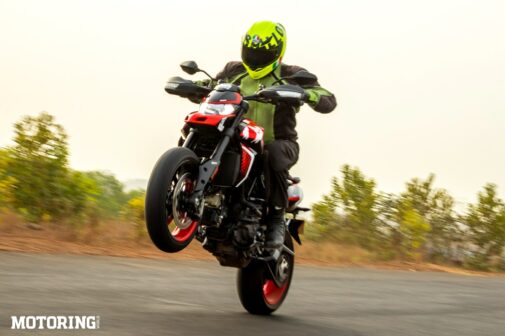 Nowadays, Ducati makes motorcycles for everyone, from hipsters all the way up to racers. And yet, even in the Bolognese firm's formidable lineup, the Hypermotard carves a unique niche of its own. A typical supermotard is usually a 450cc single-cylinder dirt bike modded for the road that weighs around 110 kg and makes north of 50 bhp. So you might wonder if a 937cc 200-kg L-twin makes any sense at all, even if it makes a wholesome 114 bhp. The answer, of course, is a resounding and powersliding YES!
The Hypermotard is an almost‐litre‐class machine that is somehow sized like a commuter. It has a tall and upright position, perfect for attacking anything in its way, but there's not too much room for size 11 feet around the 'pegs thanks to the pillion footrest mounts. So you know what to do if you get one. Overall, the Hypermotard borrows its stance from dirt bikes and adapts it to street use, and it's an attribute that sets the raging tone for everything that follows.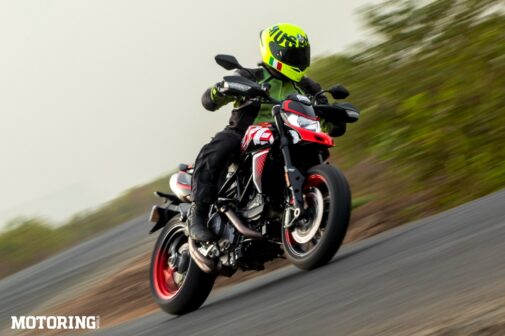 The Hypermotard's front end was so planted, whatever the rear did didn't matter at all, and it begged to be ridden with its two wheels never in line. But it wasn't exactly front‐heavy… let's call it front‐focused/biased instead. And if the Ducati wheelie control, the right hand and the revs aligned perfectly, the Hypermotard launched wheelies like Elon Musk launches satellites. With the Hypermotard, it was always wheelie o'clock!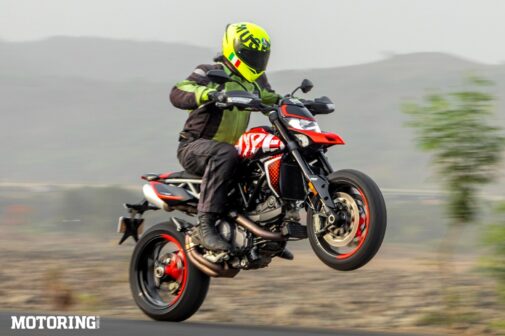 And when it wasn't, the rear wheel spent all its time flashing the traction control light on the dash in the lower gears. Its Testastretta 11° L-twin is a conductor of laugh riots, whatever the rpm or speed. And it's a proper fast motorcycle, too — on one fortuitous occasion, it took me past 200 kph, roaring its lungs out via the booming twin exhaust cans. And of course, it wasn't much fun being a sail to a 200‐kph wind, so that remained a one‐off incident. However, if there is a motorcycle that's as much about feel as about outright performance, it's the Hypermotard.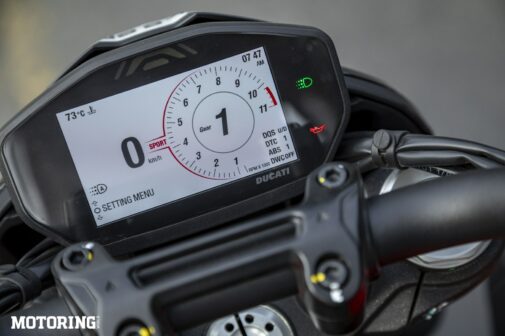 The quickshifter's ignition cuts translated to pleasing explosions out of the twin pipes. The aural symphony of the L‐twin was the best it's ever been, a seamless and boundless stream of torque and good feelings delivered with the right amount of mechanical sound and exhaust boom. The Pirelli tyres kept their chins up even though the motor did its best to bully them. And the suspension was so good, it made me wonder why anyone would want the top‐spec SP version. Then again, I'd want it anyway.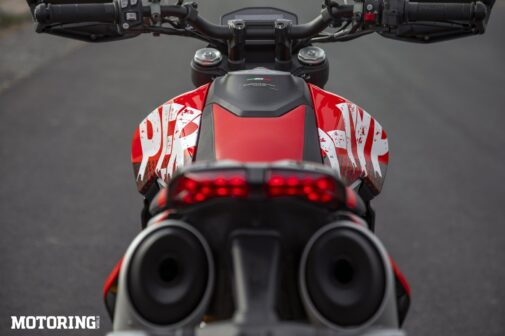 The Testastretta motor has now reached a level of perfection where it's the right mix of vibes, refinement, throttle response and strong power delivery. It's a clear example of how the right electronics package can be a new lease of life for something that I remember as jerky and temperament in our conditions in its past lives. The three power modes work well and are distinctly different — I call them Hooligan (sport), Long‐distance Hooligan (touring), and Sleepy Hooligan (Urban). The last one reduces power to 75 bhp, but still does nothing to smother the Hypermotard's innate nature.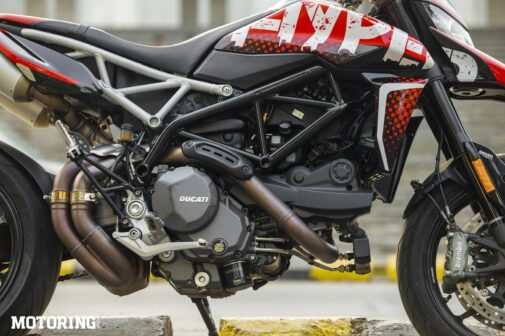 There's no way of riding this motorcycle politely. All it wants to do is pivot around its steering head, while the rear wheel is enthusiastic about finding its own way, whether on the throttle or the brakes. It's quite safe to say that this Ducati safely earns the 'hyper' in its name. Imagine a cat doing zoomies, and that's the Hypermotard all the time, minus the damage to furniture. You may think that'll get tiring from time to time, but I can confirm that it only gets more and more addictive.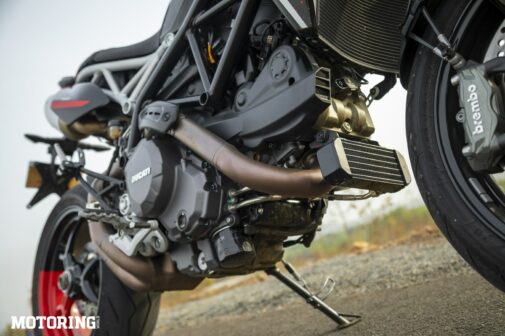 Okay, so say you want to ride it like a normal fast bike, and that's possible, too. Being conscious of body position and moving along the length of the long seat changes the way the bike responds, another result of its design's dirt-inspired roots. Everything described above is done sitting right up front against the tank. Moving back makes the rear calmer and the front gains a laser-sharp focus. And in this configuration in Touring mode, I suspect the Hypermotard will gladly hunt superbikes in canyons and on racetracks alike. And this is again the split personality that supermotards can switch between at will.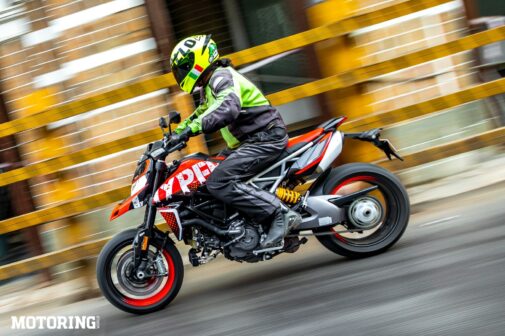 Boring stuff like ride quality didn't even cross my mind. In case you're interested, it was perfectly comfortable on bad roads whether going slow or fast. Important stuff like braking was excellent at all speeds, too. Cons? That sail-like riding position at high speed, a fuel tank that's good for only around 210 km, and the lack of any real luggage space. I'd gladly live with both. This is a motorcycle beyond wordly considerations, being otherworldly fun as it is.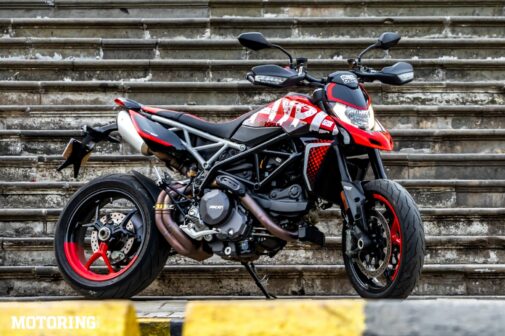 Now that I think of it, it's a wonder that other manufacturers don't have their own bikes like the Hypermotard. Imagine a production racing series full of mental machines like this one, with jumps and drift sections thrown in, and you'll join the daydream that is continuously running at the back of my mind when it's not right up front. Perhaps it misses the normality of a naked bike, the familiarity of a faired sportsbike, and the versatility of an ADV. But what it has is a spirit not found anywhere else, one born from Ducati L-twin magic perfectly matched to supermotard mayhem.
MOTODATA
Ducati Hypermotard 950 RVE
POWERTRAIN
Displacement:
Max Power:
Max Torque:
Transmission:
937cc, L-twin
114 bhp@9000 rpm
9.78 kgm@7250 rpm
6-speed
CHASSIS
Type: Tubular steel trellis frame
BRAKES
F/R: 320-mm twin discs/245-mm disc
TYRES
F/R: 120/70 ZR17 / 180/55 ZR17
DIMENSIONS
L/W/H (mm):
Wheelbase:
Ground Clearance:
Seat height:
Kerb Weight:
Fuel Capacity:
NA/NA/NA
1493 mm
NA
870 mm
200 kg
14.5 litres