A new Benelli always gets me excited. No, I am not fooling around. I don't quite understand why Benelli doesn't get the credit it deserves. Yes, it is an Italian brand that is owned by a Chinese company, but it is also one of the oldest names out there that's been making motorcycles, and it deserves some respect. Okay, its bikes aren't very powerful and lack the kind of modern tech that motorcycles nearly half their prices offer. But does that mean they are inferior or bad in anyway? Absolutely not. Rather, if you think about it, Benelli is the only international brand out there offering middleweight motorcycles at not-so-premium price tags.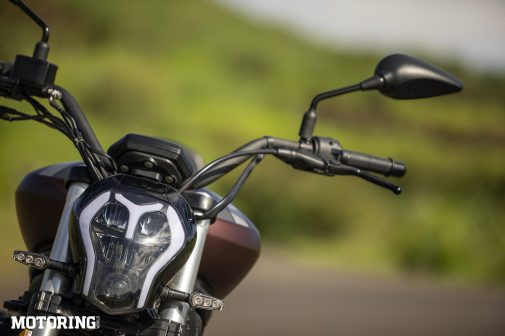 Coming to the motorcycle in these images, what you see is the Benelli 502C, the cruiser option that was absent in the company's portfolio till now. It is not a completely new motorcycle because it shares its underpinnings with the Leoncino 500 and TRK 502. Both are again good motorcycles, and platform sharing isn't a taboo in the automotive world anymore. It benefits both the maker and the buyer.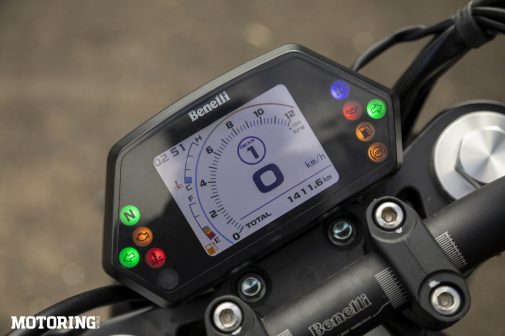 I am not much of a cruiser fan, but this Benelli did make me develop a liking for it. It's because the 502C is quite the opposite of what one would blindly expect of a cruiser, especially for its size. Being a cruiser, it has a long wheelbase and a much more relaxed rake angle for a smooth and leisurely riding experience. Yes, it does manage that, and quite well actually. But what it is also capable of doing is attack corners like no one's business. Yes, you read that right. I never expected a cruiser of this segment to be this engaging around corners. It is like the bike wants to dive into corners if you are committed enough, and hit the apex before gassing it hard on the way out.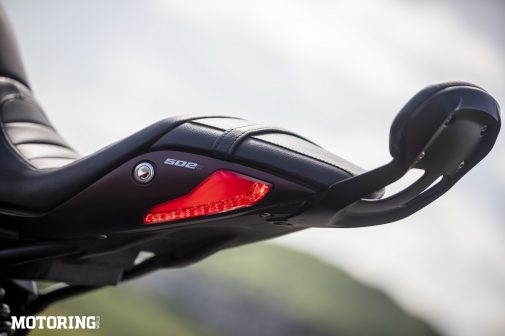 One of the reasons why all of this is possible and easy to execute is because the power available is easily manageable, and its delivery is also linear without any sudden spikes that could put you in the scary position of losing control. The 502C uses the familiar 500cc parallel-twin motor that produces 47 bhp and 4.69 kgm. And since this motor has a 360-degree crank, there is a heavy chunk of torque that is constantly present from the bottom-end of the rev band up to 6000 rpm. It is very easy to cruise at city speeds even in sixth cog where other bikes of the same segment wouldn't be that comfortable. Also, the crank angle enables a very deep yet raspy exhaust note that is definitely unique. For brownie points, the 502C loves to backfire off the throttle or on downshifting, which has a huge impact on making the ride memorable.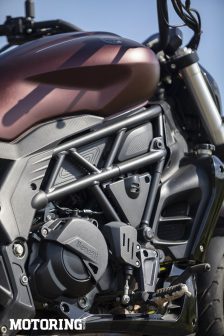 In terms of ride quality and the way one sits on the bike, it can take some time to get used to. The seat is arched which holds the rider in one spot all the time. The footpegs are forward set, which is fine because that is how cruisers are supposed to be. However, it has an ultra-wide handlebar that requires a good amount of time to get accustomed to. One needs to be careful about the width when filtering through traffic and also when taking sharp turns at slow speeds. But the wide handlebar also has its positives; despite the 216-kg kerb weight, turning the bike is an effortless task with all the leverage that's available. Also, small corrections in the steering input are possible even mid-corner.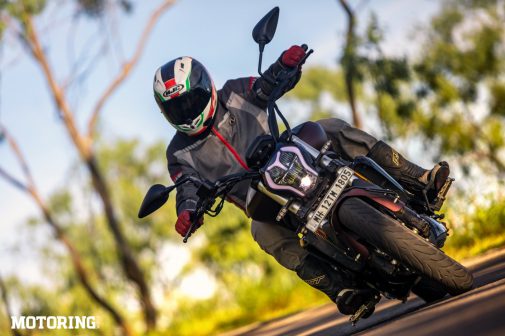 The electronic package on the 502C is quite simple. The only safety net it packs is dual-channel ABS which never quite needs to intervene as the Pirelli Angel GT tyres and radial brakes are good enough to shed speed whenever called upon. Next is the digital LCD dash that packs all the necessary information for the rider. Yes, I would have preferred a better design with lesser colours, but that isn't enough to call it a deal breaker. The lighting is all LED which does a fair job of lighting up the road ahead.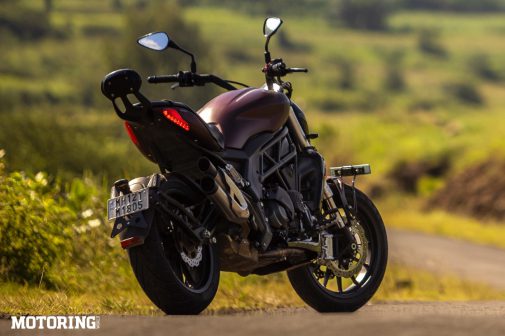 One of the factors that work for and against the 502C is its 21-litre fuel tank. While it requires a lot of fuel to fill up the bar graph, which in current times is a costly affair, it also makes touring on it a whole less stressful with no need for frequent fuel stops. Also, due to the motor's composed nature, there are barely any vibrations when ridden at triple-digit speeds. The only vibration that I could feel was at the 'pegs, but it never felt intrusive at any given point.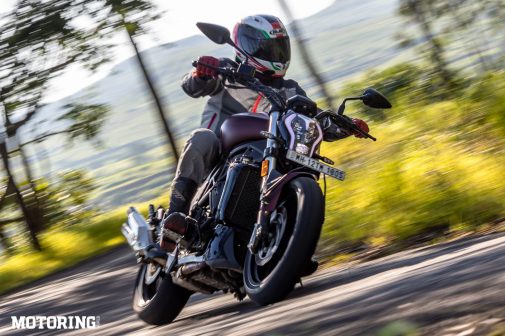 In conclusion, the Benelli 502C is a cool-looking motorcycle that is actually fun to ride. It does a lot right and very little wrong, and definitely is an option when considering a middleweight cruiser. The motorcycle is ideal for daily commuting and also for long-distance touring as long as you don't intend to tackle it with very high speeds in the mix. That's yet another Benelli that I wouldn't back out of riding on any given day, then.
MOTODATA
Benelli 502C
POWERTRAIN
Displacement: 500cc, parallel-twin
Max power: 46.8 bhp@8500 rpm
Max torque: 4.69 kgm@6000 rpm
Transmission: 6-speed
CHASSIS
Type: Tubular steel trellis
BRAKES
F/R: 280-mm dual discs / 240-mm disc
TYRES
F/R: 120/70 R17 / 160/60 R17
DIMENSIONS
L/W/H (mm): 2240/950/1140
Wheelbase: 1600 mm
Ground clearance: 170 mm
Seat height: 750 mm
Kerb weight: 216 kg
Fuel capacity: 21 litres
PRICE: Rs 4.98 lakh (ex-showroom, Delhi)