What is an influencer? I've asked and have been asked that question time and again in a wide variety of tones ranging from genuine curiosity to mocking disdain. The word 'influencer' may have been added to the English dictionary only in 2019, but people have played that role for as long as I can remember; the first one I remember from my childhood was Kapil Dev saying there was no answer to Palmolive shaving cream, leading me to wonder what kind of questions were being asked, and why a cricketer had to shave his face on TV. Anyway, for the new touring-outfitted Dominar, Bajaj paired me with Candida Louis, a real-world modern-day social-media influencer among other things. Among the first things she said to me was, 'I've been trained to kill a person in two seconds.'
Having only met her for the first time, I thought it's polite not to burst into laughter, though I did also take a few careful steps back. Louis is one of the many Dominar Odyssey riders who have ridden across the world — she herself went on an epic eight-month ride from India to Australia in 2018 on her first-gen Dominar, and prior to that she'd already ridden around India more than most people I know of. And she's had quite an interesting life so far, too — which can also be said of the Dominar. The bike is a great adaptation of the KTM 390 motor, with the addition of Bajaj's typical grunty smoothness. And so far, I've observed that anyone who rides it immediately likes it — but anyone who looks at it first doesn't know what it's for.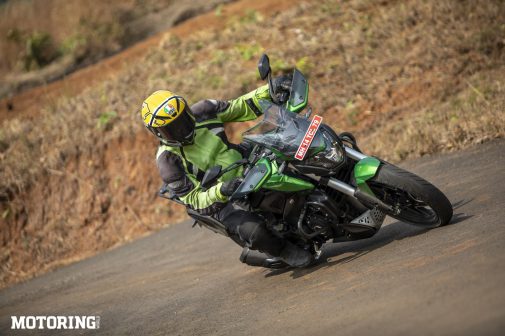 I've always thought of the bike as a tarmac all-rounder, a bike to commute as well as travel on. And now, Bajaj has given it the tools that leave no ambiguity about what it wants the Dominar to do — go even further than it already has. And what better way to discover this for myself than to ride with someone who's ridden all the way Down Under, right? Since we were starting from Bajaj's Akurdi plant and riding to Lonavala, only 46 km away, I thought we might make it interesting and take the long way there, with a surprise thrown in for good measure.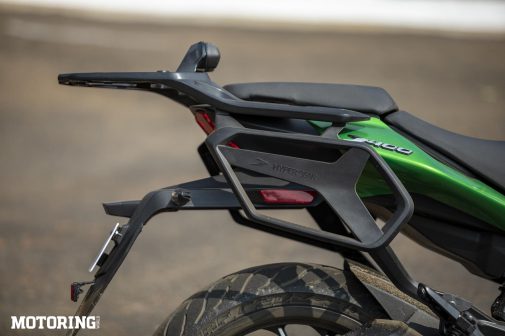 Back to Candida again, her riding journey began on a Hero Honda CD 100 some 14 years ago, and she's been riding ever since. She was born and raised in Hubli, Karnataka, and moved to Bangalore to work in the financial industry. In 2016, as happens to all souls filled with wanderlust, she quit and started riding around the country, covering 22 states and around 32,000 km on an RE Thunderbird 350. And then came the plan to ride to Australia. 'It took eight months,' she said, 'but it was only six months of riding because shipping the bike from Bali to Perth was delayed by two months.' Murphy, it seems, is every rider's omnipresent pillion.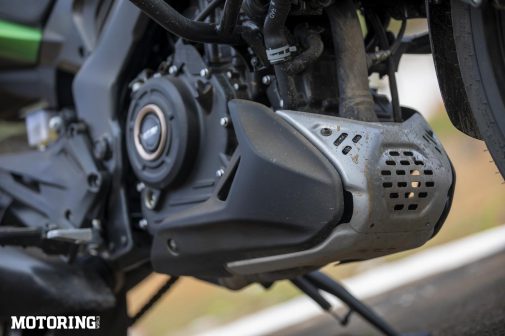 Louis got the chance to do the ride because of the Change Your World Fund which was established in memory of Alistair Farland, a 24-year-old Australian motorcycle traveller who lost his life in a highway accident four months into a ride from Alaska to South America. 'I thought I'd finish his ride for him,' said Louis. 'I just had to get to Australia, but I didn't know how. I hadn't really planned anything, and even Bajaj came onboard just two months before the ride. I wasn't really sure about the whole thing, but when I saw more than a hundred people show up for the flag-off in Bangalore, it suddenly felt very real! Throughout the ride, I called my parents many times, wondering what I was doing, but they encouraged me to go on. And I'm glad I got the Dominar because it was completely reliable and gave me the confidence to keep going; on the entire ride, I just had one puncture!'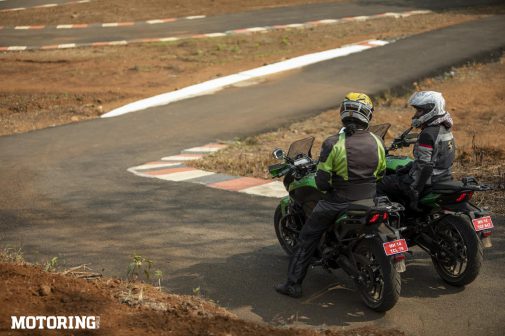 I could see that she was completely at ease with the Dominar, too, as we swung through traffic on the highway out of Akurdi. At the same time, I remembered that I always look forward to riding the Dominar. It's such a planted and sporty motorcycle, there's not a reason to dislike it. And the new standard bits — a taller windscreen, wind deflectors on the handlebar, a new tail rail with optional saddlestays, and the rather nice-looking belly pan — made the bike look all the more special and sharper. The only problem was that the aforementioned surprise we were heading to had nothing to do with the Dominar's new accessories at all. Getting off the highway, our brace of Dominars flowed through countryside twisties and then over a short trail to arrive at The Valley Circuit, a lovely go-karting track and camping facility, in what seemed like the middle of nowhere.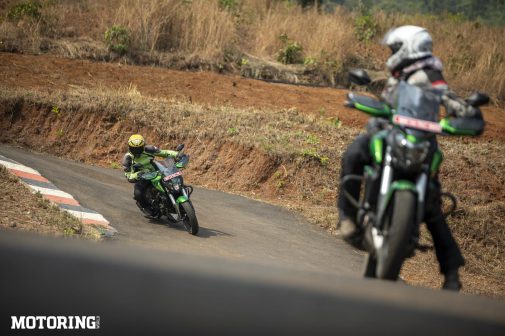 I thought I saw Louis looking a bit stunned in her helmet, and asked if she was surprised, to which she replied, 'Yes…'. Sensing some hesitation, I asked if she'd like to do a few laps around the track, to which she replied, 'I'm not very good at track cornering…' For a rider who'd ridden alone halfway around the world, I thought that was quite honest. I offered to show her the line around the track, and off we went. The track itself was a short burst of merriment, more suited for a go-kart than a highway bike. The Dominar could complete a lap without getting out of second gear, but it was fun nonetheless. I went round and round, till my wrists could heave the Dominar around no longer. After they'd recovered sufficiently, I went around some more. There's nothing like free track time, after all.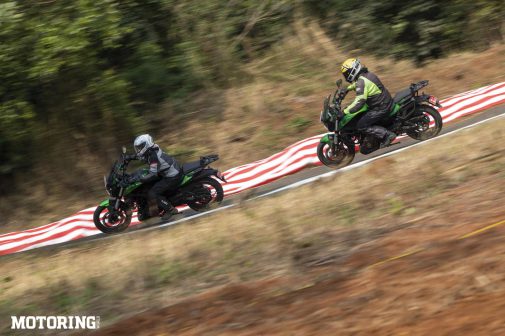 Barrelling into the last hairpin on the track, I noticed Louis standing there with her smartphone pointed at me, and I nearly lost the front end. As I got back on the throttle, I wondered what the difference was between an influencer and a motoring journalist, besides the obvious ones, and whether they mattered at all. In the end, anyone who really rides motorcycles will find it impossible to remain shallow, right? Or at least that was the hope anyway, as I remembered the gazillion reckless and helmetless chaps who show up on my Instagram. And the next time I went around the fastest kink on the track, the Dominar grounded its left footpeg hard and announced that it was time to leave while I still could on the bike.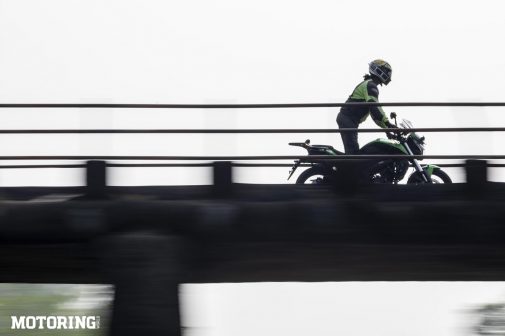 There's something about riding in memory of a person that struck close to home. However, Louis didn't just ride nonstop to Australia; along the way, she taught children English, taught people how to use a laptop, and just stayed longer in places she liked. And once in Australia, she watched wild kangaroos fall asleep in her Dominar's shadow when she stopped for a break. The tiny ones, that is, not the muscular ill-tempered ones that are usually found in Ozzy Man's videos. And Farland's parents were at the finish line in Australia, too, so she did complete that ride for him.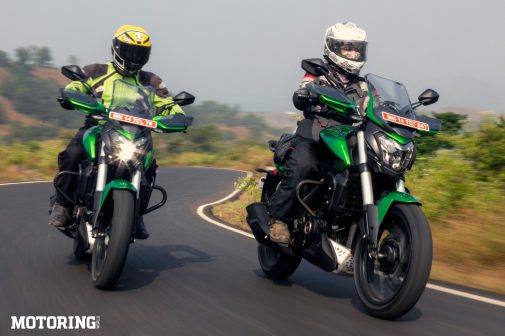 'I ended up doing a lot of things that Alistair liked, purely by chance, like scuba diving and skydiving. I realised that when I stayed with his family. For everyone else, it was a ride. For me, it was my entire life. Looking back, I wish I'd taken longer, maybe a year or so. And it affected me a lot when I came back. It happens to all long-distance travellers; you change a lot on the road, but things back home remain the same. It took some months to get used to being back.' Next, she wants to ride from India to Africa, but thanks to the pandemic, yet another epic ride remains indefinitely postponed. Fingers crossed for her, then.
The effect of social media is as immediate as it is fleeting; if you can remember everything you saw on your phone yesterday and the day before, feel free to disagree with me. However, a motorcycle on a road is a very real phenomenon and is always etched in memory. That's why it doesn't matter who says or does what, all that matters is the ride, and Louis is a great example of it. She's what each of us is — a rider on an unforgettable journey.