To mark the 75th year of independence, Ultraviolette Automotive hosted an exclusive test ride of the F77 electric motorcycle with India's pilot community. The test ride conducted at the TAAL airstrip demonstrated the F77's capabilities as well as gave the pilots a first-hand experience of the production-ready version of the F77, ahead of its commercial launch in India. 
Designed and engineered in India, the F77 is an urban sports bike, built from the ground up with principles used in the aviation industry. Since its unveiling, the F77 has gone through several rounds of key advancements across various parameters, making it one of the most advanced high-performance electric motorcycles in the market. It comes with an acceleration of zero to 60 kph in 2.9 seconds, a top speed of 140 kph, and a claimed range of 200 km on a single charge. The F77 is a smart and connected electric motorcycle that comes with remote diagnostics, OTA upgrades, regenerative braking, multiple ride modes, bike-tracking, ride diagnostics and also a whole lot of other features.
'Today is a momentous occasion and marks a significant milestone for us at Ultraviolette,  as we roll out our very first external test ride with an elite group of experienced pilots from India's aviation community. The core philosophy of aviation engineering revolves around the fact that every single part within an aircraft should serve a functional purpose and must be engineered for 100 per cent accuracy and safety. This has been our Northstar and guiding principle right from day one when we set out to build the F77. The feedback that we have received from this test ride has been overwhelming and we couldn't be happier that we had the opportunity to interact and learn from a community that we have been deeply inspired by,' said Narayan Subramaniam, Co-founder and CEO of Ultraviolette.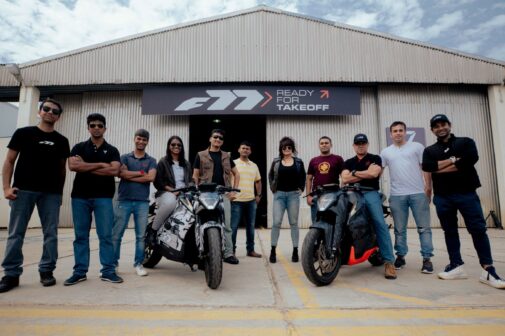 Talking about the test ride, Sanjay Misra, a pilot with 34 years of fighter and commercial jet flying experience stated, 'The F77 feels like a fighter jet equivalent of a motorcycle. This was my first experience with an electric bike and it was truly fascinating. It exceeds expectations across all parameters in a motorcycle – be it acceleration, handling, braking, design, or build quality.  There has been a lot of thought and consideration that has gone into the bike in terms of design and technology.  Kudos to the team at Ultraviolette who have designed and manufactured the F77 and it makes me immensely proud that we have a product like this coming out of India.'
Ultraviolette Automotive has further been rigorously testing the F77 across different terrains in the country to validate the motorcycle's drivetrain, chassis, and battery capability using several quantitative and qualitative parameters. Ultraviolette will begin public test rides at the beginning of September 2022. Further, the company has already received over 65,000 pre-order interests from across 190 countries. Of these countries, India, the USA, and Europe represent a significant part of these numbers.