It's true, you know. Everyone else might've stopped comparing the Yamaha RD 350 to every performance motorcycle launched in India, but I find it tough not to. Perhaps it's the lifelong hold the RD's had on me. Or maybe I just want to see it beaten once and for all, in every possible manner, so that I can finally move on. Is it even possible? Or is it futile hope? After all, all kinds of bikes have failed to dent its fearsome reputation over the years. The last time I wrote about the RD was three years ago with its descendant, the YZF-R3, as the challenger. And while I thought that was that for the RD, it wasn't. Even the lovely R3 couldn't generate enough velocity for me to escape the RD's forces of attraction. Can a Royal Enfield do that?
I've been riding the RE 650 twins for four months now, and they've both been beautiful riding machines. To give the RD a fair chance, I decided to leave the Continental GT out and point it at the Interceptor instead, since they are more similar in layout. Indeed, ex-bossman Bijoy Kumar Y's red-black-chrome RD matches well with our Interceptor's similar colours. And both are what people call 'standard' motorcycles; most motorcycles looked like this long before hipsters were born to discover facial-hair cream, skinny jeans and retro motorcycles. Upright riding positions, round headlamps, parallel-twin motors, twin exhausts and double-cradle frames are common to both the RD and the Interceptor.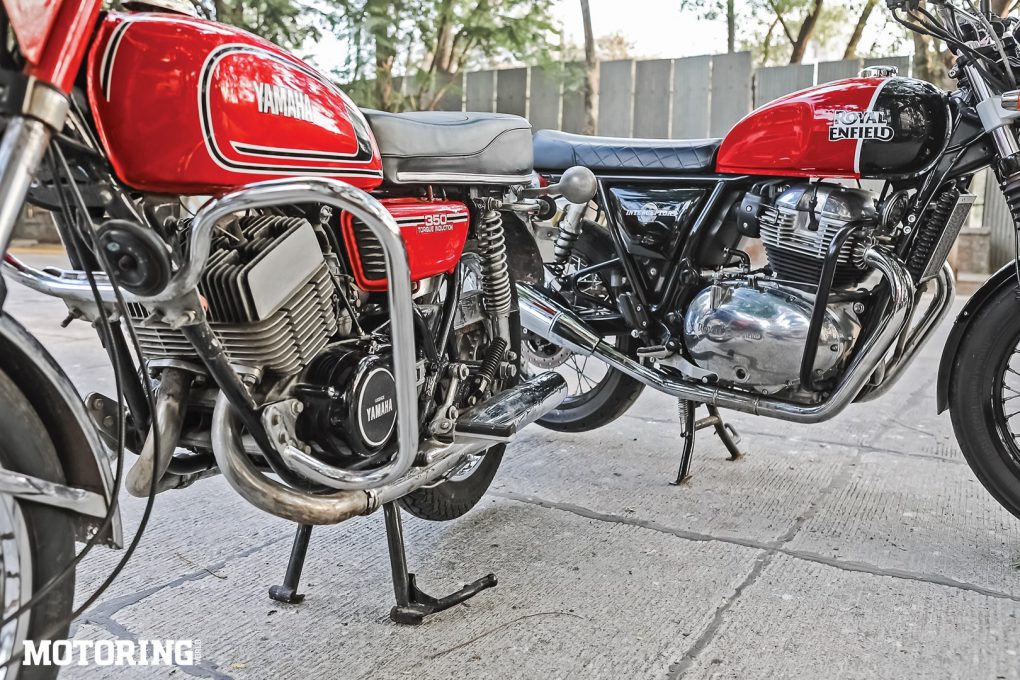 However, the RD retains the cardiovascular benefits of a kick starter. And the moment the twin cylinders fire, resistance becomes resonance. The senses scramble to tune in to the RD; sight has a hard time believing that dignified shape produces so much chaos; hearing can't believe itself; touch wonders how it's possible for something to feel as potent when the fuel's still not flowing freely through the carburettors yet. It takes a few seconds and more than a few gratuitous blips of the throttle for the motor to warm up, and it's ready leave sanity behind. Its rasping idle seems to ask, 'Are you ready?'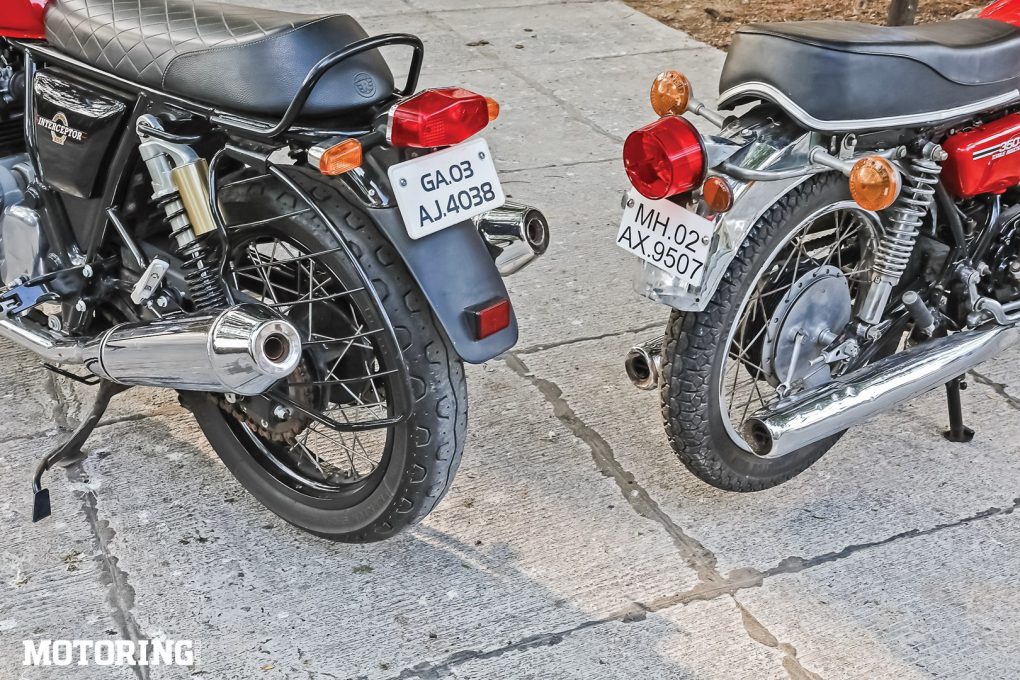 The Interceptor, shackled by current-day norms of noise, pollution and social decorum can't hope to match the sense of occasion the RD smokes out of its exhaust pipes. However, it's that very modernity that blesses the Interceptor with a slick feel that's diametrically opposite to the RD's — and more importantly, brakes that work. The RD's brakes have little authority over speed and they prefer being passive observers for the most part. When they do slow the RD down, it's with the grudging demeanour reserved only for sedated government employees. The Interceptor's ABS-equipped twins discs almost look as shocked as Edvard Munch's The Scream. Then again, the RD's not known for its brakes.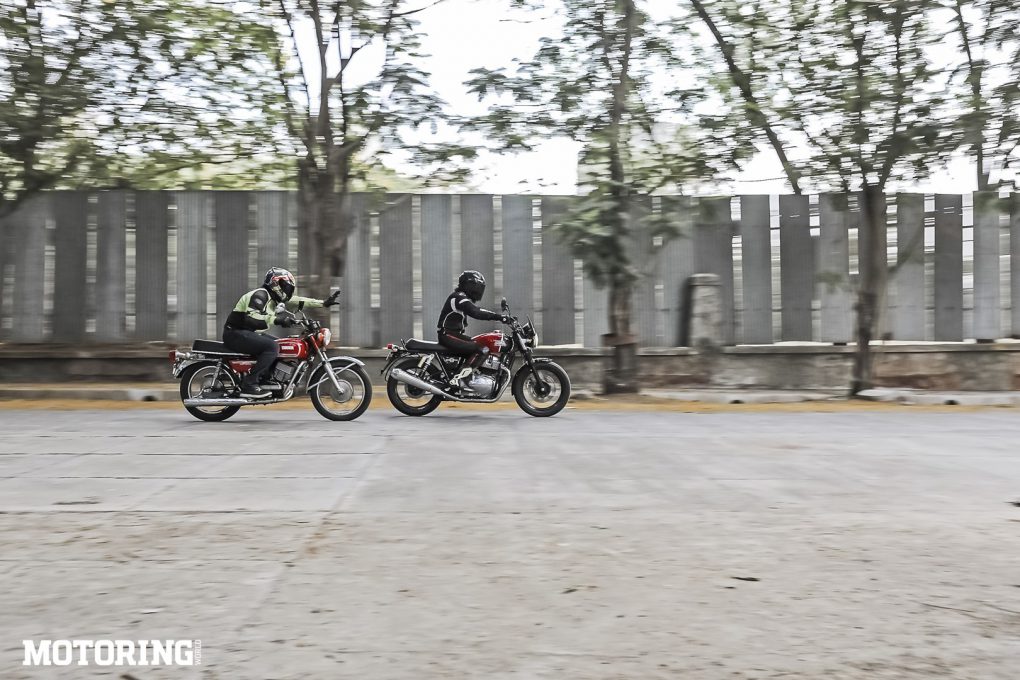 What made the RD such a giant killer in its heyday was that motor, all 347cc of it. On the RD, there's a constant feeling that I'm up to something illegal, and it's usually true. Two-stroke tech means that every movement of the throttle is amplified; there are several 'But I didn't twist it that hard!' moments on the RD. It's almost as if the motor's deciding how much power you need, and it's usually too much at the wrong place and time. For example, bringing the front wheel up behind a car that's slowing down. There's nothing subtle about the manner in which the RD goes about its business, and I can't help but wonder how anyone can ride this thing constantly fast for any decent stretch of time or distance without ending up in a straightjacket or with a halo above their head. No such danger for the Interceptor's rider, though.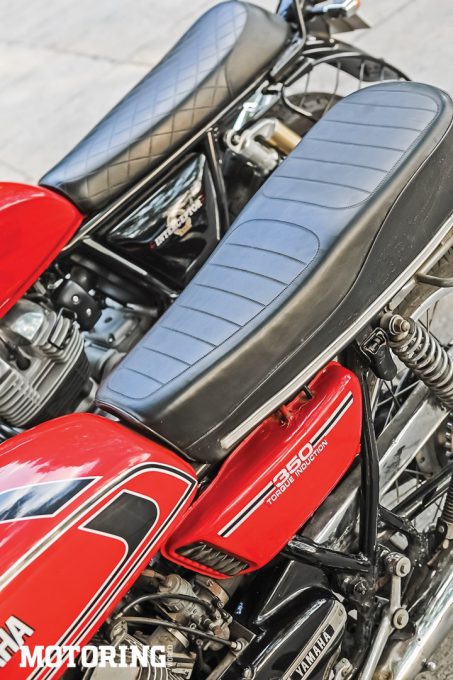 While the Yamaha throws its magnificent tantrums, the Royal Enfield simply rolls away into the heat haze. The RD's simply never going to beat the Interceptor to any finish line, real or imagined. Where the old bike wants to beat your senses into a pulp, the new one soothes them. The four stroke is the one you can take home to your wife and children, while the two-stroke will suddenly compel them to keep their distance from you. Now that I think of it, the RD is a perfect complement to the Interceptor, an example of the proverbial attraction of opposites. A motorcycling yin and yang made of red and chrome. And both seem to hate my legs, too.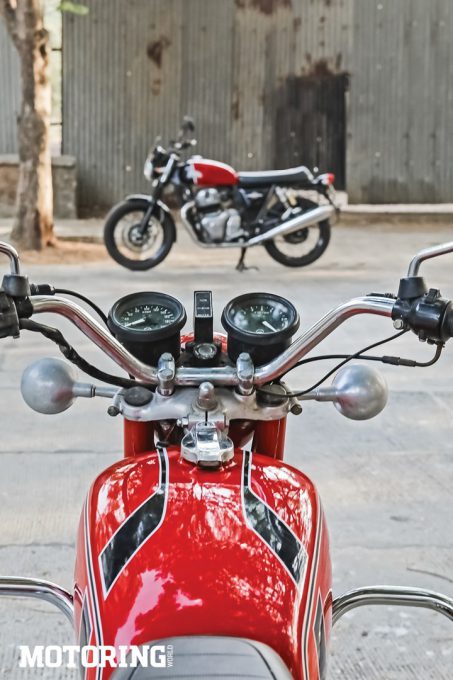 With the RD, my kneecap is violently reacquainted with the rear shock absorber's top bolt as my foot tries to reach the main stand. Meanwhile, the Interceptor likes testing my shins' scab-generating capabilities with its wide-set footpegs in traffic. You either work around it or get used to it. I have managed neither. At least the heat from the Interceptor's motor is not an issue anywhere. And the RD's light weight makes it very easy to throw around, though today it's hard to imagine how it was called a handling marvel back in the day.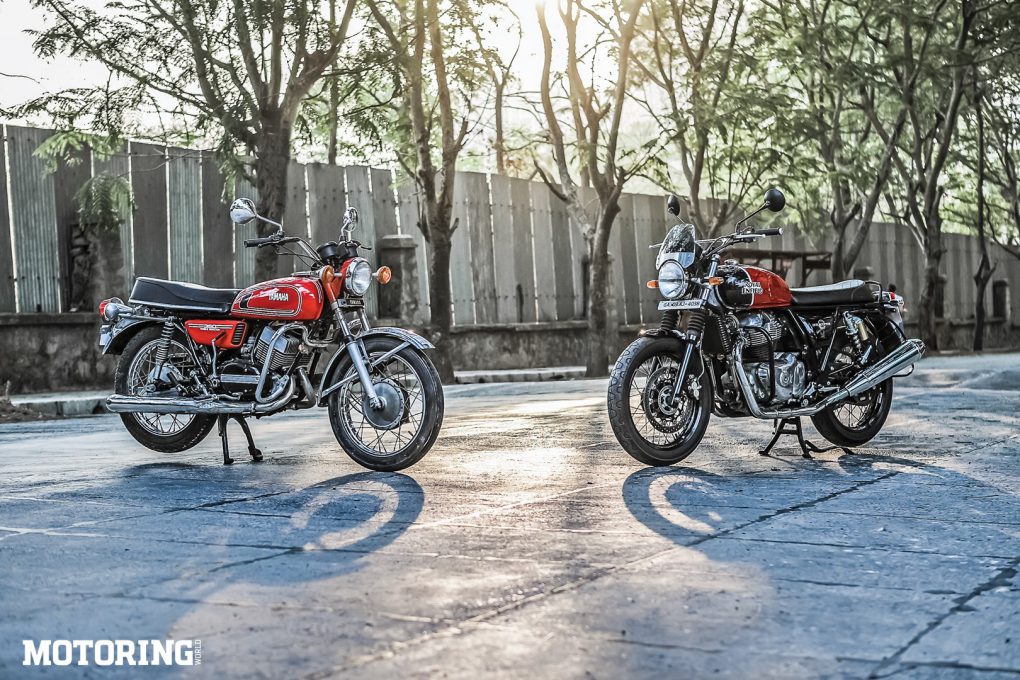 I don't think I'm going to push an RD hard through a set of corners anytime soon, especially when there's every chance it'll take me into oncoming traffic with its front wheel in the air. I'd rather not let the greedy hands of its powerband and the unwilling ones of its brakes play tug-of-war with my fate. As far as real-world performance goes, the Interceptor is where I'll safely place all my bets. And reach my destination in one-piece, too. Also, buying and restoring an RD will likely cost you as much as a new Interceptor. Which is just stupid, I keep saying, but mostly because it is. The RD is a rarity from the past, while the Interceptor hasn't even hit its stride yet.
However, there's no point in comparing anything to the biggest two-stroke ever sold in India, really, because there's nothing like it nor will there ever be. I may just stop bringing new bikes to meet it, finally, but I can't be sure just yet. It's almost become a habit now. Not sure if it's a good one or a bad one. One thing I'm certain of is that I'm glad that the RD's still around, lurking in the dark spaces of a few lucky garages. If it weren't, the silence would be deafening.
[This story was originally published in our May 2019 issue]
MOTODATA
Yamaha RD 350
POWERTRAIN
Displacement: 347cc, parallel twin
Max power: 30.5 bhp@6750 rpm
Max torque: 3.3 kgm@6500 rpm
Transmission: 6-speed
CHASSIS
Type: Tubular double-cradle frame
BRAKES
(F/R): 180 mm drum / 180 mm drum
TYRES
(F/R): 3.00 X 18 / 3.50 X 18
DIMENSIONS
L/W/H (mm): 2040/835/1110
Wheelbase: 1320 mm
Ground clearance: 155 mm
Seat height: 800 mm
Kerb weight: 155 kg
Fuel capacity: 16 litres
PRICE: Never Mind
MOTODATA
Royal Enfield Interceptor 650
POWERTRAIN
Displacement: 648cc, parallel twin
Max power: 47 bhp@7250 rpm
Max torque: 5.30 kgm@5250 rpm
Transmission: 6-speed
CHASSIS
Type: Tubular steel double-cradle frame
BRAKES
(F/R): 320 mm disc / 240 mm disc
TYRES
(F/R): 100/90 R18 / 130/70 R18
DIMENSIONS
L/W/H (mm): 2122/789/1165
Wheelbase: 1400 mm
Ground clearance: 174 mm
Seat height: 804 mm
Kerb weight: 202 kg (no fuel)
Fuel capacity: 13.7 litres
PRICE: Rs 2.5 lakh (ex-showroom, Mumbai)