Let me put it out right at the start, I had never expected it, but this junket turned out to be the biggest highlight of the year for me. I don't remember the last time I was this physically and mentally exhausted on a ride that was predominantly supposed to be a leisurely one. To give you an idea of what I'm talking about, have you ever been stuck in a traffic jam caused by a landslide, with vehicles queued up for 40 kilometres on either side? I highly doubt you have. And if you have, you have nothing but my absolute respect. To bring you up to speed on how I, and a bunch of other journos landed in this situation, TVS had sent out an invite for a celebratory ride in Nepal to commemorate the success of its 125cc offerings, the Raider and the Ntorq 125.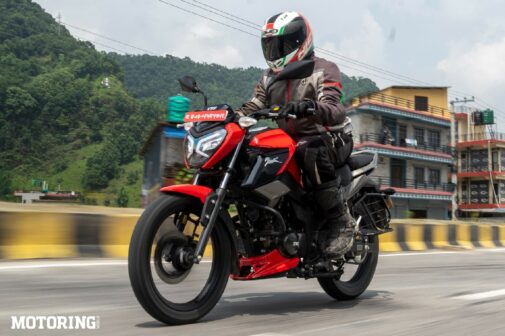 I have been on a few international junkets, but never had the opportunity to ride a motorcycle outside my homeland. That said, I was all the more excited and eager to explore the picturesque landscapes of Nepal, and the ride experience in store. The ride was curated so that we would covera distance of approximately 700-odd kilometres, over three days.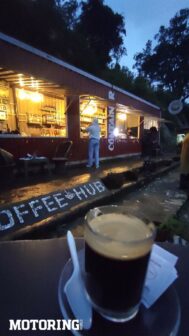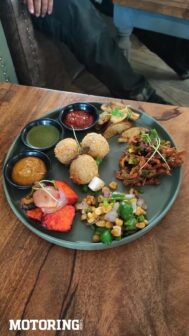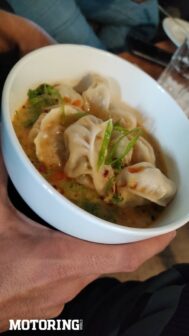 Day one of the ride was from Kathmandu to Pokhara, while day two was from Pokhara to Bharatpur and back, followed by day three that involved riding back to Kathmandu from Pokhara. Day one of the ride started with me receiving the keys to a red Raider, which would be my companion for the journey. A bunch of journos also had Ntorq 125s, which are a common sight on the streets of Nepal. After a quick photo op at the TVS dealership followed by a flag-off, 11 journos including myself, set off for Pokhara. Our convoy was led by a resident journalist Ameet Rajkarnikar from Nepal Drives magazine. Since Kathmandu is the capital of Nepal, getting out of the city was a 40-kilometre ride. Once exited, the roads had opened up and were less crowded, giving us the opportunity to soak in the views of the densely forested mountains. Soon, we arrived at our first checkpoint. It was a bridge that goes over the Trishuli river. A quick trivia about the river — it originates in Tibet as a stream, enters Nepal, and connects with the Narayani river, which at a lower stage flows into India and joins the Ganges. After spending some time at the location and clicking pictures, we were back on the road for the next checkpoint. We were riding on Prithvi highway, which runs along the Trishuli river. The highway is infamous for its sharp blind corners, and is notorious for landslides. As fate would have it, we received information that a landslide had occurred the previous night on the same highway, owing to heavy rains. Since we had no clue about the severity of the natural calamity, we decided to continue riding ahead, and analyse the situation on reaching the next checkpoint, which was our lunch stop.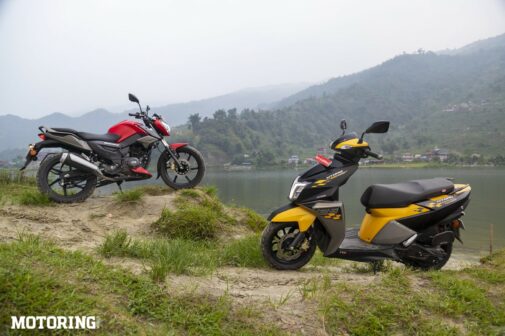 When we arrived, the roads outside were relatively free, which to our surprise, were all jammed packed when it was time to head out again. Apparently, the landslide was a significant one and vehicles had been stuck midway since last night. A call had to be taken, whether to turn around and head back, or take a chance and continue forward. Since we saw a few motorcycles coming from the other side, the decision was made to leave the support and luggage vehicles, and continue ahead solely on two wheels. It didn't take long for the severity of the situation to climb up by a couple of notches. Soon, there was slush, muck, loose gravel, and even small to medium-sized boulders that had rolled off the mountain onto the road. All of this was in addition to finding a route through the long queue of stuck vehicles.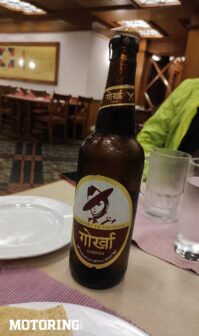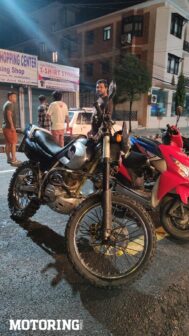 It was nothing less than an intense maze of 40 kilometres before arriving at the landslide spot. In all the rush, we didn't realise that we had reached right at the base of the landslide. And if things had to take a nasty turn, we stood no chance, but being swept away should there be a continuation of the landslide. Thankfully, an excavator was already present at the spot, clearing the road from the muck and boulders that blocked it. After an anxious and tiring wait of 30 to 45 minutes, the road was opened momentarily for two-wheelers, which is when we all made a dash to get through. Phew! And so we did, but only to be welcomed by another 45 kilometres of traffic on the other side of the landslide. Thankfully, the locals were very cooperative and had left space for two-wheelers to get through.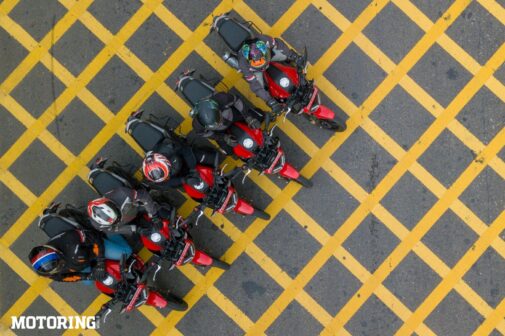 From riding on the broken tarmac to slush pits on the edge of the road, I have nothing but praise for the Raider and the Ntorq. On no given occasion did any of the two-wheelers let any of us down, as we all got through the jam-up without any hiccups. After a much deserved break to ease ourselves, we got back on our bikes to reach Pokhara. While we hoped for no more surprises, mother nature had a different plan in store. We lost a lot of daylight in getting past the congestion, and since we were in Nepal, nightfall sets in much earlier. We had no option but to continue riding to Pokhara at the mercy of our headlights, most of it in pouring rain. Our 200-km journey for the day, which was supposed to be completed in five hours, ended up taking us approximately 15 hours to cover. Physically and mentally exhausted, drenched to the bone, we finally made it to Pokhara at half past ten in the night.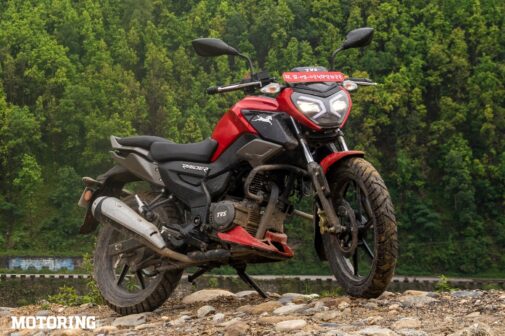 The following day, after a good night's sleep, the decision was made to drop the plan of riding to Bharatpur altogether. Two reasons for that. First, to get to Bharatpur, we would have to again traverse through the jam-up for a good distance before turning off from Prithvi highway. And secondly, the lock-up had further worsened over the night. Not wanting to push our luck any further, the call was taken to stay put and explore Pokhara instead. And it turned out to be an eventful day, to be honest. We rode on a newly developed sixlane highway that had beautiful landscapes of the mountains in the background. And since the road was more or less empty, a bunch of us took turns clocking in some highspeed runs before heading for lunch. Located by the bank of Phewa Tal lake, we relished the delicious local cuisines, before getting back on our bikes to explore more of Pokhara. We rode along the road that peripheries the lake, after which we cut into a dirt road that led to a patch of land that led us somewhat in the middle of the lake. Due to unforeseen circumstances, the ride was cut short to just two days. As much as we all wanted to ride and explore more of Nepal, the evening by the lake was the last day of the ride.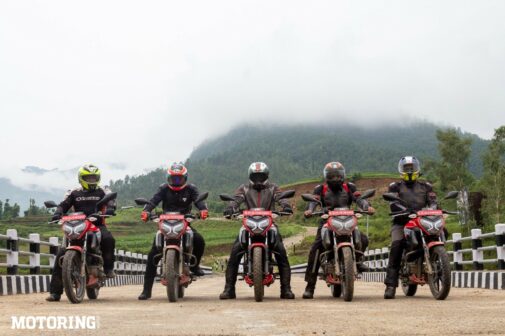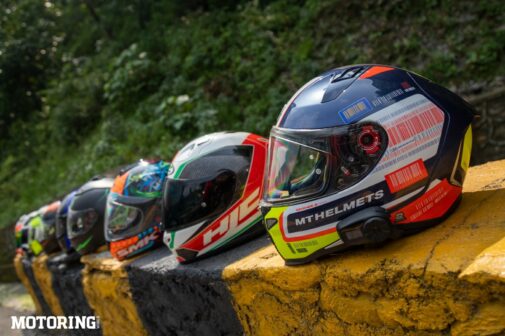 In hindsight, anything and everything could have gone wrong on this ride, but thankfully didn't. And instead of people losing their cool over anxiety and fatigue, everyone remained calm and supportive by helping one another to get through all the possible obstacles collectively. I might have not been able to explore Nepal the way I had hoped, but instead have returned with lots of memories, conquered challenges, but most of all, made some fantastic friends whom I look forward to meeting, and riding with again, soon.
PHOTOS Saurav Nepal and Pritam Chhetri