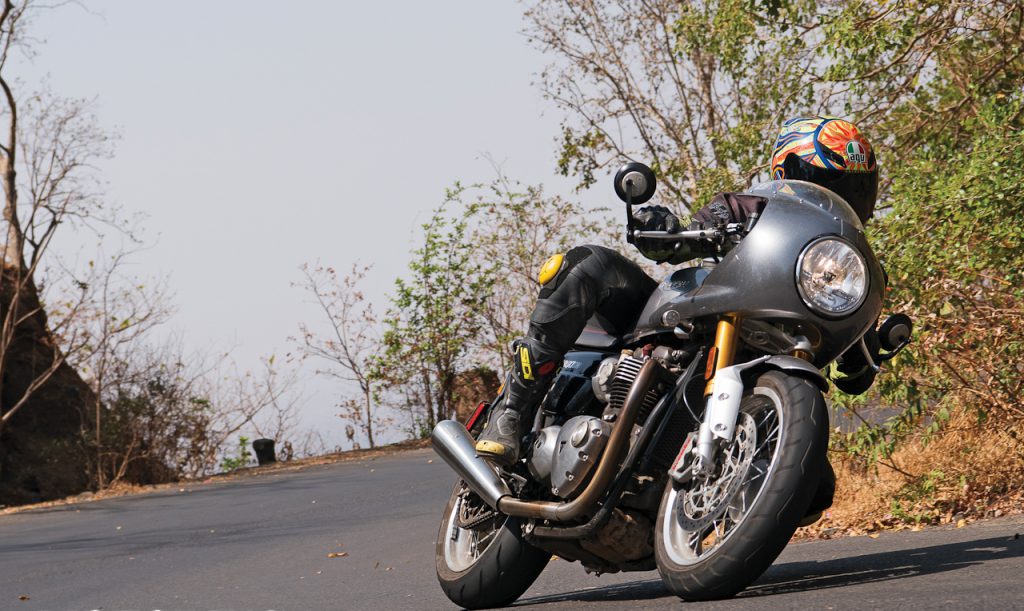 The more things remain the same, the more they change. Do excuse the rather languid restructuring of the cliché, but I couldn't think of a better way to describe these two motorcycles. The Thruxton is still a café racer and the Bonneville is still a classic standard street bike, but they couldn't be more different, both from their past incarnations as well as from each other. Inescapably, however, the fact remains that both still do share the same 1200cc heart; they're cut from the same cloth as it were. Though it's funny how one seems to demand slider-shod leather riding pants, while the other looks happy between a pair of oil-stained jeans.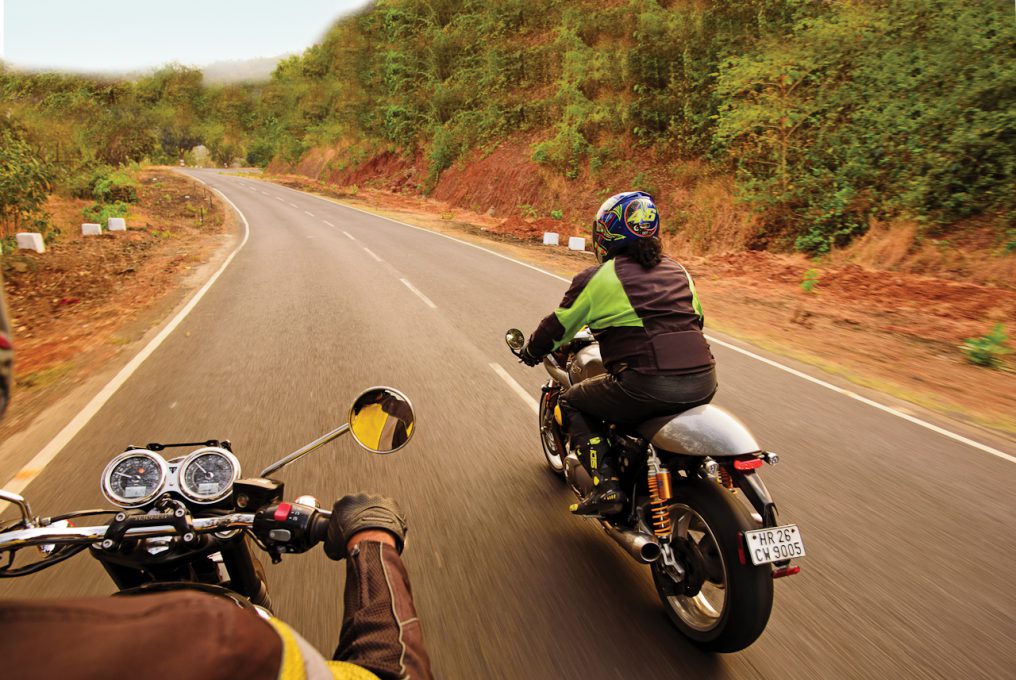 Speaking of differences and similarities, there's Kyle Pereira and me. Both of us are 33 years old, both have a congenital and terminal love for motorcycles, both began truly living their lives in the pages of this very magazine in 2008, and both might one day face exile from society due to our shared fondness for unpolitical correctness. But that's where the likeness ends. You see, when we started out being the motorcycle guys at Motoring, it was the differences between us that defined us. Or rather, we let them.
Kyle was and still is the wrencher, while I liked to believe (still do) that I was the faster guy. He liked solving problems in his garage, while I had a tendency to create them. The resulting friction wasn't always welcome, but motorcycles and Motoring formed a bond between us that is far better than what Kyle can manage with a welding machine. We're closer friends now than ever. Our digs at each other, though, haven't improved much. Or at all.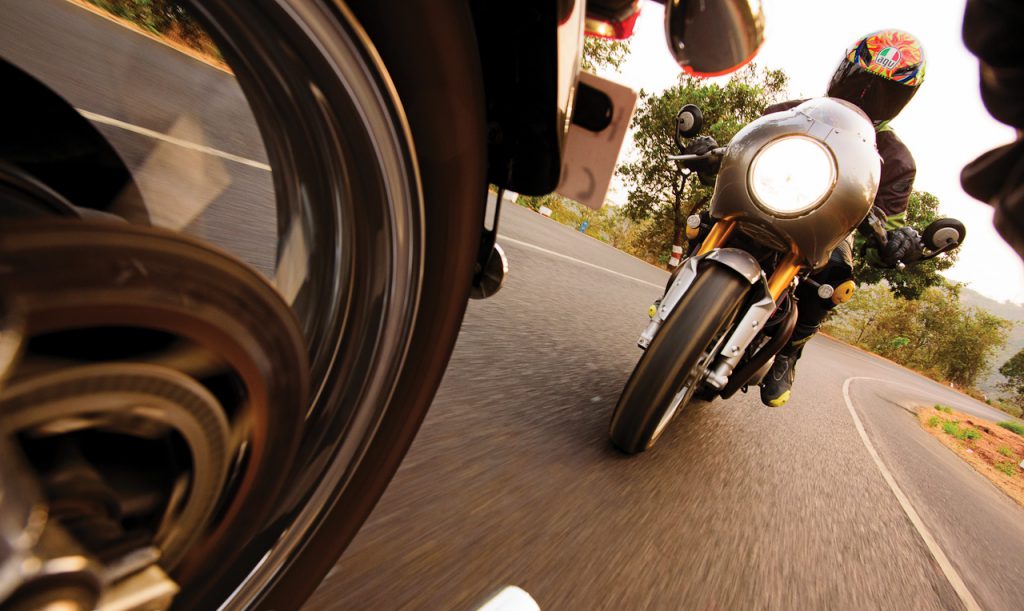 When we first saw the Thruxton 1200 R and the Bonneville T120, to use their full names, next to a waterfront at our awards' jury round, we were both transfixed. We spent a day riding them up and down a twisting road, but that barely scratched the surface of our collective greed. I'd fallen for the Thruxton, while Kyle didn't get off the T120 even when it was parked. So a plan was instantly hatched to borrow the two Triumphs again and get lost down NH 17 (no, I still refuse to call it NH 66) for a few days.
Triumph is a company pretty close to Kyle's heart; he has this massive thing for old British bikes and even has a couple of pre-war Triumphs in his garage. I have no historical affinity for the marque except for the fact that they make some lovely motorcycles. I doubt he'd ever want one of these in his garage for too long, since they probably won't break down often enough to earn his hard-won affection. That didn't deter him from bringing his tool kit along for the ride, though. We never needed it, of course.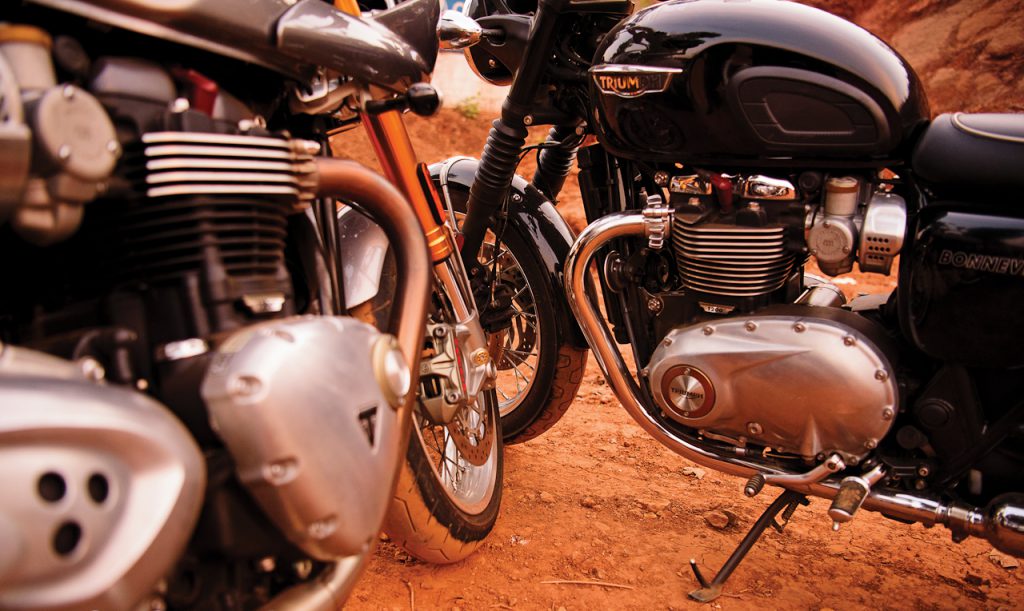 The best use of said tool kit I could imagine was to unbolt that fairing from the Thruxton and hang it on my bedroom wall. And the meters, the triple clamp, the clip-ons, the tank and the seat along with its cowl. And the pair of Arrow exhausts. In the Thruxton, Triumph has made an extremely accurate representation of the idea of a motorcycle in my head for the past decade. It is as sensuous as a motorcycle can be to me. Even Kyle couldn't disagree, though he immediately pointed out the T120's comfort-first ergos. Even I couldn't disagree, though I immediately pointed out in return that he was was looking at the Thruxton as he said that. You just can't take your eyes off 
the thing.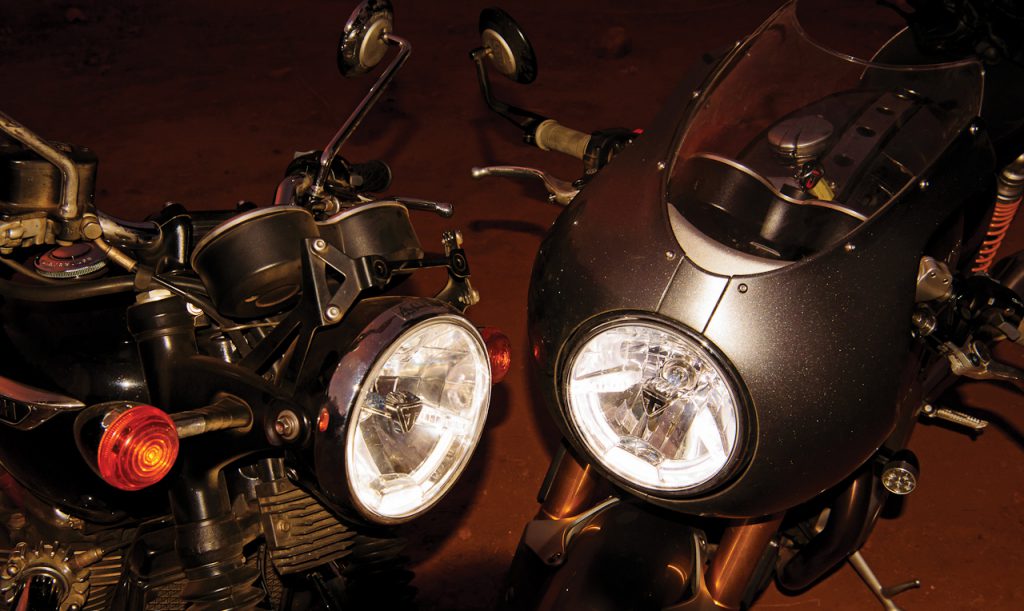 On the other hand, the T120 is a model of understatement. And the silver Thruxton with its golden suspension bits renders the T120 even more anonymous than its simple black and chrome composition might set up. That's not to say it's not a handsome motorcycle, though. Actually, it almost looks like it enjoys the fact that the spotlight is permanently fixed on its superstar sibling, preferring to be left in peace with its larger front wheel and pea-shooter exhausts bolted onto a more normal, real-world appearance. In fact, the more you look at the T120, the more its homely charm starts growing on you. This is a real 'supermodel versus girl next door' situation and then some. And there's no right answer to that particular question.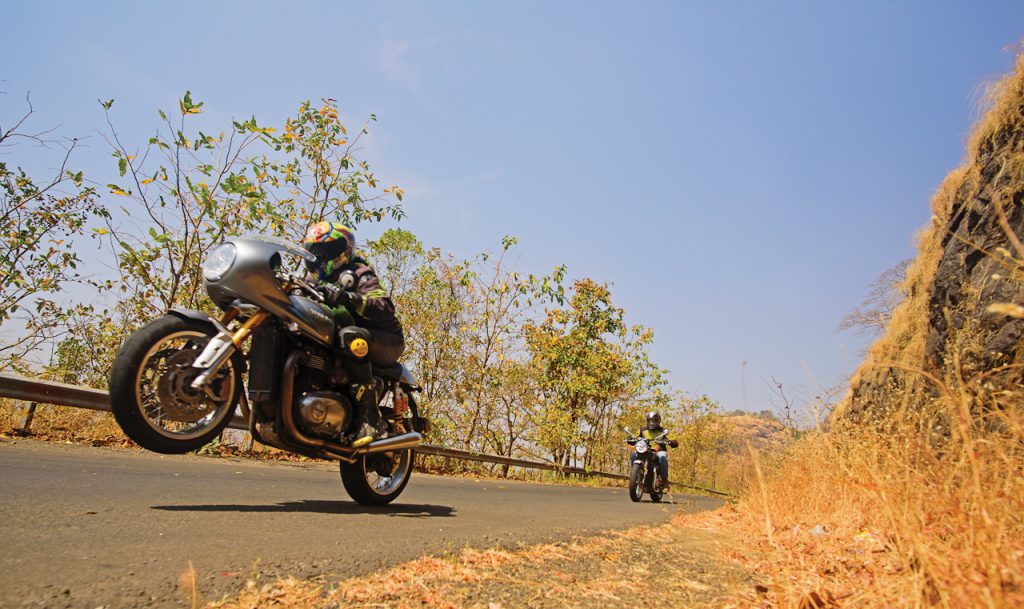 In fact, as we set off seeking meandering backroads with our individual theories and prejudices for company, I couldn't help but already feel that there were no right answers waiting for us when we returned. What we had in store, I had no idea of, so I settled for listening to what the Thruxton's 96-bhp motor had to say. And boy, does it make an Arrow-aided point or two. It's not a shy motor, this one. It needs little provocation to launch into a riot 
funded by the 11.42 kgm its 
big-bore motor generates.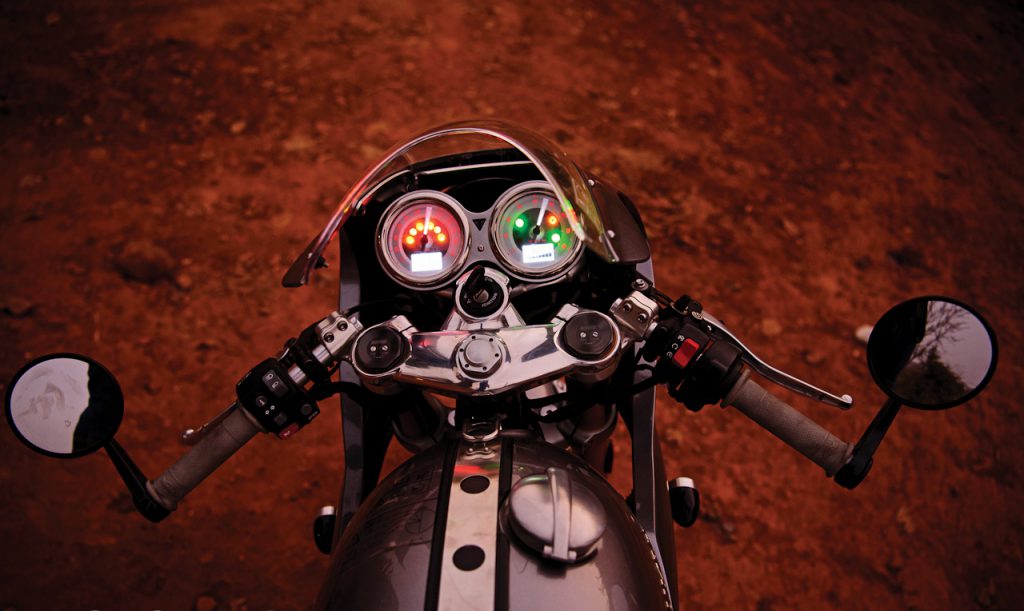 The Thruxton makes its intentions clear right off idle and turns its low-rev rumble into a full-throated roar as the tacho needle climbs towards the business end of its scale. The front wheel behaves in a manner that I never expected from a British twin, though it still makes complete sense with the Thruxton. Throughout the extent of its 6-speed gearbox, the motor sends big fat sacks of torque at the rear wheel requiring rather frequent interventions by the traction-control system, especially in the lower gears.
I found myself switching off the electronic aid, not because of any illusions of skill, but just to see how it'd behave, and it was even better. The Thruxton simply transformed into more of a torque-guided missile with that beauty of a fairing as its tip. No more annoying cuts in power, lots of friendly wheelies, and one gigantic grin in my helmet. The sheer gratification that the throttle provided ensured that I arrived everywhere going almost too fast than was prudent. That in turn meant that Kyle and the T120 got left behind every time the Thruxton decided to take off. And while it was fun, Kyle's prophetic doubts about the clip-ons' long-distance suitability kept coming true at regular hour-long intervals. Not that I admitted it. Instead, I proposed a change of bikes at the next stop, declaring journalistic commitments to the reason. It was like walking out of a Led Zeppelin concert into a Pink Floyd one.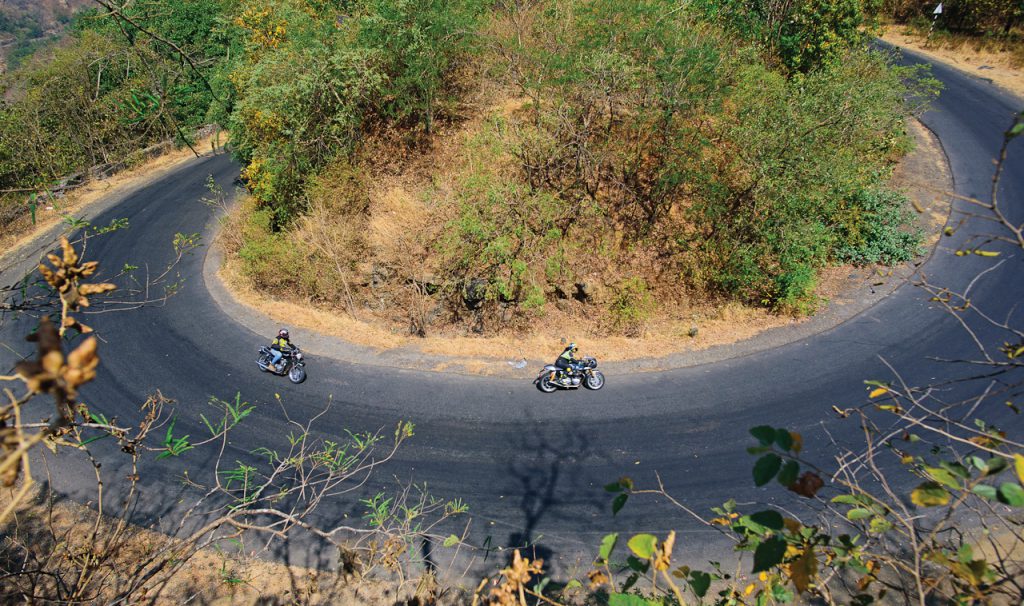 The Thruxton is impressive in its polished rabidity, but the T120 is simply mind-boggling in its calmness. Make no mistake, its 79-bhp motor is still fast enough to turn the world into a three-digit blur sooner than you can say, 'This thing is not slow!' But other than the obvious potency of its equally big-bore motor, it's the nature of the T120 that surprises. It doesn't amplify your surroundings like the Thruxton does, but softens the blows of the world. Even while doing 140 kph, it feels as composed as it did at 100 kph. Soon, speed stops mattering at all. Just in time for the twisties, which is a good time to get back on the Thruxton, too.
A convenient bike-swap stop later, I'm away on the Thruxton which seems to be making it a point to welcome me back in the best possible manner. 'Back for my Öhlins and Pirelli magic, eh, old chap?' it seems to shout in every corner. This bike handles as well as it looks, perhaps becoming the best production interpretation of the concept of café racing. It stops, steers and corners… well, not like a sportsbike, but damn near close to one. It uses its modern, high-quality parts to give life to an old idea, one which had clip-ons, long tanks and bum-stop seats. And still very much does. All this while, the T120 is playing catch up.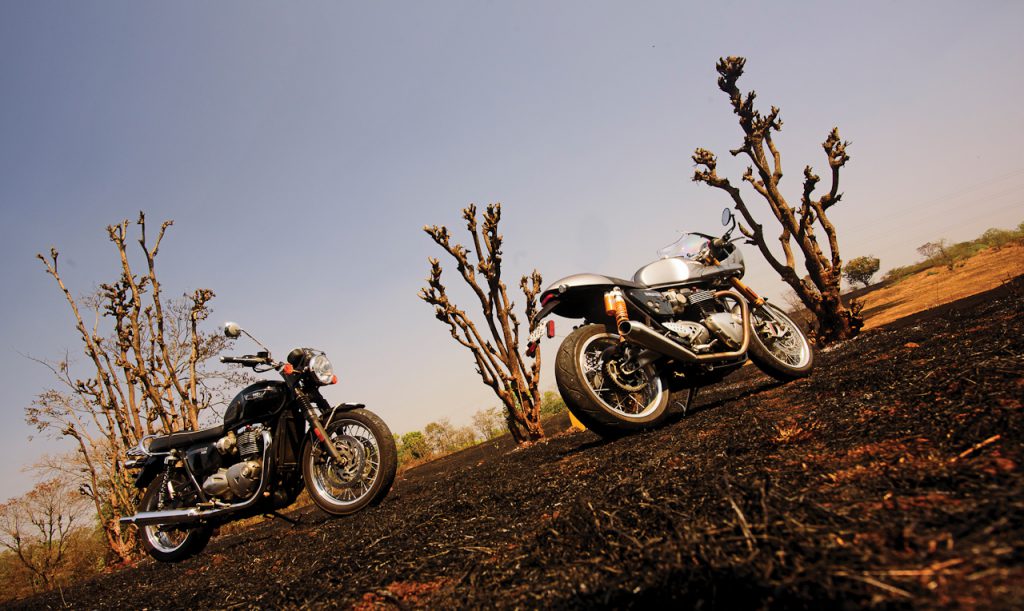 You see, the Bonnie doesn't have the Thruxton's fancy bits — and it doesn't seem to want them, either. Mind you, again, the T120 will eat everything in its path on a set of twisties, but it'll do it with its pinky finger sticking out, not all claws-out like the Thruxton. It displays a composure that's a reflection of its relaxed outlook, much like the scenery bouncing smoothly off its chrome bits. Being smooth and confident paid off massively on the T120 as it traced a graceful line through corners. It'll do a great job of swinging over mountainside tarmac, but with decidedly more serenity. The brakes and suspension might get a bit soft when you start pushing it, but you have no business riding this elegant motorcycle like a hooligan. I didn't. Instead, I swapped bikes whenever I felt like it. And that brings me to an important point.
How can the same motorcycle be so different? Triumph has been the master of carburettor impersonation for some time. And now, seemingly, it's nailed the art of making two very different motorcycles out of one, too. The Thruxton, with its handfuls of throttle, stunning looks and the intense satisfaction of pointing that unbelievable fairing at corner after corner. The Bonneville, with its letting the sun on your back and the wind swirling inside your helmet, is as peaceful a combination of man and machine as there will ever be.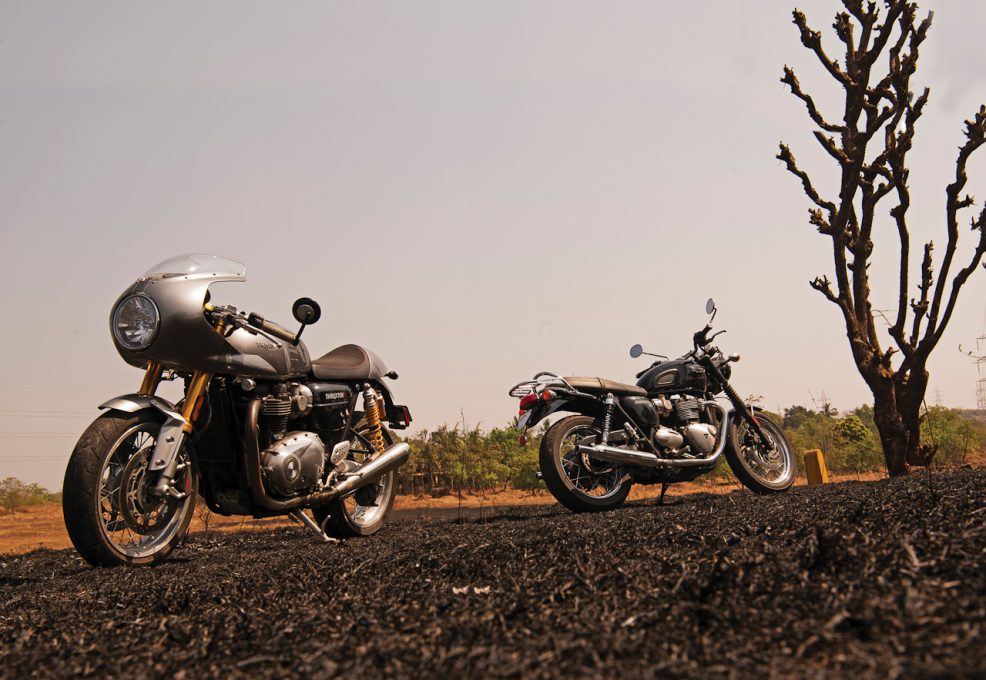 These are motorcycles that have become more of what they were always meant to be. They've gained greater focus in their own very different ways. And in doing so, both have become motorcycles with whom every ride, every single encounter becomes an indulgent memory, whether it was trying to tuck behind the Thruxton's fairing visor or reclining lazily on the T120's tank as it was parked on its main stand. Time, if you're paying attention to things, fosters inclusivity. Two 33-year-olds can attest to that fact. If nothing else, that gives us enough reason to not judge the person who has both of these Triumphs in their garage. After all, you have to be similar in order to be different. And the other way around, too.
PHOTOS Suresh Narayanan
MOTODATA
Triumph Thruxton 1200 R
POWERTRAIN
Displacement: 1200cc, parallel twin
Max power: 95.67 bhp@6750 rpm
Max torque: 11.42 kgm@4950 rpm
Transmission: 6-speed
CHASSIS
Type: Tubular steel cradle
SUSPENSION
(F/R): 43 mm inverted fork/twin shock absorbers
BRAKES
(F/R): 310 mm twin discs / 220 mm disc
TYRES
(F/R): 120/70 ZR17 / 160/60 ZR17
DIMENSIONS
L/W/H (mm): NA/745/1030
Wheelbase: 1415 mm
Ground clearance: NA
Seat height: 810 mm
Dry weight: 203 kg
Fuel capacity: 14.5 litres

PRICE: Rs 11 lakh (ex-showroom, Delhi)
MOTODATA
Triumph Bonneville T120

POWERTRAIN
Displacement: 1200cc, parallel twin
Max power: 78.90 bhp@6550 rpm
Max torque: 10.70 kgm@3100 rpm
Transmission: 6-speed
CHASSIS
Type: Tubular steel cradle
SUSPENSION
(F/R): 41 mm telescopic fork/twin shock absorbers
BRAKES
(F/R): 310 mm twin discs / 255 mm disc
TYRES
(F/R): 100/90 R18 / 150/70 R17
DIMENSIONS
L/W/H (mm): NA/785/1125
Wheelbase: 1445 mm
Ground clearance: NA
Seat height: 785 mm
Dry weight: 224 kg
Fuel capacity: 14.5 litres
PRICE: Rs 8.80 lakh (ex-showroom, Delhi)