Shortly after this image was taken, the BMW S 1000 RR screamed away to 156 kph in first gear. And by the time it did, the G 310 RR must've progressed only to the right side of the frame. With that kind of difference, I'm only stating this just so we're clear that this is no comparison. However, BMW Motorrad uses the same hashtag for both — #NeverStopChallenging — so I thought I'd oblige it and bring the smaller one along as a mini-me prop. And of course, somehow, despite having a range of middleweight and bigger engines, the single-cylinder G and the inline-four S are the only two faired sports bikes in BMW's lineup.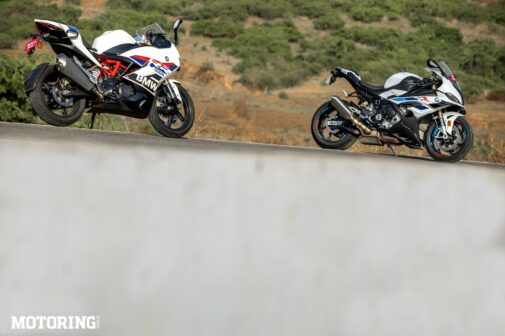 After BMW's literal volte-face from the 'Deadpool eyes' asymmetric headlights of the first S 1000 RR, I never cared for what came next. But then the S 1000 RR is equipped with one of the most potent instruments of chaos our species has ever produced — a litre-class inline-four. This particular one was the Pro M Sport version and produced 210 bhp while weighing 193.5 kg — that's 1085 bhp per tonne. I kid you not, I paused for several minutes after typing that, trying to wrap my head around that figure. That's more than most supercars will ever see, and it enables this insane motorcycle to hit 100 kph in 3.21 seconds and get to a top speed of 303 kph. More than enough if you're in a hurry, no?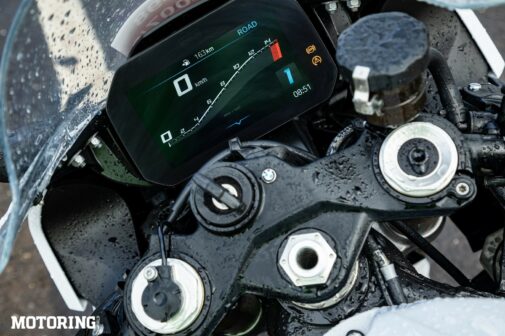 And despite these figures and their obvious velocity-related consequences, it was the S 1000 RR's feel that took me aback. There was none of that inoffensive musical smoothness of the Japanese fours but an aggressive and guttural aura that's usually reserved for racing machines. That's quite the sensory number to pull off with a roadgoing machine, but that borderline harshness was backed up with typical German precision, so things never really threatened to get out of hand. It really reminded me of the first-gen S 1000 RR that became an immediate favourite after 15 minutes of riding it, only faster and more sorted in every aspect. And that has everything to do with what follows.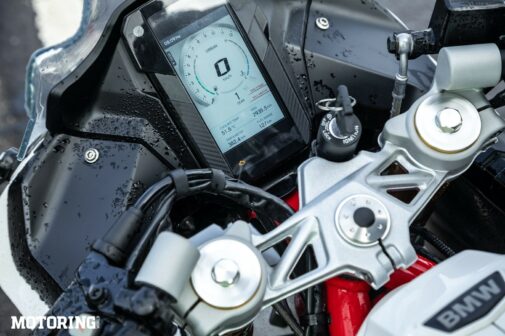 Wanna go through the riding-aids suite on this thing? Here goes: Dynamic traction control, hill start control, ABS Pro, slide/slip control, brake slide assist, shift assistant Pro, M GPS Laptrigger, seven riding modes including three Race Pro modes, dynamic brake control, wheelie control, pit lane limiter, launch control, cruise control, and even heated bloody grips. And even with all that, there's still a fear for one's life on a bike like this because it's just too fast for the real world. It belongs on a race track, no doubt about it, but I had no such luck and entrusted my existence to those mighty electronics.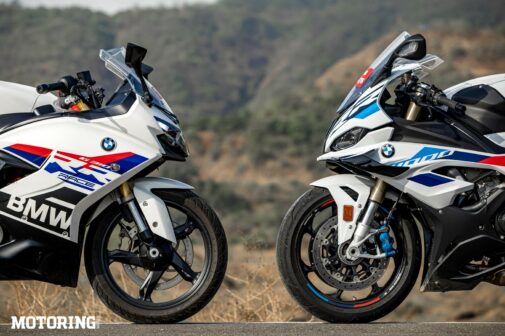 As I toggled through the riding modes, it became clear that anything other than Road rattled my spectacles inside the helmet at increasing frequencies the higher I went. It's not so on other bikes with electronically-adjustable suspension, and was another indication that the S 1000 RR's teeth are filed sharper than its rivals'. Heck, even finding neutral was harder on this bike, with the lever preferring to snatch the gears up and below it as soon as it could. It was difficult not to fall for such single-mindedness, I'll tell you that. Even if I was largely confined to Road mode.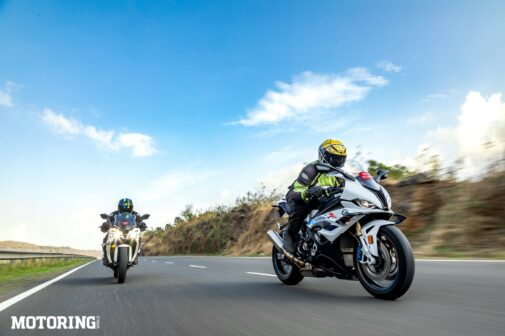 Off idle, the clutch was rather jumpy and I managed to stall it on a few occasions during the time I had the bike. Till 4000 rpm, it hummed angrily around traffic, and started stretching its legs after 6000 rpm. However, from 8000 rpm to the 13,750-rpm redline, the S 1000 RR was nothing but relentless inline-four violence. The ease with which the bike achieved stupid speeds was as astonishing as it was illegal. And other than that engine's unholy raucousness, the rest of the bike felt totally at peace with high speeds. The quickshifter clicked up and down with smoothness, never faltering. The suspension always felt in control (thankfully), and the brakes could be relied upon endlessly to bring the bike down to sanity (phew) with feel and power.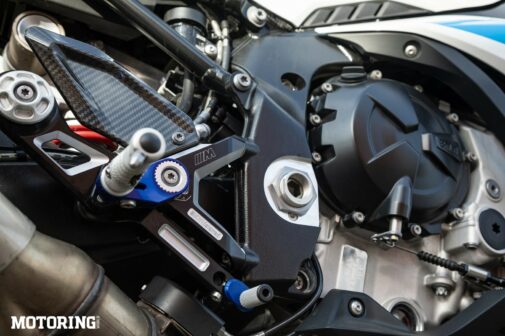 Even keeled over through a fast sweeper at a rate twice that of any speed limit known to man, the S 1000 RR felt comfortable and encouraging. And it is imperative to understand where that last bit gets too much for the road, and slow down. I don't think I've ever thought the line, 'This thing doesn't belong on the road,' this much, and said it out loud at least twice as many times. And so, before my luck ran out of road, I parked it and proceeded to look at it with amazement. The S 1000 RR was a masterclass in materials and engineering that continued the feeling of disbelief even after its key was turned off.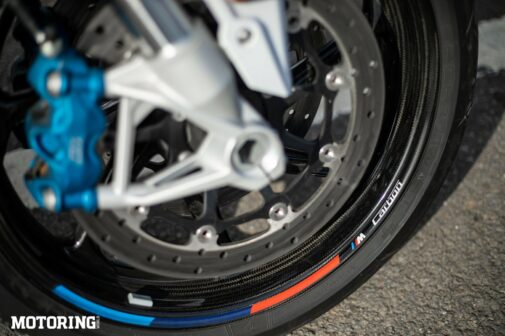 Okay, so I don't think it's a thing of beauty that demands sonnets to be composed and dedicated to it. But the S 1000 RR's form is single-minded function personified. Those M carbon wheels can be stared at for days, especially when sunlight hits those spellbinding weaves at the right angles. They are also likely to be worth a handful of my salary slips, and I had to keep reminding myself that carbon fibre is more brittle than flexible when going over rough patches. Those machined foot controls were works of performance art, every minute detail present only to go faster. And even though those wings up front were worth more for brag value than downforce in the real world, I had to admit they were pretty cool.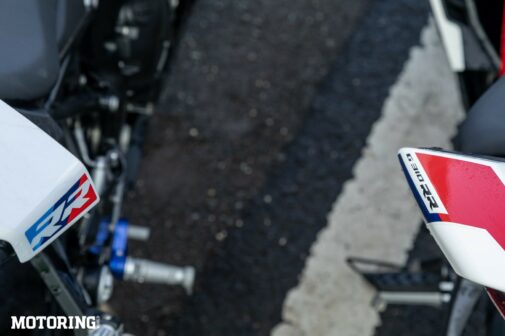 And yet, it was the G 310 RR that actually had a proper tail-lamp and a better-looking triple clamp as well. With a top speed of 175 kph generated from that quirky rearward-inclined 312cc 33-bhp single, it fully deserved to wear the same colours as the bigger bike, too. Of course, it's a rebadged TVS, and that was something to be very conscious of in the best of ways; BMW's reputation as a quality-led company means that it allows only those with similarly high standards to make bikes for itself. And the G had electronics almost to the point of overkill on a bike this size. As for performance, in fast-moving traffic in which the S was limited to saner speeds, the G was more than capable of hanging on to its manic sibling's tail. What's more, I know from experience that the smaller bike is no slouch on the race track, either.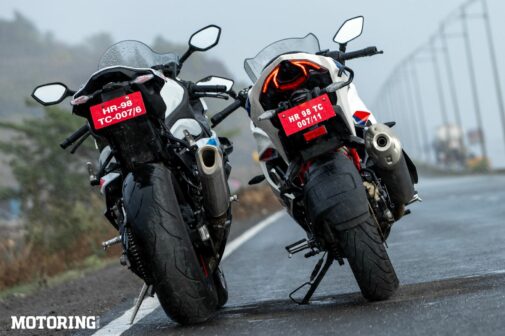 However, the S 1000 RR is an explosive tool with which to push the limits, both yours and those of physics. As such, it's not just another bike for just about anyone; you really have to know what you're doing with it, especially since its ex-showroom price begins from Rs 24.95 lakh. If you ever get there with this bike, though, it will reward you in ways you never thought were possible, man and machine going ever faster in search of perfection. Heck, with enough commitment and effort, it'll likely transform its rider into an athlete in its own image. And to imagine, catching a mere glimpse of that unwritten story was enough for me.