The Compass, when it was first launched in India, was a certified sales hit for Jeep. While it's continued to be a popular SUV, its rivals have upped their game to the extent that the Compass was beginning to feel a little dated in terms of features — and that's what the 2021 model aims to correct. Take the top-of-the-line diesel S(O) trim (with 4×4 and a 9-speed auto 'box) that I spent some time with, for example. It looks much better for its cosmetic upgrades on the outside, and now is a near-perfect mix of attitude and sophistication; its lines really are rather handsome, and it has a better presence on the road than before.
It's the cabin that's been hit with the biggest makeover stick that Jeep could find. It now looks and feels at least two notches above the older model, which is the least that can be expected of it in a segment with such fierce competition. The leather-clad interior looks premium, although the all-black theme can be a little gloomy after a bit; some relief by way of other colours would have been nice. The brand new touchscreen infotainment system is hi-res and very comprehensive in the list of things it controls, which is also its minor drawback; the number of options can be somewhat confusing. There's plenty of room front and rear, and I fit lots of luggage into it during a recent road trip.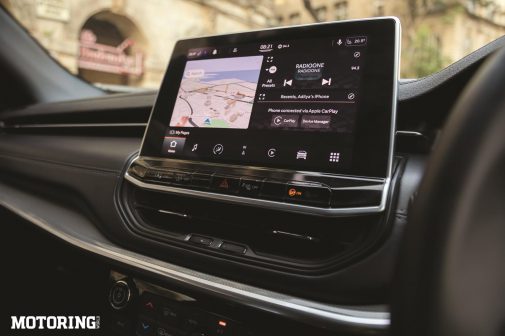 The 2.0-litre diesel has plenty of punch and the 9-speed automatic feels adequate for the purpose; I wish paddle shifters had been available. Ride and handling were absolutely top-drawer, and the Compass' solidity is a big plus — it feels like it's been hewn out of rock. The 4×4 system didn't get used that much, but when I did use it, the Compass ate up everything that was thrown at it. This car's downsides are that it's rather expensive and quite thirsty, but if you can live with those, it's an absolutely top-notch SUV that feels like it's built to last. I, for one, was sorry to see it go back to its rightful owner.
Logging IT Out
Jeep Compass Diesel S(O) 4X4 AT

Lightens you by:

Rs 34.83 lakh (on-road, Mumbai)

Odometer reads:

12,700 km

@JeepIndia #MotoringCompass