Photographs by Kaizad Adil Darukhanawala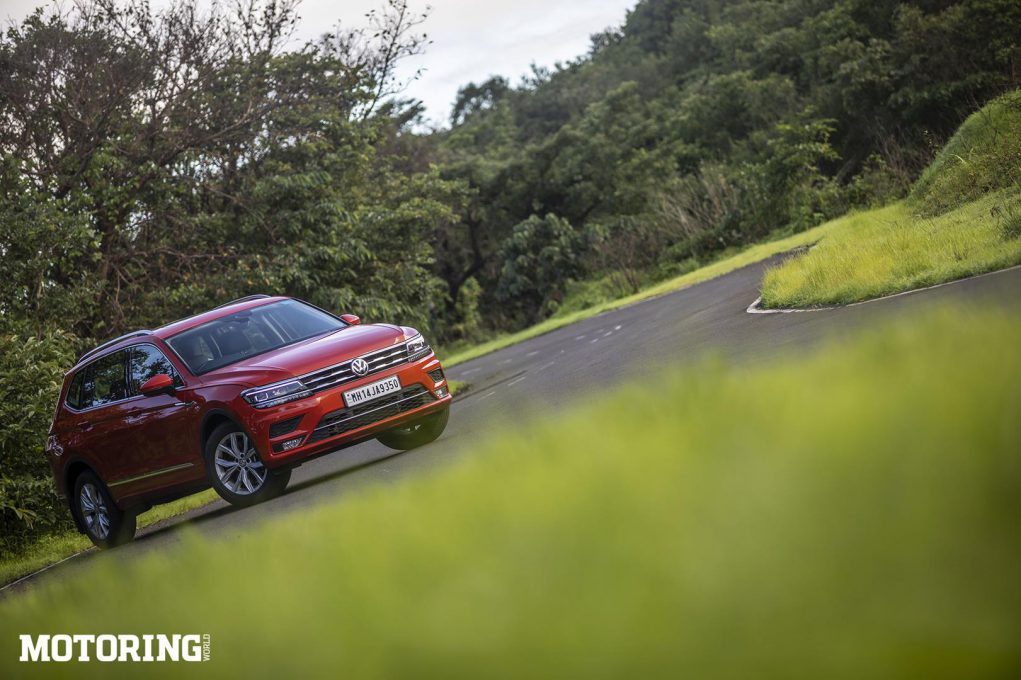 The absence of diesel engines in a carmaker's lineup would've spelt disaster a couple of years ago, but things have changed. As the stringent BS6 norms are implemented, a lot of manufacturers are forced to ditch these torque monsters we love for petrol alternatives. This is basically the story of Volkswagen's Indian range of cars. One model, however, took advantage of this situation as a chance to reinvent itself — the new Tiguan Allspace. Volkswagen discontinued the diesel-powered short-wheelbase Tiguan and replaced it with this three-row long-wheelbase version which is an important part of Volkswagen's SUVW plan for India.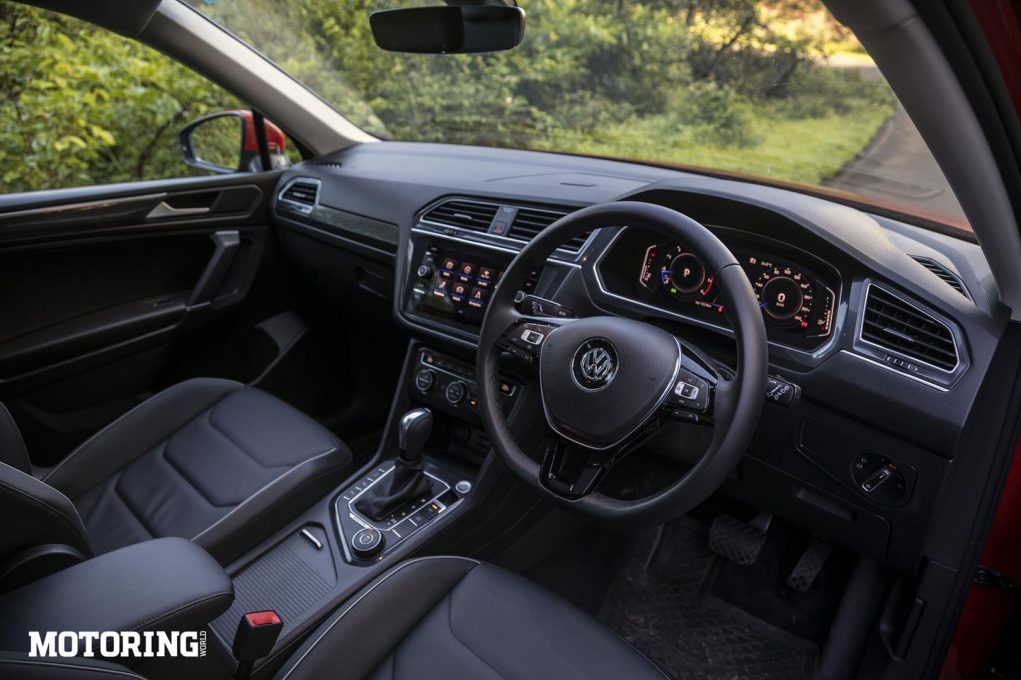 Apart from an additional 215 mm added to its overall length, the dimensions of the Tiguan remain more or less the same, with identical widths and heights between the two models. Visually, you can tell the Tiguan Allspace apart by its new LED DRLs, lack of plastic cladding on the sides and, of course, its longer side profile. Another differentiator is the colour schemes; the Tiguan Allspace is available in seven colours including the bright and vibrant Habanero Orange and Ruby Red. It'll be easy to find 
your car in a crowd with these 
paint schemes.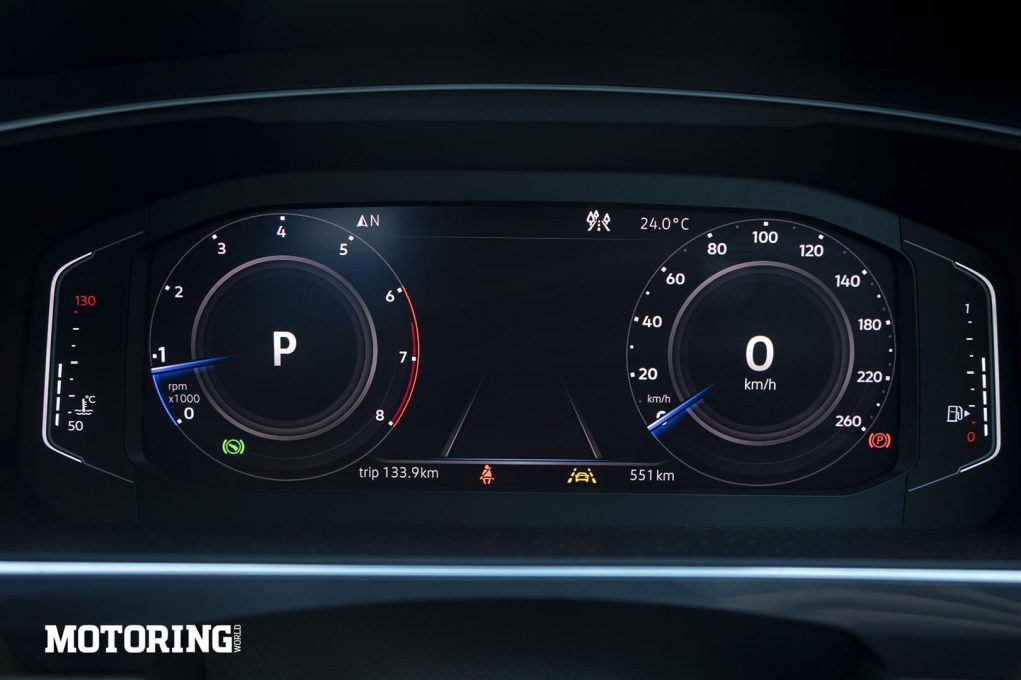 The biggest change in the car, apart from the third row of seats, is the new 2.0-litre TSI engine with 187 bhp. It sounds familiar, because it's the same engine that's found in the Skoda Superb and various other Volkswagen-group vehicles. The only difference here is that this time, power is sent to all four wheels through the 7-speed DSG. Floor the throttle from a standstill and the four 235-section 18-inch wheels hook up immediately and propel you forward. Even though the engine is down on torque compared to the old oil burner, it accelerates quicker, both from a standstill as well as in roll-ons. You will only really miss the low-end response of the diesel; everywhere else in the rev range, the new petrol has got it beat. All this performance comes at the cost of fuel efficiency, of course. It's not going to be anywhere near the efficiency of the diesel; in regular driving, I managed numbers as high as 14 kpl on the highway, but they immediately dropped to around 
9 kpl in the city. I'll admit, the urban number is with sport mode engaged, but it's hard to stay off the boost with this engine.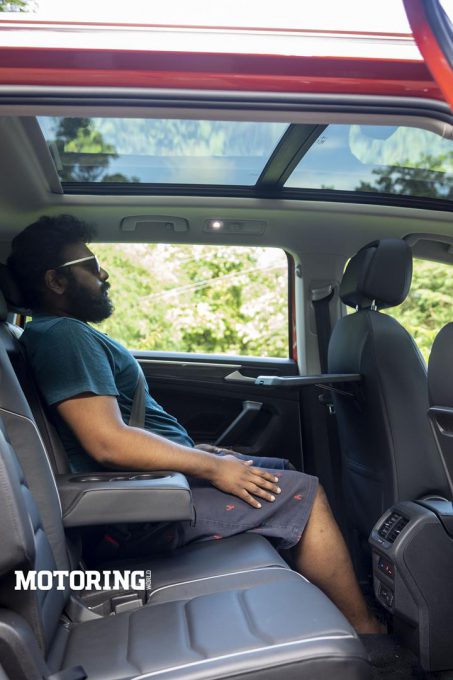 You also have drive modes at your disposal to tweak throttle response, and putting it in sport mode gets you the most performance out of this package, though you can also choose off-road and wet-weather modes to set up the car according to conditions. However, to be honest, you won't be doing much off-roading in this one. Yes, it has all-wheel drive, but it's a Haldex system that gives the Tiguan excellent traction out of tarmac corners, and not much in the way of off-road prowess.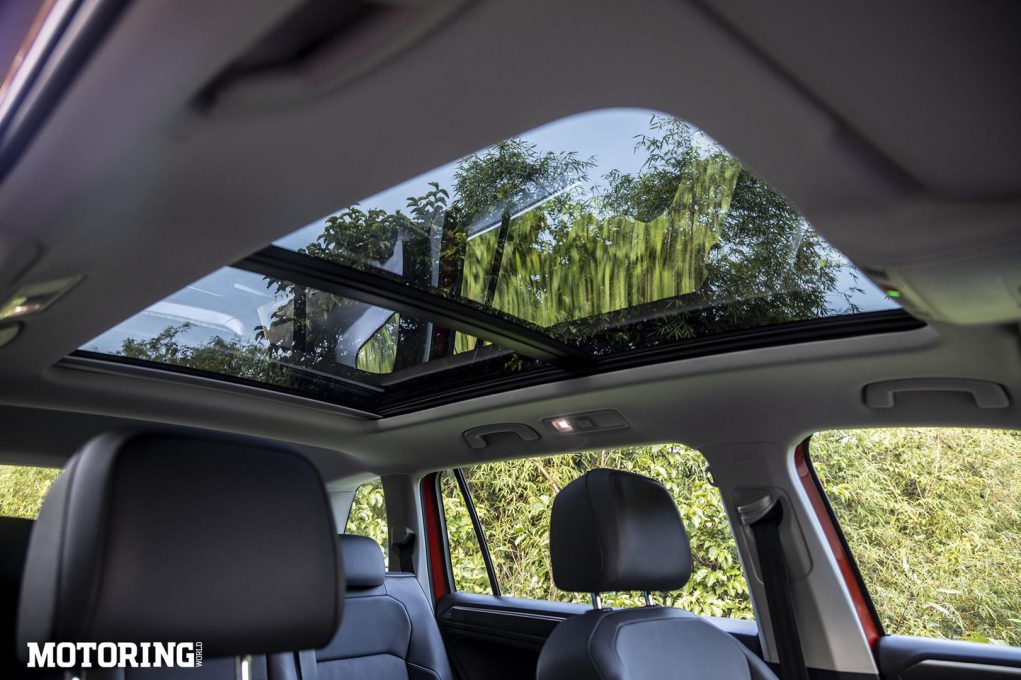 For a large-ish SUV, the Tiguan handles decently. Initial turn-in is a little slow, but once you get it turned in, the all-wheel-drive traction really pulls the car out of corners, especially low-speed ones. The steering wheel weighs up nicely in sport mode, but there's not much feedback or feel. The ride quality, too, is good but not great; it's set up is on the stiffer side and harsh bumps make their way into the cabin. Inside the cabin, the Tiguan's dash is unchanged, save for the new digital instrument cluster, which is not necessarily a bad thing. The layout is simple and very easy to get comfortable with.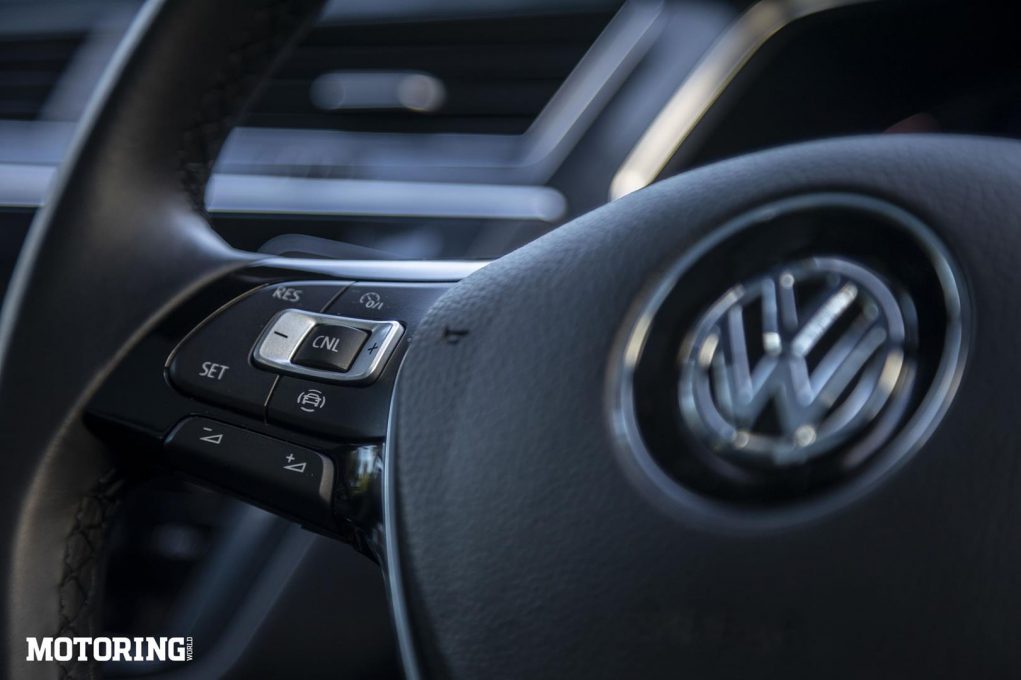 Yes, you also get a third row of seating now, but if it were up to me, I'd leave those folded down all the time. Leg-room is not great back there, and neither is head-room. Maybe children with enough distractions could ride back there, but an adult will start a revolt before you can say, 'Cramp.' Nevertheless, having those seats and never using them is better than needing them and not having them. The Tiguan Allspace's wheelbase has gone up by 110 mm and the second row of seats gets the most benefit from it, now that it's on rails to allow access to the third row. In addition to the extra row of seating, you also get a panoramic sunroof, three-zone climate control, and leather upholstery as standard. Unless you're in the driver's seat, the second row is the place to be in the Tiguan Allspace. You get airline-style tray tables as well, to eat on the go or to get work done.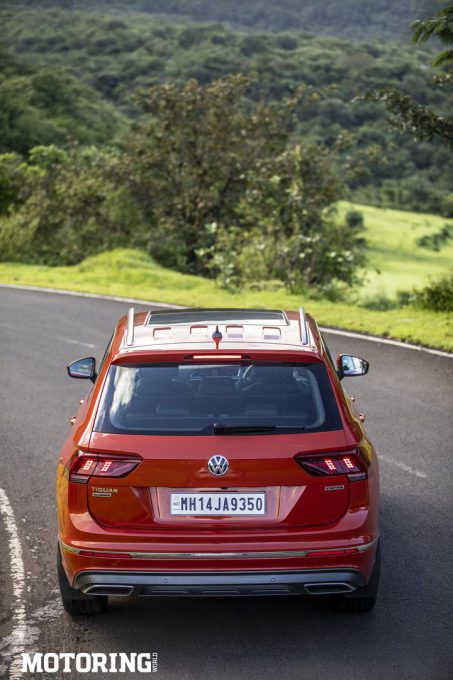 The Tiguan Allspace is available in only one variant; it's pretty feature-packed and built really well. I wouldn't suggest you buy one purely for its third row, but it's the perfect option if you want a great all-rounder. It's a car that looks good, has great performance, and a third row that you can occasionally use. What's not to like?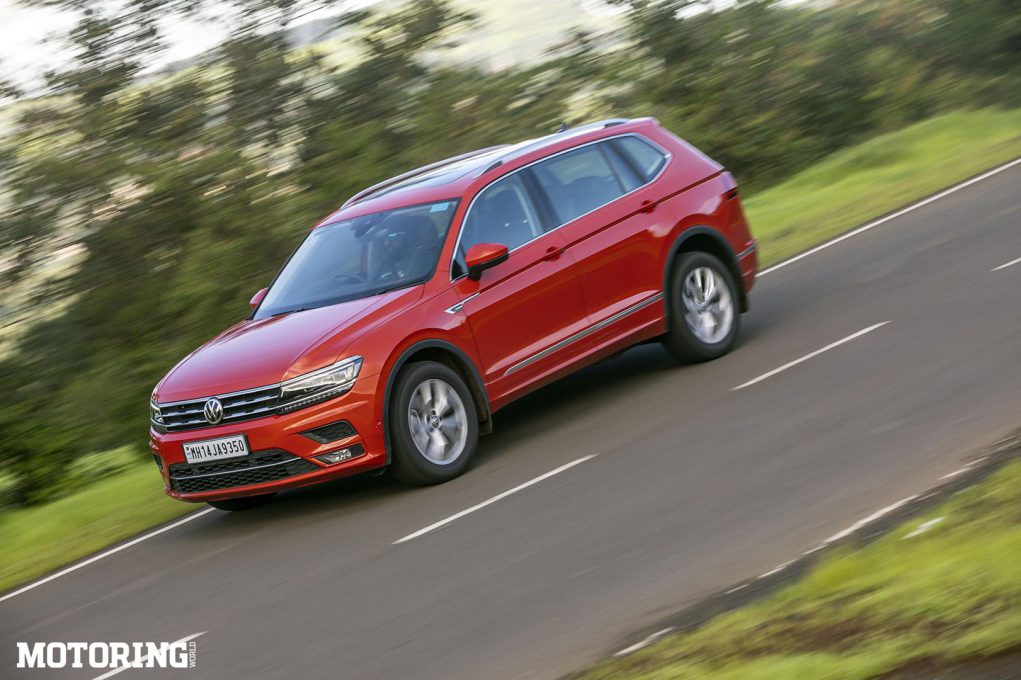 AUTODATA
Volkswagen Tiguan Allspace
POWERTRAIN
Displacement: 1984cc, I-4, turbo-petrol
Max power: 187.4 bhp@4200-6000 rpm
Max torque: 32.6 kgm@1450-4200 rpm
Transmission: 7-speed, DSG
TYRES
F/R: 235/55 R18
DIMENSIONS
L/W/H (mm): 4701/1839/1674
Wheelbase: 2787 mm
Ground clearance: 167 mm
Kerb weight: 1780 kg
Fuel capacity: 60 litres
PRICE: Rs 33.12 lakh (ex-showroom India)